5 Ways To Increase Your Chances of Getting a Job
As the younger generations begin to become more conscious about their careers, we can observe a great inclination towards jobs in the corporate field. The growth of the IT industry around the globe and the plethora of job opportunities that it offers have been attracting a major percentage of the youth to this Industry. As a result, a lot of students have now started preparing early for the jobs that they want to apply for. However, even after having a lot of weightage in their resumes, most of them are still struggling to bag any good packages.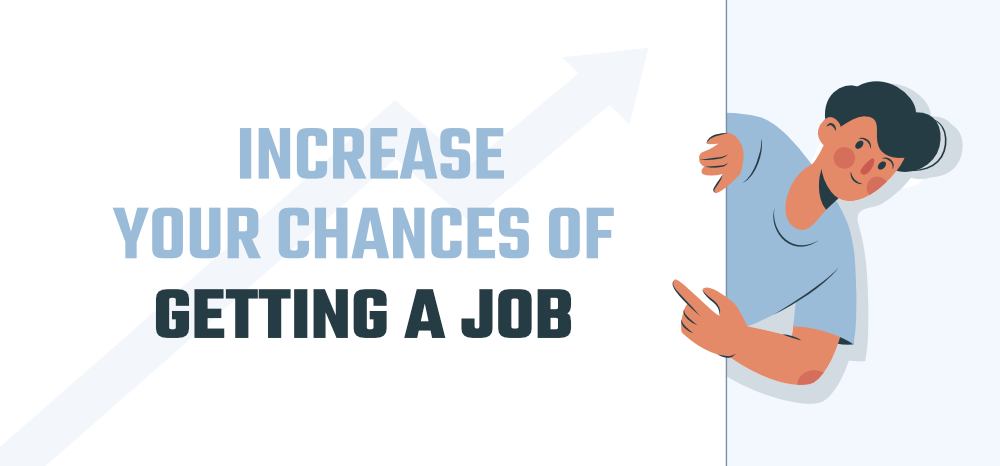 It is tricky how some people get good offers even with a minimal experience on their CVs, while some people with extensive experience are struggling to get any offers worth their time and effort. Here are some possible reasons why this is happening:
A poorly presented CV
Negative or irresponsible attitude
Poor language and lack of professionalism
Not enough experience
Not showing a willingness to learn
Failing the interview round
Apart from these common reasons, a lot of people complain that they never hear a response from the companies after sending in their CVs. It could simply mean that your CV is not strong enough to compel your recruiters to initiate a conversation with you, even if they do not hire you in the end.
A lot depends on things that don't meet the eyes. Let us learn some facts that can help you increase your chances of getting hired with a good salary package.
1. Customize Your Resume According to the Job Role You're Applying For
Most people make the common mistake of creating a generic CV and applying with the same without making any changes to it. Instead, you should analyze your CV from the eye of a recruiter every time and customize it as much as you can. You can also filter out unnecessary information and hence make your CV more straightforward. Customizing your CV this way can bring your recruiter's attention to your strengths and skills. This means higher chances of getting an offer from them.
For instance, if you are applying for a vacancy in the HR Department, adding some details about the college event that you supervised can be useful; however, it would not make any difference if you're applying for a vacancy in a Graphic Designing role. Look for the keywords that your recruiters would be looking for. Make sure to add them to your Resume. However, avoid unnecessary jargon.
2. Focus on Building Complete Expertise in Any One Field
A lot of students take up any random opportunities that come their way, even if they belong to different professional backgrounds. Hence, their resume looks something like this:
[NAME]

Work Experience:

Company A – Designing (3 months)
Company B – Accounting (4 months)
Company C – HR Intern (2 months)

Currently Looking for a Job Role in the Web Development Field.
Don't let random opportunities or vacancies drive your careers. Undoubtedly, try your hand at everything, but there is no need to put it on your CV. Once you've made up your mind on one job role, focus on skills that would help you to finish your job more efficiently. Learn and build skills within and around your job role.
For example, to increase your chances of being hired as a graphic designer, you can build content writing skills, and video editing skills. The second step is to highlight and present them well on the CV. Adding your badminton skills to the CV would be very unrequired at this point.
3. Be Authentic and Professional During the Interview
Interview round plays a major role in determining whether you will get an offer or not. It is as important as your CV. Don't take your interview round lightly and walk in unprepared. Also, avoid faking yourself during the interview. If you present yourself professionally during the interview and be your authentic self, it would greatly increase the chances of getting a job offer after the interview.
Another important thing is to keep a very positive outlook towards things, be polite and show some willingness to learn something new as you advance into your career. You should always remember that a fresher who is willing to learn can sometimes be preferred over an expert who is too ignorant or arrogant.
4. Get First-Hand Experience Through Workshops and Internships
Recruiters always prefer candidates who have worked in the field directly. Hence, before applying to a full-time job, try to look for opportunities that can help you develop your skills and get practical experience within your field of work. Don't forget to mention whatever you learned in the CV. You can get some of this experience via:
Workshops and Seminars
Internships
Events related to your job field
Working with a senior in your field
Adding some certificates this way to your CV will give you an advantage over your peers and increase the chances of receiving a good offer.
5. Research Well About the Company and Include It in Your Conversation During the Interview
Nothing is better than a candidate who is genuinely interested in your company and wants to be a part of it. Hence, before walking in for the interview, research about the company well. While making conversations with your interviewer, mention things that you learned.
For example, if you are applying for a marketing position, research the company's clients. During the interview, say "I learned that your company is working with so and so clients, and I found it very interesting. I would be delighted to play a marketing role for any of these industries." Doing this will win you some bonus points and you will come up as a more aware person, a candidate who knows exactly what he is getting into. Such candidates always have a higher chance of receiving a good offer from the company.
Parting Words:
Whenever applying for a job, always put yourself in the shoes of the recruiter. If you were them, what kind of answers would you expect to your questions? What type of keywords would you look for in the CVs of the applicants? What kind of skills or experience would you look for in your potential employee?
This would greatly help you not just in choosing the right elements to put into your CV, but also to build skills as per the requirements of your job!!

My Personal Notes
arrow_drop_up