turtle.textinput() function in Python
The turtle module provides turtle graphics primitives, in both object-oriented and procedure-oriented ways. Because it uses Tkinter for the underlying graphics, it needs a version of Python installed with Tk support.
turtle.numinput()
This function is used to pop up a dialog window for the input of a string. Return the string input. If the dialog is canceled, return None.
Syntax :
turtle.textinput(title, prompt)

Parameters:
| | |
| --- | --- |
| Arguments | Description |
| title | title of the dialog window |
| prompt | text mostly describing what numerical information to input |
Below is the implementation of the above method with some examples :
Example 1 :
Python3
# import package
import turtle
sc = turtle.Screen()
sc.setup(400, 300)
turtle.textinput("title", "promt")
Output :
Example 2 :
Python3
# import package
import turtle
# taking input
name = turtle.textinput("Personal Detail", "Name")
# print name input
print(name)
Output :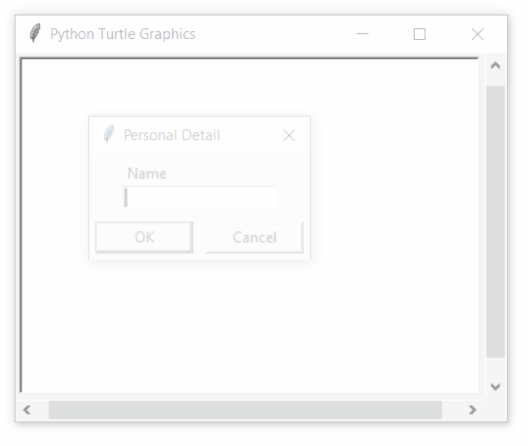 Deepanshu Rustagi

Attention geek! Strengthen your foundations with the Python Programming Foundation Course and learn the basics.
To begin with, your interview preparations Enhance your Data Structures concepts with the Python DS Course.
My Personal Notes
arrow_drop_up