Tips for Placement Preparation Strategic-Plan for Students Amid COVID-19
Due to this unprecedented COVID-19 pandemic, students are experiencing various sudden changes in the placement and recruitment process scenario. In particular, as the schools and colleges are physically closed for more than 6 months, institutes and the companies are joining hands to conduct virtual placement drives and students (especially final year ones) are finding it difficult to easily adapt these changes. And apart from this Virtual Placement Process, students are coming up with various other questions in their minds such as:
1. Are companies providing enough career opportunities in the current situation?
2. Is there a need to change the placement preparation strategies accordingly?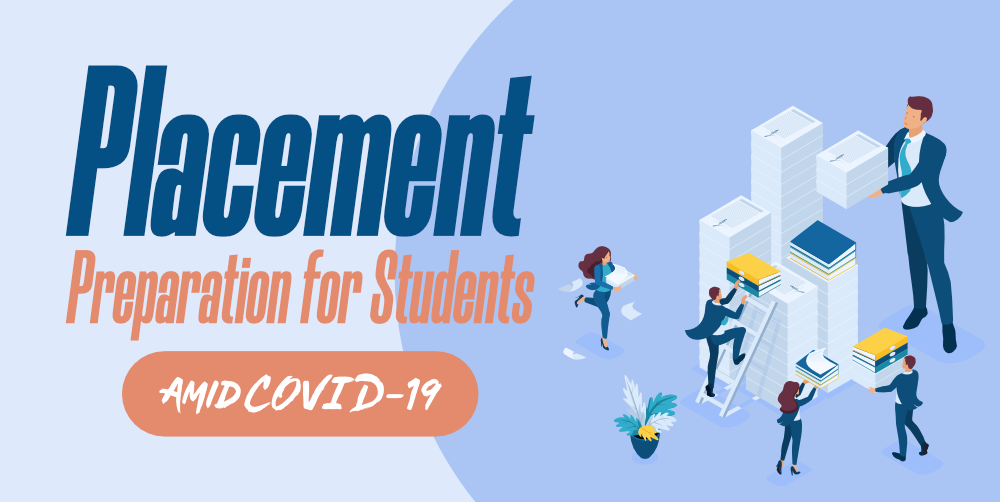 If we talk about the first question, no one can deny the fact that every industrial sector whether it be IT, Aviation, Hospitality, or any other is affected by the COVID-19 outbreak. And yes, situations like workforce downsizing and mass layoffs even in the big tech companies such as Uber, Accenture, etc. can't be ignored also. However, despite all these, what students need to know is organizations are still recruiting and offering numerous ravishing career opportunities to the candidates and several big tech companies such as Google, TCS, Capgemini, etc. are coming up with virtual onboarding process and other worthwhile benefits as well to make it convenient for the candidates.
Now, move to the second question and our primary concern – Is there a need to change the placement preparation strategies in the current situation and if yes, then how? Firstly, you need to understand that this outbreak has led the organizations to adopt automation and remote working processes which eventually generates the need for trending & future technologies such as Artificial Intelligence, Machine Learning, Cloud Computing, Internet of Things (IoT), etc. Hence, if you become more responsive towards these technological advancements or transformations in present-day conditions (especially in the IT world), no one can stop you from landing up your dream job in IT giants. Furthermore, let's take a look at several remarkable strategies that you can add in your placement preparation process to get an upper hand over other candidates and to achieve your goals:
1. Don't Take Much Stress or Get Panic
One of the biggest problems with a majority of students in the current situation is that they're failing or not able to handle the stress of the pandemic effect on their placement plans. They're getting worried about postponing & cancellation of placement drives, the online interview process, and other related issues. However, it is quite normal to think about the same but to get stuck in this situation for a longer period of time is not going to reward you with something appreciable. Meanwhile, instead of doing over-thinking, students are strongly recommended to take this period as an advantage for taking a step ahead towards your career goals and invest your time accordingly in much-needed tasks such as Self-Assessment, Upskilling, etc.
2. Switch Over to Virtual Learning Process
You have two options – either you can sit idle at your home and wait for the re-opening of institutions, classes, etc. (physically) or you can go with the New Normal in the education world and opt for the Virtual Learning or Online Learning approach. Yes, gone are the days when you're required to commute to the classes to learn even a minor skill as now you can master any skill or subject sitting right at your home. Virtual Learning allows you to learn from anywhere or anytime across the world and that too your own pace (What else you need!!). There are numerous resources available over the web that you can opt for to upskill yourself to make yourself ready for the upcoming career opportunities.
However, as mentioned above, there are numerous online platforms and resources exist on the internet and to choose the relevant & worthwhile one is quite a daunting task. No worries, GeeksforGeeks can help you in that through its most-renowned Complete Interview Preparation Course. The course consists of almost everything that you require for your placement preparation such as premium lectures on every crucial subject (Programming Languages, Data Structures, DBMS, etc.), practice tests, theory notes, and many more. On top of that, you'll also be provided with dedicated TAs to solve any doubt in your preparation journey. No, it doesn't end here – you'll also get access to the GeeksforGeeks Jobs portal & various Internship Opportunities at the organization.
3. Stay Updated with the Latest Industry Trends
This is the most crucial task that you need to add in your existing placement preparation plan to deal with the changed scenario of the placement process in the current situation – stay updated with the technological advancements and latest industry trends. You're required to understand the requirements and demands of the tech companies from the candidates and subsequently need to prepare yourself with those skills to make yourself competent for getting a worthwhile placement opportunity. For example – as industries are now getting more into digitalization & automation, you can opt to learn relevant skills such as Artificial Intelligence, Cloud Computing, Digital Marketing, etc. Furthermore, apart from the tech skills, you're recommended to develop trending soft skills or analytical skills in the IT world to get an edge over others.
4. Build Your Network
Last but not least – you need to work on your network and connect with the people who anyhow can help you in getting some worthwhile placement opportunities. As a student, you may not have enough exposure to the industrial world, hence your network will help you to let you know relevant job opportunities, the latest industry trends, trending technologies, etc and you can even ask them for the referrals accordingly. And, you won't believe that a genuine referral has that much of potential of getting you a career opportunity that you may not get from any other mode. Although, there are not any specific criteria while making connections as these people can be from your friend group, family members, teachers, or any other but, what you have to keep in mind while building your professional network is that these connections must be genuine, active and reliable. Furthermore, if you're thinking about how to build or grow your network in the COVID-19 pandemic, you can use various renowned online platforms such as LinkedIn, CutShort, etc.
By embedding the above-mentioned strategies in your placement preparation plan, you will be able to thrive in the current scenario of employment and will get your dream job. Again, the current crisis has impacted the employment sector a lot and it is going to change the things rapidly whether it be the recruitment process, demanding skills, etc. in the upcoming times but as they said – "If you don't have the courage to change yourself, then nothing will ever change around you", hence you need to become adaptable and prepare yourself for all these changes to build a successful career!!
My Personal Notes
arrow_drop_up