Is It Good Time to Change Job During Covid-19?
We all are aware of the current uncertainties in the job market with situations like layoffs, salary cuts, workforce downsizing, delays in new recruitment, etc. happening all across the world. People have become a bit more concerned about their jobs and don't want to lose them, especially in such tough times.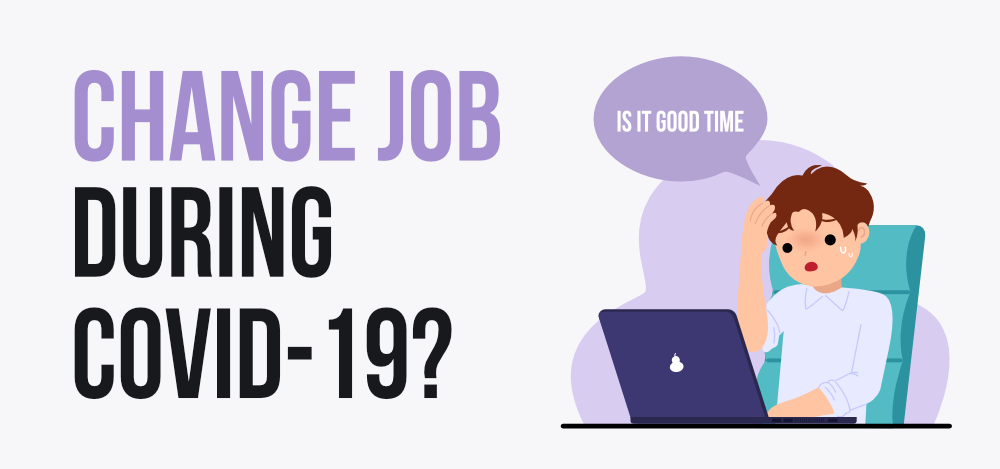 But do you know reports have something different to say…?? Yes, as per Kaspersky's report, nearly 35% of employees are considering changing their respective jobs or looking for new job opportunities in light of this global pandemic.
Now the question arises – Is it good or not, to change your job during the pandemic?
And to find a worthwhile and satisfactory answer to this question we first need to take a look at the reasons for which people are preferring to change jobs even during the covid times. These reasons can be:
1. One of the most considerable reasons can be people are assessing the changes and advancements that are likely to happen in their respective industries or job role post-pandemic and want to shape up their career accordingly to cop up with the future demand and scope. For instance, numerous conventional tech jobs hold the chance to get disappear or outdated in the near future – on the other hand, the latest technologies like Hyper-automation, Blockchain, Machine Learning, etc. are all set to see a huge spike in their demand and usage in the tech world.
2. Other than that, some employees may be trying to leave their current job or organization just because of the substandard work culture, monetary dissatisfaction, or other problems that they're facing there like salary cuts, etc. particularly amidst this pandemic situation.
3. Another reason can be people are getting afraid of their complete dependence on the respective jobs to meet their financial goals. Yes, it may sound unusual but as per various research reports, after the situations like mass layoffs, salary cuts, etc. in this pandemic – employees don't want to depend entirely on their job and exploring various other career options as well whether it be entrepreneurship, freelancing, etc. from future perspectives.
4. As more people are working from home or remotely, they are finding it a bit more flexible and convenient to dedicate some extra time to explore other career options and opportunities and to grow their professional network – it may be another reason behind people considering to change their jobs even in current times.
These can be some of the most common reasons for individuals to think about changing their jobs amidst covid crisis. Now, we need to assess whether these reasons are genuine and justifiable or not, and it subsequently will give us the answer for the query – if it is okay to change job during the pandemic?
So, if we look at the first reason – it is very much justifiable. And in covid times, it becomes more crucial. For example – if it is clear to you that your current job role is going to be hit harder after the pandemic and there would be less demand & scope for the particular job role then obviously you can start learning other relevant skills and reshape your career accordingly. However, it is not something as easy as it sounds. You need to do your self-evaluation, understand the career path of the targeted job role in-depth, and upskill yourself accordingly. Also, you're recommended to not leave your current job until you get at least 1 job opportunity for the targeted job role as it may end up with a lot of pressure in your mind.
Moving ahead to the second reason – if you're planning to leave your job in current times just because of several specific reasons like poor work-life balance, salary cuts, or any other. In such cases, you're first recommended to note down all these reasons on a paper with a calm mind and then think about if those reasons were also there before the covid crisis or not. You need to understand that pandemic has affected all the businesses and organizations severely, and they all are trying their best to get back to their normal workflow and operations. And to successfully achieve this, they require the much-needed support of their employees also. Hence, try to adjust to those temporary problems that are arising only due to this pandemic as they will surely get better once this crisis will be over. Other than that, for those problems that are not directly linked with the pandemic like salary issues, work culture, etc. – you can opt to discuss these with your manager, HR, or any other authorized person. And if you still don't find a satisfactory solution for these problems, you can look forward to exploring other job opportunities.
The third reason that we discussed above is individuals don't want to depend entirely on their job to meet their financial needs and to explore other career options they are planning to leave their current jobs. However, what you're recommended, especially in this pandemic situation that instead of directly leaving your job to explore other options like entrepreneurship, freelancing, etc. what you can do is start it simultaneously with your current job and after gaining some experience & identifying the potential in the particular career domain you can opt to leave your job accordingly. There are many successful people who have followed this approach in the past and got the desired results. Here a full-time job will act as a Plan-B for you and as it is said in one of the acclaimed Indian Web Series, Aspirants that Plan B is not for losers, but it should be there to provide a balance in your personal or professional life.
Talking about the fourth one, if you're also getting some more time to explore other job opportunities and to grow your professional network – you should definitely make the most out of it. You can assess what companies (of your industry) are looking for while recruitments, attend various webinars to get more exposure, know that how can you become better in your current job profile, meet professionals of your industry over digital platforms, etc. However, you need to keep in mind to not abruptly leave your current job just for the sake of monetary benefits you would be getting from anywhere else – consider other factors also like the company's overview, your job responsibility, career growth, etc. before making the final decision.
As of now, you'd have understood that there can't be a pinpoint answer to the question – Is it good or not, to change your job during the pandemic. It depends on an individual's situation, requirements and priorities. So, what you need to do is first identify your reasons why you want to change your job, then assess if these reasons are justifiable or not, and then make your final decision accordingly!!
My Personal Notes
arrow_drop_up