Insert WordArt in Microsoft Powerpoint
MS Powerpoint is a utility provided by Microsoft in its Office package. It is used to create presentations based on slides that contain texts, images, videos, etc. WordArt offers additional effects like outline text, fill, gradient, 3D effects, and shadows, etc.
Inserting WordArt
WordArt can be used to style the text in different patterns and colors as per user's choice. It can be added from within the Insert Tab in the Menu Bar.
Steps to add WordArt:
Step 1: On the Insert tab, within the Text group, click WordArt. The WordArt Styles gallery opens.
Step 2: Click on the design you would like to insert, and a text box appears with the text "Your text here", with the WordArt style you choose applied thereto.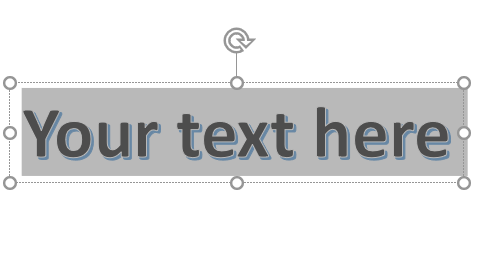 Step 3: Edit the text to whatever you would like it to be. At now, you'll see a Drawing Tools Format context tab. Here you'll find the WordArt Styles group.

This contains the Preset styles gallery, and dropdowns for controlling the Text Fill, Text Outline, and (most fun) Text Effects.
Step 4: Choose from any of the Text Effects and the desired text will get converted.
As you'll see, there are tons of possibilities to explore.
My Personal Notes
arrow_drop_up