With the effect of advancement in Technology, the Software Engineering industry has also grown rapidly and is one of the fastest growing industry in the world today.
Such rapid growth in this field has created numerous job opportunities for the developers, fairly increasing the competition in the market. This growth has also impacted the tech-recruiting field as well and everyone is now looking to hire the best.
With the demand in the increase of quality developers, companies have also increased the pay-scale of the role.
The reputed American Business magazine Forbes has also published an article on "How The Salaries Of Software Engineers Have Evolved Over The Past 20 Years?"
To answer this, the magazine quoted an answer to this question by Auren Hoffman, Chairman of Siftery from Quora.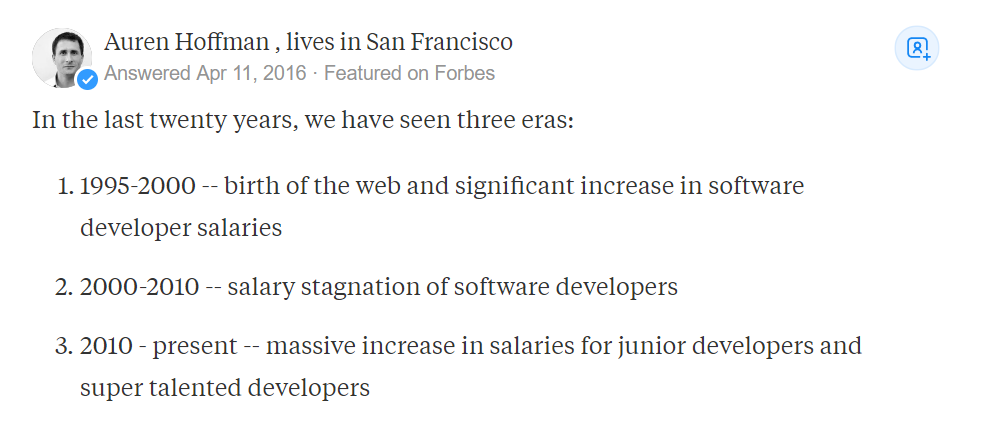 This analysis by Auren Hoffman seems to be correct for every part of the globe. The leaders in the market like Google, Amazon, Microsoft, Flipkart have increased the pay of entry-level developers to around 35 Lakhs CTC with the base salary of around 14-18 Lakhs per annum.
You can see some of the salary reports from Glassdoor which reveals the actual figures about the pay-scale of some of these tech-giants.

However, the average pay-scale of developers does not appear to be that impressive.

The reason behind this is the lack of skills among emerging developers. According to a study by employability assessment company Aspiring Minds in 2017, only 4.77 percent of candidates can write the correct logic for a program — a minimum requirement for any programming job.
Another survey shows that only 7 percent of the engineering graduates in India are suitable for core engineering jobs.
To earn higher as a Software Developer in 2019, one needs to stay updated as per the market demands.
Work on yourself to make yourself better.
Learn in-demand technologies.
Improve your efficiency.
Improve your problem solving abilities.
The top 5 trending technologies in the field of Software Development are:
Machine Learning.
Data Science.
Application Development.
Coding and Engineering Experience.
System Design.
A Step towards the Learning Process
Learning the technologies alone is not sufficient to land a Job at the Tech giants. You need to be well aware of the recruitment process and present yourself accordingly at the interview. At GeeksforGeeks you can find the 1000s of interview experiences company wise of the interview of software developers role.
Most of these high paying companies focus more on the candidate's problem-solving abilities, knowledge of Data-Structures & Algorithms, designing systems efficiently along with the projects.
At GeeksforGeeks, we have a number of courses running offline as well as online, where you can enrol yourself and get prepared for the interviews. All of our courses are available for registration at GeeksforGeeks | Courses.
Some of our offline classroom programs are:
Geeks Classes: Weekend – An extensive classroom programme to build and enhance Data Structures and Algorithm concepts, mentored by Sandeep Jain (Founder & CEO, GeeksforGeeks). He has 7 years of teaching experience and 6 years of industry experience.
Machine Learning: This course is the perfect place for the beginners to understand the core idea of building systems that have the ability to automatically learn from data and improve the experience without being explicitly programmed. The course is mentored by an Industry Expert working in Adobe System, Ex.Amazon, Paytm.
System Design: An in-depth course that will prepare candidates for System Design Interviews at top-notch tech companies like Google, Amazon, Adobe, Uber etc. The course will be Mentored & Guided by Industry experts having first-hand experience with designing, developing and maintaining scalable systems.
Features of our Courses:
All of our courses are mentored by Industry Experts from Amazon, Adobe, Paytm etc. who have prior experience of interviewing candidates.
Limited batch size.
Affordable Fees.
Quality Infrastructure.
Internship Opportunities at GeeksforGeeks.

and many more.
---
You may also check our
latest online course series
to learn DS & Algo is named
DSA
, which covers everything about Data Structures from
Basic to Advanced
.
This is a 10 weeks long online certification program specializing in Data Structures & Algorithms which includes pre-recorded premium Video lectures & programming questions for practice. You will learn algorithmic techniques for solving various computational problems and will implement more than 200 algorithmic coding problems. This course offers you a wealth of programming challenges that you may face at your next job interview. The course focuses mainly on Data Structure & Algorithms: the key to selection in top product based companies.
Key Features of the Course
Well organised tutorials on Data-Structures and Algorithms prepared by the GeeksforGeeks Team.
Premium video lectures by Mr. Sandeep Jain, Founder and C.E.O of GeeksforGeeks.
Dedicated doubt solving team to assist you.
Weekly Assessment Tests with Video Solutions.
Performance-Based

Certificate

.

Internship

Opportunities at GeeksforGeeks.
The courses are self-paced: Anyone can register anytime, make payment and begin the course.

And, many more.
The course is available in two versions:
With Doubt Assistance: The price of the self-paced online DSA course with doubt assistance is INR 3,999. Click here to purchase your ticket.

Without Doubt Assistance: The price of the self-paced online DSA course without doubt assistance is INR 2,499. Click here to purchase your ticket

.

---

What Do People say about our courses?

Attention reader! Don't stop learning now. Get hold of all the important DSA concepts with the DSA Self Paced Course at a student-friendly price and become industry ready.






My Personal Notes

arrow_drop_up

---

---

If you like GeeksforGeeks and would like to contribute, you can also write an article using contribute.geeksforgeeks.org or mail your article to contribute@geeksforgeeks.org. See your article appearing on the GeeksforGeeks main page and help other Geeks.

Please Improve this article if you find anything incorrect by clicking on the "Improve Article" button below.