How to Become a Product Manager?
Every organization's growth depends on the individuals working for it. And thanks to the product managers who have been taking the responsibility to deliver the best products within the timeframe to build trust between clients and organizations. Product managers could increase the company's profit by 34.2%. They play a major role in the development of the organization. If you're interested in becoming one, this article is for you. We'll tell you about the footsteps of becoming a Product Manager. But before this, let's understand what is Project Management and who is a Project Manager?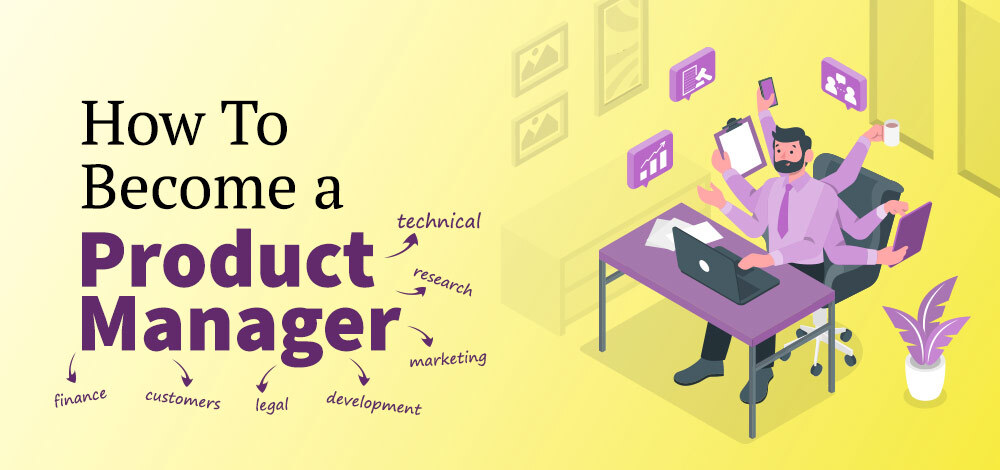 For example, Amazon is a product that is also handled by a product manager, every feature is added after researching its need, uses, and business growth. If there's a requirement to add an order list to the product (Amazon), the product manager initially researches its needs, communicates with the client, developers, and deployment teams, and then starts working on it. So, every feature or change made to the product requires the approval of the product manager and then the plan executes.
What is Product Management?
Product Management is generally a process in which every step of a product's lifecycle is completed keeping the product's reliability and organization's growth in mind. The process of conducting research, developing strategies, and communicating plans to deliver the best product is included in product management.
Who's a Product Manager?
Product Managers generally termed PMs liaise with the customers and organization and work on user design, technology, sales, and marketing techniques. They are the ones responsible for having a deep understanding of products and business which leads to customer-focused products and meeting business goals.
Responsibilities of a Product Manager
Have a keen interest in understanding users' needs.
Examines the market and analyzes the competition.
Gathers and manages the data required for fulfilling users' demand for the product.
Keeps proper communication among teams involved in building the product.
Tracks the performance of the product.
Prepares a schedule for building products.
Look after customer satisfaction.
Takes care of improvements in existing products, and works for future-coming products.
Product lifecycle is taken care of.
Shows a decision-making attitude for completing each task required for product development.
"Your most unhappy customers are your greatest source of learning"

-Bill Gates
Roles Offered to a Product Manager
1. Associate Product Manager
Associate Product Managers have multiple skills such as data analysis, research, and analyzing requirements given by the client. They usually prepare a document for the product, works on feedback given, and coordinates with the team members regularly to avoid communication gap and result in delivering the best product.
2. Director of Product Management
The role is offered to those who have management experience and is best at delivering product efficiently. One who has good command over all the technical details required while developing a product. The strategy of the company's product is communicated among team members and the reports are communicated to the Vice President of the product in the organization.
3. VP of Product Management
The Vice President of Product Management leads a team of product development and brings up strategies for product usage. The VP of the product has a great influence on many departments like sales, engineering, and marketing.
4. Product Owner
A product owner has all the technical details of the product and is responsible for the outcome of the product. One who is held responsible for all the changes made to the product. He/she optimizes the backlog of the product to bring an effective one. Product owners generally use Scrum for management.
5. Chief Product Officer
One who takes care of entire product details is known as Chief Product Officer and the process includes innovation, design, development, management, and marketing. All the corporate goals made by the CEO are achieved.
How to Become a Product Manager With No Experience?
There's no such qualification required for becoming a product manager but there are indeed some skills required which could help you to become a product manager. You can also make a transition from another career to Product Management if you have a strong will to be a Product Manager. Along with soft skills, you also need to have some sort of technical expertise in this domain. While working in other sectors, you can also explore Product Management. For being a professional in this, you can also opt for having a course in it. Given below are some technical and non-technical skills you must have to become a Product Manager.
Technical skills such as:
Non-Technical skills such as:
Decision-making ability
Good communication
Strategic and Marketing skills
Problem-Solving attitude
Leadership
A person who is pursuing or has pursued B.Tech/BA/B.Com, all are welcome to enter into the product management domain. Only if you have an eagerness to learn and skill yourself up with the responsibilities required for becoming a product manager, you can surely become one.
Whether you're an MBA post-graduate, a B.Tech graduate, or you have pursued any degree. No worries!! Nothing can stop you to become a product manager. Even your work experience doesn't matter.
Step-By-Step Procedure to Become a Product Manager
Level up yourself with the skills required to become a product manager.
Keep working on your skills and learn about tools required like Jira Software, Jira management, MS Excel, and many others.
Test your skills on regular basis to become proficient in the field.
Work on developing products with the team to lead the best product.
Attend APM Programs which are offered by Google, Twitter, Facebook, LinkedIn, and many other big companies this is a program in which roles are designed for graduates so that they could have a short glimpse of the world of PM. Before starting their journey as a PM, the individuals should understand the roles and responsibilities of a Product Manager.
Create an impactful resume for companies describing qualities required for product managers, to seek employment.
Must Read – How to Build a Great Product from Scratch?
Salary of a Product Manager (In India/Outside India)
The employees working at an organization invest their time, knowledge, and skills to bring growth to the organization, and thus, their work needs to be appreciated. This appreciation or the reward for their work is given in terms of salary. The salary of any profession depends on experience and skills acquired by individuals The salary of a Product Manager starts from 5LPA to 35LPA in India. Higher the salary, the higher the responsibilities of an employee, and the higher the value of the employee. Outside India, the salary of Product Managers starts from $73000 and lasts to $200000.
My Personal Notes
arrow_drop_up