Google Cloud Platform – Introduction to PhoneInfoga an OSINT Reconnaissance Tool
PhoneInfoga is one of the most advanced tools which one can use to scan phone numbers and get detailed information about them using only free resources. The motive is to gather basic information such as country, area, line, and carrier on any international phone numbers with very good accuracy. Then try to determine the VoIP provider or search for footprints on search engines to try to identify the owner.
Features:
It checks if the phone number that you have searched, exists or not.
It gathers information about phone numbers such as country, area, carrier, and line type.
OSINT footprints using external APIs, Google Hacking, search engine, and phone books.
Check for reputation reports, social media, disposable numbers, and more.
Scan several numbers at once.
Run your web instances as a service.
Important

It does not allow to hack a phone.
It does not allow to get the precise phone location.
It does not allow to track phone or it's owner in real time.
Using PhoneInfoga:
Follow the below steps to use PhoneInfoga on Google Cloud Console:
Step 1: Log in to Google Cloud Console using any of your google accounts and click on the icon shown below.
(This is actually launching your Google cloud shell and giving you access to a machine where you can use "PhoneInfoga")

Step 2: Now there 2 options, either you can install PhoneInfoga like an application just by typing these commands into your terminal.

Or, you can go the easier way and use Docker.
Step 3: Since the Google cloud console has already installed docker, we can go ahead and type this command on the console.

Step 4: Press enter after typing the command and your console should be looking like this.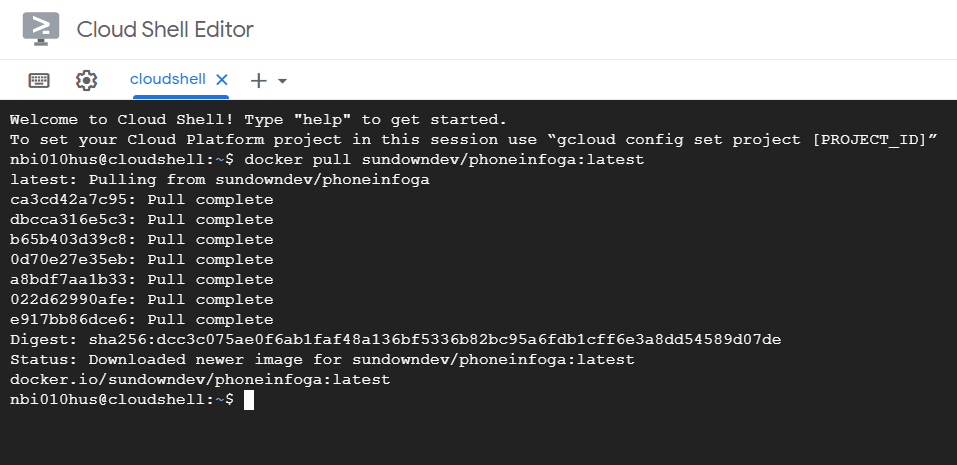 Step 5: Now we are going to run it, enter this command and at the end of it type the phone number with the country code:
docker run -it sundowndev/phoneinfoga scan -n 13526006900

Step 6: Let's see what all the information we were able to get using "PhoneInfoga".
As you can see, PhoneInfoga first ran numverify scan to check whether the number exists or not, and it returned, 'true' indicating the number exists.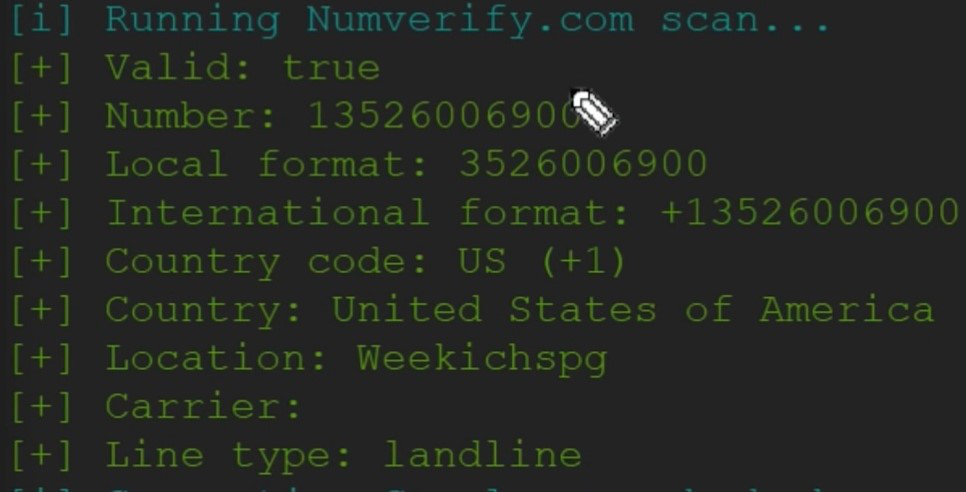 We can also see that the location is, 'Weekichspg' and the line type is of landline. Let's further see what else we have here,

We can see here the social media footprints like on which social media platform this number is used to create an account. So it is quite clear that a tool like PhoneInfoga can prove to be very useful in gathering information on international phone numbers using only free resources.
My Personal Notes
arrow_drop_up