GeeksforGeeks CodersVilla 1.0 programming contest at GLA University

CodersVilla 1.0 – First ever monthly programming contest by A4Algo in association with Geeksforgeeks, where programmers will code to earn the badges of pride.
Contest problems present a real-life scenario, for example, finding shortest path between 2 nodes. With the scenario, each contestant must determine the problem and develop algorithms for its solution.
The contest typically features 4 questions, and contestants have 1.5 hours to complete as many as possible.
Reward and recognition sponsored by GeeksforGeeks :
1st prize: SPARTAN CODER + 3100/-
2nd prize: SPY CODER + 2100/-
3rd prize: NINJA CODER + 1100/-
And Geeksforgeeks goodies and T-shirts too.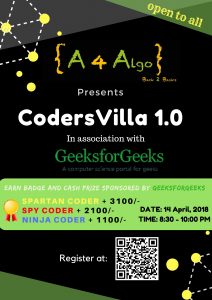 College Name : GLA University, Mathura
Website Link of the event : CodeVilla 1.0
Date of event : April 14, 2018
Time of event : 8:30 PM – 10:00 PM
Registration : Open to all
Contact Details of Student Volunteer :
Vishal Kumar Gupta – 7617003388
Aditi Bharadwaj – 7253094640
Shivanshu Tiwari – 7844051087
Tarun Garg – 7611918666
Surbhi Agrawal – 9084927499
My Personal Notes
arrow_drop_up