7 Best Ecommerce APIs You Need To Know
With the constant change in technology and the introduction of innovative ways of transformation of a digital world, we all are evolving day by day. There was a time when it was hard for an individual to see a computer, but where are we now with immersive powerful mobile phones in our hands that can do a lot more. Likewise, the beginning of the E-commerce Market was introduced back in the '90s by Amazon, and since then, a trend started and we started shifting towards a new digitalization.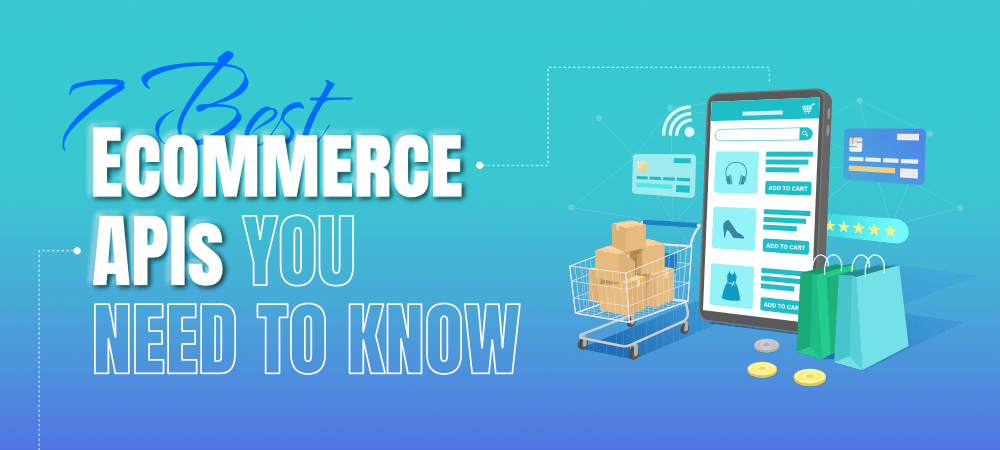 Well, moving ahead, in this article we are going to observe the 7 best e-commerce APIs that you should know that exist today and are dominating the entire e-commerce field.
But before that let's understand what is API? – An API (Application Process Interface) is the bridge used for connecting two applications so that they can create a communication and transmit their respective data. Let's take an example here for a better understanding "Let's say you got a promotional mail from Myntra regarding some offer and click over that, now it will redirect you to its application and eventually you'll land there. Therefore, that action is possible with the help of an API.
Now, let's read further to know about the 7 best e-commerce APIs available in the market.
1. Shopify API
Shopify is one of the widely used APIs in the e-commerce market with a whopping 1+ Million active users globally. It is being considered as one of the most reliable APIs for e-commerce that powers up millions on websites globally. Shopify's API is well balanced and synchronized in a proper structure, and also allows developers to work with different methods such as Order, Category, Customer, etc. and works with XML with regular updates which help developers to work seamlessly.
2. WooCommerce API
In the world of e-commerce, WooCommerce is considered as one of the biggest hits and stable not just because it holds 4.5 Million customers globally but also because it uses REST Structure which helps it in making it more seamless than others. Whereas REST is being used to add, get info, etc. of any particular website which makes it work like a charm while managing.
3. eBay API
When it comes to e-commerce, how can one forget about eBay? With a massive 180+ Million users, it is currently ruling in many parts of the world. Its API helps in managing various features such as selling, searching, or buying any goods over the platform. It works with XML & JSON and helps developers to address their queries on their Developer Forum page but not to forget, this process is a bit time-consuming too.
4. BigCommerce API
It is one of the amazing APIs for software developers as it provides multiple SDKs so that they can use them freely over multiple tasks to save time. Maybe this is one of the main reasons why it holds more than 150 thousand merchants throughout the world. BigCommerce is one of the best choices among developers, especially for establishing new online stores. On the other hand, it also uses REST and uses CRUD method which helps this API in becoming more scalable and is also favorable for SEO tactics.
5. Magento API
This API helps in connecting for better integration so that web services can be used at their maximum capabilities. It helps developers to call out for products, orders, categories, etc. On the other hand, it supports both JSON and XML with the help of 4 methods (POST, PUT, GET, DELETE). It has been a promising API and is being used by more than 2,50,000 Customers throughout the world. Like some of the APIs, it also uses REST and SOAP respectively that uses XML-RPC which allows them to communicate with the client. Today, it is powering more than 7,80,000 websites on a global level.
6. Squarespace API
One of the finest APIs that has been designed with REST, helps developers to customize inventory, check order history, and access any further details. Due to its simplicity, such as drag and drop feature for prebuilding websites, or choosing among predefined templates, it is currently powering more than 2,70,000 websites globally. It is considered the best for startups or small businesses who wish to start their e-commerce store with straightforward functionalities.
7. Amazon API
It is considered one of the most popular API out there in the market. The reason is, currently, Amazon is holding 100+ Million paid customers and 300+ Million users on monthly basis. It provides a great experience when it comes to e-commerce and it offers to add, order, payments, etc. Not just this, but it also allows users to view product images, seller details, and much more. Amazon API uses XML or CSV for the exchange of information and it is one of the oldest out there in the market. So, one needs a certain level of skill set and vast knowledge to handle it properly.
Conclusion
The bottom line is, there are a lot of other APIs out there in the market but we have picked up a handful of 7 Best Ecommerce APIs for you that you should be knowing, and believe it or not each one of these 7 APIs is doing absolutely great in the market. So, if you're seeking any API integration, it can be definitely among them to give your website a kick start and achieve new milestones!
My Personal Notes
arrow_drop_up