wxPython – Change Cursor on hover on Button
In this article we will learn that how can we change cursor when it hovers on Button present in frame. We need to follow some steps as followed.

Step 1- Create a wx.Image object with image you want to use as cursor image.
Step 2- Create a wx.Cursor object and pass wx.Image object above created.
Step 3- Set the cursor using SetCursor() function.

Syntax: wx.Button.SetCursor(cursor)
Parameters:

| Parameter | Input Type | Description |
| --- | --- | --- |
| cursor | wx.Cursor | cursor to be set. |
Code Example:

Python3
import wx
class Example(wx.Frame):
def __init__(self, *args, **kwargs):
super(Example, self).__init__(*args, **kwargs)
self.InitUI()
def InitUI(self):
self.locale = wx.Locale(wx.LANGUAGE_ENGLISH)
self.pnl = wx.Panel(self)
# CREATE BUTTON AT POINT (20, 20)
self.st = wx.Button(self.pnl, id = 1, label ="Button", pos =(20, 20),
size = wx.DefaultSize, name ="button")
# CREATE CURSOR OBJECT
c = wx.Cursor(wx.Image('pointer.png'))
# SET c AS CURSOR
self.st.SetCursor(c)
self.SetSize((350, 250))
self.SetTitle('wx.Button')
self.Centre()
def main():
app = wx.App()
ex = Example(None)
ex.Show()
app.MainLoop()
if __name__ == '__main__':
main()
Output Window: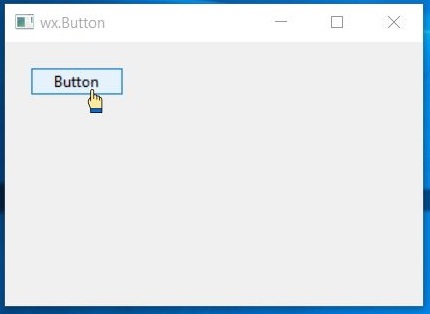 My Personal Notes
arrow_drop_up