Why should we use Proxy Server ?
What is a Proxy Server?
Every time you access the internet you are assigned an IP address. Your IP address can reveal a fair bit of information about you, including your location. So, to protect your online privacy proxy server comes into the picture. It is a way you can hide your IP, with a proxy server your requests do not go directly from your computer to your ISP to the website. It is an intermediary server that acts as a gateway between you and the internet. It prevents malware that can access your server and network through the connection, which significantly increases your security. They act as additional data security boundaries and help retrieve data from an Internet source on behalf of a user without any security threat. It has several functionalities like anonymous Internet browsing, security, bypassing geo-blocking, and regulating web requests depending on your use case, needs, or company policy and their configuration and type.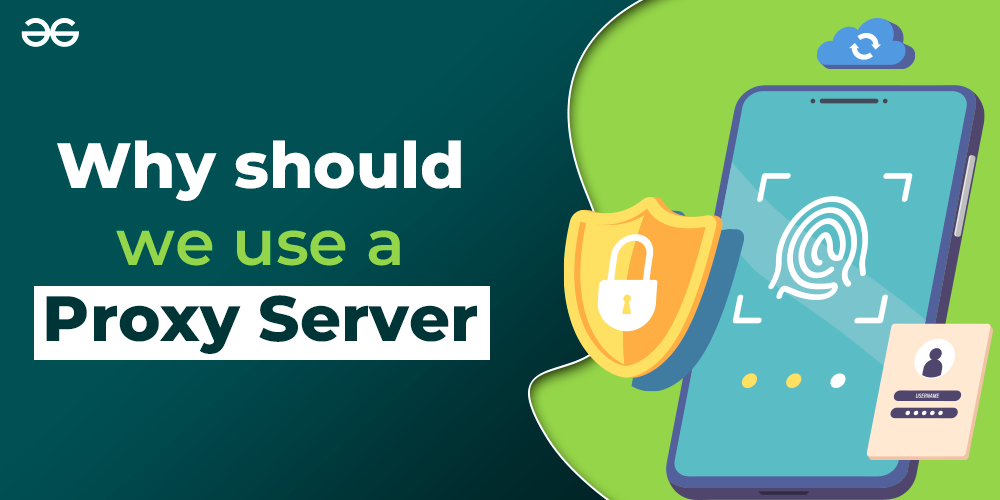 Why use proxy server?
Proxies provide enhanced security and help organizations put certain restrictions on their employees. It can be used for personal purposes, such as hiding location while watching movies online, etc and for professional purposes like.
To control internet usage by employees
Bandwidth savings
Improved speeds
Improve security
Balance internet traffic to prevent crashes
Control the websites employees access in the office
Save bandwidth by caching files
How does a proxy server work?
A proxy server is basically a computer on the internet with its own IP address that your computer knows. If you use a proxy server internet traffic flows through the proxy server on its way to the address you requested i.e When you send a web request, your request goes to the proxy server first. The proxy server then makes your web request on your behalf, collects the response from the web server, and forwards you the data. It can also block access to certain web pages, based on IP address.
Proxy servers provide you with overall better network performance and are also used for keeping data away from unauthorized access, maintaining anonymity, assessing the blocked content maintaining a valuable layer of security. There are a variety of available servers on the internet. Here we have reviewed some available proxy servers based on the above functionalities to filter out some top servers:
IPROYAL
IPRoyal Proxy Manager is a free extension that allows you to easily control all your proxies in Google Chrome. With IPRoyal, you can get a genuine, ethically sourced IP address anywhere in the world. Web scraping, sneaker copping, social media automation, gathering SERP data, market research, avoiding geo-restrictions, IP-based blocks, bans, and more – everything with just a click. It's a great option if you need fast, reliable, and affordable residential proxies with excellent customization. They offer various plans with different pricing:
Residential proxies starting from $4
Datacenter proxies starting from $1.3 per proxy
Sneaker proxies at $0.8 per proxy
static residential proxies starting from $2.5 per month (unlimited bandwidth)
Features:
Import different proxy types in seconds
Great targeting options(country,state, or city)
Pay-as-you-go model
API support and additional tools
Instantly switch between different profiles
24/7 support
Set up your bypass list for issue-free surfing
Kproxy
KProxy is unique, as it offers Chrome and Firefox extensions to make surfing simpler. Kproxy connects via a regular HTTP protocol. Its user's HTTP connection will be seen as a standard connection and KProxy's extension filters all internet traffic, as it turns the computer into a proxy server itself. It offers unlimited downloads, no ads, and access to premium servers and also allows you to hide the top menu. Different subscription plans are available to suit the user.
Features:
Compatibility
IP Masking
Unlimited Access
Great speed
Kill switch to start/stop the proxy
Smartproxy
Smartproxy is a public data access platform that offers over 40 million residential and shared or dedicated data center proxies that helps you shoot unlimited connection requests concurrently. With Smartproxy's comprehensive documentation setting up proxies becomes exceptionally simple. This lets you access a plethora of web pages in no time. You can set up a separate proxy user with its own login credentials for each task. Smartproxy offers a flexible pricing plan starting from $12.5 for 1 GB for small projects to a 100 GB enterprise plan starting from $700/month.
Features:
Unlimited connections
Qualitative Analysis
Data Security
Facilitate simultaneous proxy connections.
Allows access to geo-blocked services.
195 data centers spread across 8 cities worldwide.
Social Media Monitoring

CroxyProxy
CroxyProxy is a free and secure web proxy with advanced capabilities. You can visit video hosting sites, search engines, social networks, etc. with Croxyproxy protecting your privacy. It changes your location and makes you invisible when you surf the Internet. It encrypts all data before it gets transferred to you. It works as a proxy browser. It is very easy to use, you don't need to download any application or configure your browser. Its basic version is free. Its ad-free premium access will cost you $3.50 per month.
Features:
Permanent link generation.
It supports any OS and device, and most web browsers.
The basic version is free.
Allows anonymous surfing
Supports cross-platforms
HTML5 videos and audio playback is supported
HMA
It is a good pick if anonymous browsing is the main focus of your search for a proxy server. It gives access to blocked websites from anywhere in the world and has capabilities of anonymous browsing in 1 tab, hiding the IP in 1 tab, safe online banking on any network, and protecting your information from hackers and thieves. etc. It is a free web proxy derivative of the HMA VPN service. It comes with a 30-day free trial and prices after the trial are also very reasonable.
Features:
Compatibility
Features to stop all ISP tracking
Logging Policy
Kill switch
Streaming & torrenting
Provides an encrypted connection that will let you surf safely.
Access to restricted websites.

My Personal Notes
arrow_drop_up