What's Different In GSoC 2021 – Eligibility, Timeline, Stipend
The Google Summer of Code is an International Program that is conducted every year since 2005 where Google rewards stipends to students who successfully completes the Open-Source Coding Project under the guidance of mentors. GSoC has emerged as the gateway for students to explore the world of Open Source development and many new developers work under experienced developers in the GSoC program which gives great exposure to the students. GSoC has already gained quite enormous popularity globally among college students and the Open Source Organizations. Various open-source organizations participate in GSoC and you need to code & solve problems of these organizations and yes, Google rewards you with a stipend for this.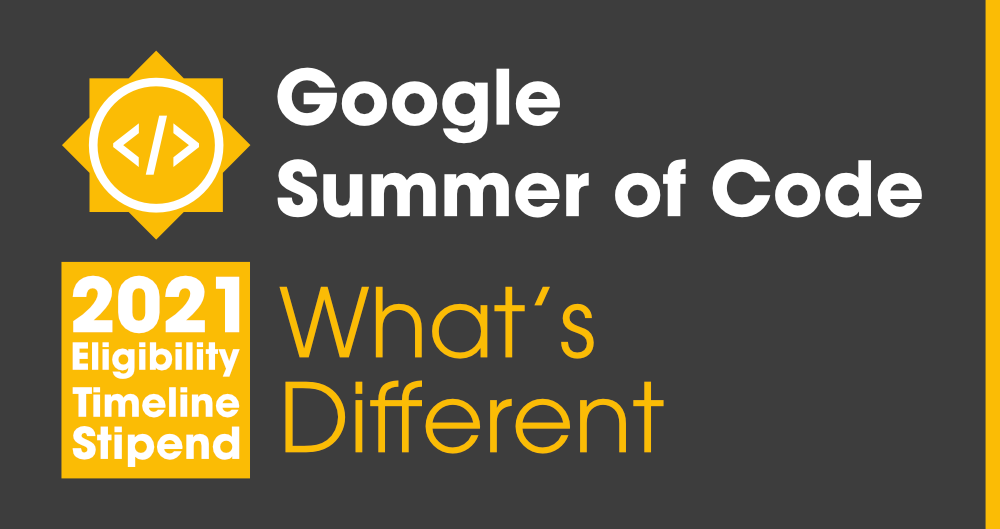 Why you should participate in GSoC?
If you want to invest your time and do hard work for gaining the desired career goals then GSoC is really worth it for you. The main aim of GSoC is to connect students to Open Source Community and let them gain some industrial experience along with a handsome stipend by Google itself. Meanwhile, your hard work for GSoC will separate your resume from the crowd, and completing GSoC successfully means that Google itself will give you a certificate for completing the given project before the deadline that eventually will pave the way for you for some ravishing career opportunities. GSoC is a program that helps you a lot in gaining industrial experience while studying and it is indeed a great learning opportunity for all.
So, the following are the skills which you will learn and excel during your GSoC journey:
1. Technical Skills: As you will work on projects, you will get to implement all your theoretical learning into the practical world and will learn various new tech skills and other things as well from mentors, etc.
2. Soft Skills: During your journey of GSoC, you will know how you have to communicate in the industry via writing e-mails, orally, etc., and the etiquette required for maintaining a healthy vibe in the team.
3. Connections: You will connect with the enriching the open-source community where you'll meet various brilliant minds across the world that can help you to become a great developer and can provide you help & advice for achieving your career goals. Also, you can stay connected to the organization even after completing your project.
4. Time Management & Pressure Handling: While working on any project, the most important thing which we need to learn is how to complete it within the given deadline without getting panic. And GSoC helps you to get familiar with this situation that helps you to learn how to handle pressure and complete a project within the desired time.
Apart from all these skills you will earn around 1 lakh rupees which is really impressive for a college student and completing GSoC helps you to stand out from the crowd during placements. GSoC makes your resume to seek the attention of recruiters as a skilled and eligible candidate which is really very difficult, especially for most of the tier-3 college students in India.
Changes in GSoC 2021 Edition
Google has recently announced about the 17th GSoC program will be entertained with some changes in 2021. The changes are made to encourage more participation and make Google Summer of Code more flexible. Since the world is suffering from a pandemic, it is again a great initiative by Google to increase the number of participation. So, the changes which are introduced this year and will be seen in future GSoC as well are as follows:
1. Reduced Time Period for Coding: The average time period for every project is announced as a 175-hour project over a 10-week coding period. Students will have 10 weeks to code.
2. Reduced Stipend: The stipend is almost going to be reduced by half of the stipend given last year. But you have to keep in mind that this opportunity is more about boosting your learning and getting some practical exposure.
3. Eligibility: Those students who were eligible for GSoC last year are eligible this year also apart from them those students who are enrolled in post-secondary academic programs along with who are graduated between December 1, 2020, and May 17, 2021. And, all those students who are studying in licensed coding schools are eligible. But the applicants should not have participated in GSoC more than once because you can only participate two times as a student in GSoC.
4. Reduced Evaluation: The evaluation will be done while you are working on your project and during the evaluation, if your mentor will not find you eligible for completing the project then you will be out from GSoC at that moment. From 2021, the number of evaluations is also reduced from 3 to 2.
Timeline for GSoC 2021
30 JANUARY 2021: ORGANIZATION APPLICATIONS OPEN
20 FEBRUARY 2021: ORGANIZATION APPLICATION DEADLINE
10 MARCH 2021: ORGANIZATIONS ANNOUNCED
29 MARCH 2021 -13 APRIL 2021: STUDENT APPLICATION PERIOD
13 APRIL 2021-17 MAY 2021: APPLICATION REVIEW PERIOD
17 MAY 2021: STUDENT PROJECTS ANNOUNCED
17 MAY 2021 -7 JUNE 2021: COMMUNITY BONDING
7 JUNE 2021-16 AUGUST 2021: CODING
12-16 JULY 2021: EVALUATIONS
16 -23 AUGUST 2021: STUDENTS SUBMIT CODE AND FINAL EVALUATION
23-30 AUGUST 2021: MENTORS SUBMIT FINAL EVALUATIONS
31 AUGUST 2021: RESULTS ANNOUNCED
So if you are going to apply for GSoC 2021 program then there is a higher probability of getting selected if you just follow the following basic approaches – Go and check the organizations which are participating from last few years, shortlist 2-3 organization in which you are interested and start preparing for the proposal as soon as the organization is officially announced. If you don't have complete knowledge about the technology and if you know only 60 % – 70 % of the source code even then you can apply for that organization as GSoC aims to promote learning. While making a proposal you have to keep in mind that you don't have to write extra-ordinary stuff in your proposal as you have to give a complete description of your effort you are going to make and how much you will do it weekly so it might sound realistic. Most of the students write their proposal as a fairy tale which sounds so fascinating but cannot be implemented in a given period as a result their proposal gets rejected. After your proposal will be accepted then you will have a mentor who will help you during the whole GSoC program and your mentor will guide you further.
For detailed information and to learn more you can refer to the official site of GSoC
Must Read – How to Prepare for GSoc?
My Personal Notes
arrow_drop_up