Querying and selecting specific column in SQLAlchemy
In this article, we will see how to query and select specific columns using SQLAlchemy in Python.
For our examples, we have already created a Students table which we will be using: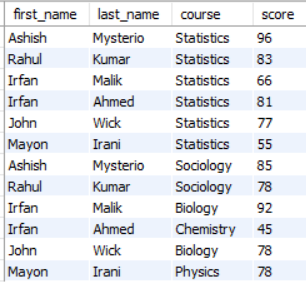 Selecting specific column in SQLAlchemy:
Syntax: sqlalchemy.select(*entities)

Where: Entities to SELECT from. This is typically a series of ColumnElement for Core usage and ORM-mapped classes for ORM usage.
SQLAlchemy Core
In this example, we have used the SQLAlchemy Core. The already created students table is referred which contains 4 columns, namely, first_name, last_name, course, score. But we will be only selecting a specific column. In the example, we have referred to the first_name and last_name columns. Other columns can also be provided in the entities list.
Python
import sqlalchemy as db
# Define the Engine (Connection Object)
engine = db.create_engine("mysql+pymysql://\
root:password@localhost/Geeks4Geeks")
# Create the Metadata Object
meta_data = db.MetaData(bind=engine)
db.MetaData.reflect(meta_data)
# Get the `students` table from the Metadata object
STUDENTS = meta_data.tables['students']
# SQLAlchemy Query to SELECT specific column
query = db.select([
STUDENTS.c.first_name,
STUDENTS.c.last_name
])
# Fetch all the records
result = engine.execute(query).fetchall()
# View the records
for record in result:
print("\n", record[0], record[1])
Output:
SQLAlchemy ORM
In this example is similar to the previous one except for the fact that it is built on SQLAlchemy ORM. SQLAlchemy ORM is a more pythonic implementation of the SQLAlchemy, as you can see in the code, that we have created a Python class to refer to the student table. The syntax is same in both cases with a minor change in the way we are defining the column names. The columns in ORM are defined using ORM-mapped classes. The output is same for both as we have taken first_name and last_name columns in this example as well.
Python
import sqlalchemy as db
from sqlalchemy.ext.declarative import declarative_base
Base = declarative_base()
# DEFINE THE ENGINE (CONNECTION OBJECT)
engine = db.create_engine("mysql+pymysql:/\
/root:password@localhost/Geeks4Geeks")
# CREATE THE TABLE MODEL TO USE IT FOR QUERYING
class Students(Base):
__tablename__ = 'students'
first_name = db.Column(db.String(50),
primary_key=True)
last_name = db.Column(db.String(50),
primary_key=True)
course = db.Column(db.String(50))
score = db.Column(db.Float)
# SQLAlCHEMY CORE QUERY TO FETCH SPECIFIC COLUMNS
query = db.select([Students.first_name, Students.last_name])
# FETCH ALL THE RECORDS IN THE RESPONSE
result = engine.execute(query).fetchall()
# VIEW THE ENTRIES IN THE RESULT
for record in result:
print(record[0], record[1])
Output: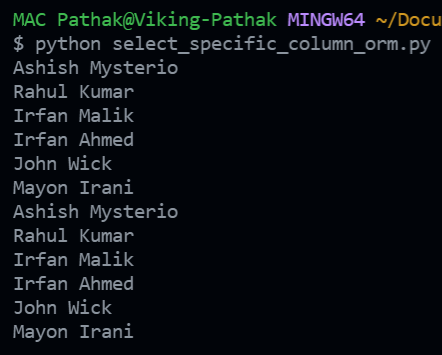 My Personal Notes
arrow_drop_up