PyQt5 – Add Label to StatusBar
In this article we will see how to add label to a status bar. We can set text to status bar by using showMessage method.
Label and StatusBar ?
A label is a graphical control element which displays text on a form. It is usually a static control; having no interactivity. A label is generally used to identify a nearby text box or other widget. A status bar is a horizontal bar, usually at the bottom of the screen or window, showing information about a document being edited or a program running.
In order to do this we will do following steps :

1. Create a label
2. Add text to label
3. Create object of status bar
4. Add label to status bar
Code :
from PyQt5.QtCore import *
from PyQt5.QtGui import *
from PyQt5.QtWidgets import *
import sys
class Window(QMainWindow):
def __init__(self):
super().__init__()
# set the title
self.setWindowTitle("Python")
# setting the geometry of window
self.setGeometry(60, 60, 600, 400)
# setting status bar message
self.statusBar().showMessage("This is status bar")
# setting border and padding with different sizes
self.statusBar().setStyleSheet("border :3px solid black;")
# creating a label widget
self.label_1 = QLabel("Label 1")
# setting up the border
self.label_1.setStyleSheet("border :2px solid blue;")
# adding label to status bar
self.statusBar().addPermanentWidget(self.label_1)
# show all the widgets
self.show()
# create pyqt5 app
App = QApplication(sys.argv)
# create the instance of our Window
window = Window()
# start the app
sys.exit(App.exec())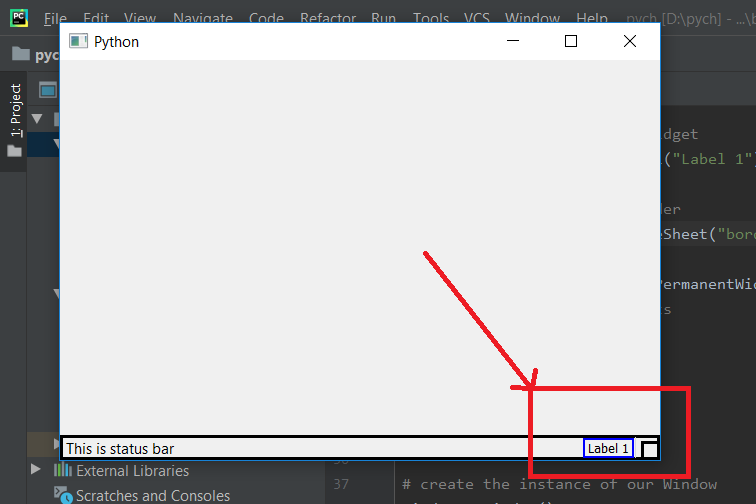 Attention geek! Strengthen your foundations with the Python Programming Foundation Course and learn the basics.
To begin with, your interview preparations Enhance your Data Structures concepts with the Python DS Course. And to begin with your Machine Learning Journey, join the Machine Learning – Basic Level Course
My Personal Notes
arrow_drop_up