Matplotlib.pyplot.subplots() in Python
Matplotlib is a library in Python and it is numerical – mathematical extension for NumPy library. Pyplot is a state-based interface to a Matplotlib module which provides a MATLAB-like interface.
Sample Code
# sample code
import matplotlib.pyplot as plt
plt.plot([1, 2, 3, 4], [16, 4, 1, 8])
plt.show()
Output:

matplotlib.pyplot.subplots() Function
The subplots() function in pyplot module of matplotlib library is used to create a figure and a set of subplots.
Syntax: matplotlib.pyplot.subplots(nrows=1, ncols=1, sharex=False, sharey=False, squeeze=True, subplot_kw=None, gridspec_kw=None, **fig_kw)

Parameters: This method accept the following parameters that are described below:

nrows, ncols : These parameter are the number of rows/columns of the subplot grid.
sharex, sharey : These parameter controls sharing of properties among x (sharex) or y (sharey) axes.
squeeze : This parameter is an optional parameter and it contains boolean value with default as True.
num: This parameter is the pyplot.figure keyword that sets the figure number or label.
subplot_kwd: This parameter is the dict with keywords passed to the add_subplot call used to create each subplot.
gridspec_kw: This parameter is the dict with keywords passed to the GridSpec constructor used to create the grid the subplots are placed on.

Returns: This method return the following values.

fig : This method return the figure layout.
ax : This method return the axes.Axes object or array of Axes objects.
Below examples illustrate the matplotlib.pyplot.subplots() function in matplotlib.pyplot:
Example #1:
# Implementation of matplotlib function
import numpy as np
import matplotlib.pyplot as plt
# First create some toy data:
x = np.linspace(0, 2 * np.pi, 400)
y = np.sin(x**2)
fig, ax = plt.subplots()
ax.plot(x, y)
ax.set_title('Simple plot')
fig.suptitle('matplotlib.pyplot.subplots() Example')
plt.show()
Output: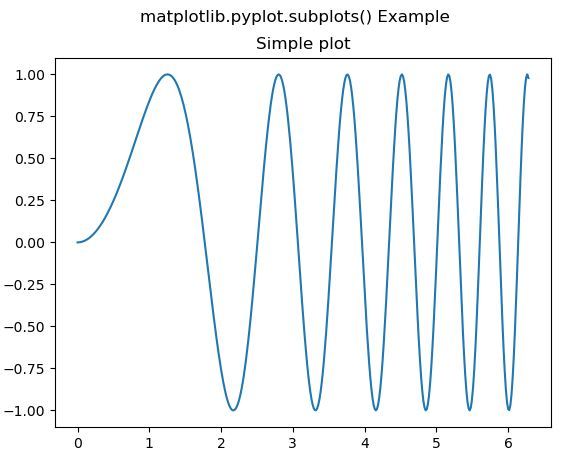 Example #2:
# Implementation of matplotlib function
import numpy as np
import matplotlib.pyplot as plt
# First create some toy data:
x = np.linspace(0, 1.5 * np.pi, 100)
y = np.sin(x**2)+np.cos(x**2)
fig, axs = plt.subplots(2, 2,
subplot_kw = dict(polar = True))
axs[0, 0].plot(x, y)
axs[1, 1].scatter(x, y)
fig.suptitle('matplotlib.pyplot.subplots() Example')
plt.show()
Output: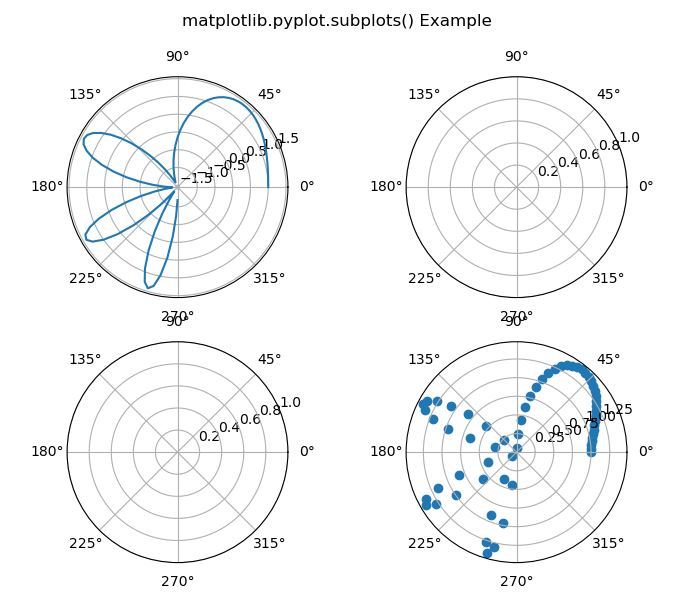 My Personal Notes
arrow_drop_up