On-Site Programming Contest(OSPC) is an event to nourish your problem solving skills. There will be 2 rounds. Those who qualify round 1 (pen and paper) will be tested against tough competitors in round 2 which will be conducted in GeeksForGeeks platform. Each team can have at-most 2 participants and team cannot be changed midway during contest.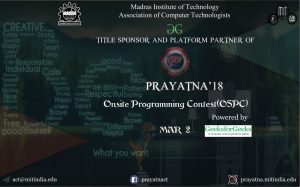 College Name : Madras Institute of Technology, Anna University

Website Link of the event : prayatna.mitindia.edu

Date of event : March 2, 2018
Last date of Registration : March 1, 2018
Contact Details of Student Volunteer :
Sundara Akilesh – 9940179445
Sanjna Mohan – 9442526764
My Personal Notes
arrow_drop_up
---
---
If you like GeeksforGeeks and would like to contribute, you can also write an article using contribute.geeksforgeeks.org or mail your article to contribute@geeksforgeeks.org. See your article appearing on the GeeksforGeeks main page and help other Geeks.
Please Improve this article if you find anything incorrect by clicking on the "Improve Article" button below.