Top 6 DevOps Certifications to Earn in 2021
There's a very famous saying of Idowu Koyenikana, a globally acclaimed author ​- "Opportunity does not waste time with those who are unprepared." Though many of you must be wondering that why this quote is mentioned here – let us tell you it exactly fits in the present-day situation of jobs and career.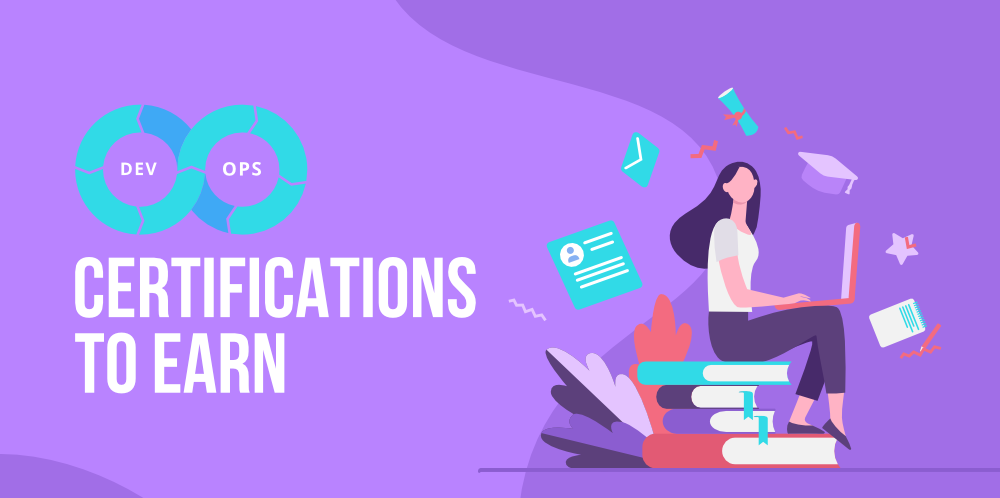 As we're seeing, whether it be a startup or a leading market giant – every business is going under a gigantic digital transformation or tech advancements nowadays, in particular, due to the worldwide pandemic situation.
For instance, businesses are incorporating future technologies like Hyperautomation, Internet of Behaviors, AI & Ml, etc. in their workflows for several justified reasons like remote working, operational-cost reduction, efficiency increment, etc. The point is all the individuals, especially freshers, who're just about to start their professional career journey are required to explore these high-demanding tech trends in the industry and prepare themselves accordingly with the respective skills to stay ahead.
Amidst all this, we've picked out a similar high-demanding domain of current times for you – DevOps! For those who haven't heard about DevOps earlier – it is basically concerned with the practice of combining development and IT operations processes in the development life cycle for various reasons such as faster production, continuous delivery, better customer satisfaction, etc. If we look at the reports' data, the demand for DevOps Professionals has grown by around 42-45% in the last few years. Also, more than 40% of global enterprises are applying DevOps at the project level.
In short, the future of DevOps professionals seems bright in the tech world in the upcoming times. And those, who want to get into the DevOps domain are required to possess significant technical and non-technical skills including programming knowledge, familiarity with operating systems like Linux, etc., understanding of CI/CD pipelines, cloud services, and much more. In addition, these are various standard certifications that you can opt to earn to make your career in DevOps conveniently.
Here, in this article, we're providing you with a list of the 6 best DevOps Certifications that you can consider earning in the year 2021 to start or accelerate your DevOps career journey in the tech world:
1. Docker Certified Associate (DCA) Certification
Docker has undoubtedly become one of the most prominent platforms for the DevOps professionals – and similarly, the Docker Certified Associate (DCA) Certification is indeed a worthwhile option for the individuals, especially freshers, to validate their Docker skills and get some enriching career opportunities in DevOps domain. You're recommended to have 6-12 months of experience with Docker along with a decent understanding of Linux Kernel, namespaces, control groups, configuration management tools, etc. before going out for this certification exam. There are various official resources provided by Docker free of cost that you can opt to explore to prepare for this certification exam. Also, you can go with several reliable and standard third-party training programs.
Moreover, let us tell you it will be a multiple-choice exam consisting of 55 questions and the exam should be completed within a duration of 90 minutes. The exam fee for the Docker Certified Associate Certification is around $195. Also, you get the certification exam results right away as you completed the exam.
2. Certified Kubernetes Administrator (CKA)
The Certified Kubernetes Administrator (CKA) certification validates the skills, knowledge, and competency of an individual to perform the responsibilities of Kubernetes administrators. It was originated by The Linux Foundation and the Cloud Native Computing Foundation to expand and grow the Kubernetes ecosystem. The certification is very much recommended to Kubernetes administrators, cloud administrators, and other IT professionals as well who manage Kubernetes instances to showcase their credibility in the job market. You need to prepare for the following topics to pass this particular certification exam – Storage, Troubleshooting, Workloads & Scheduling, Cluster Architecture, Installation & Configuration, and Services & Networking. Also, each domain has its own weightage, for instance – Troubleshooting (30%), Services & Networking (20%), etc. that you can check from the official website.
It will be an online, proctored, performance-based examination where you need to solve multiple tasks within a duration of 2 hours. The cost for the Certified Kubernetes Administrator exam is $300 and the results will be sent to you via email after 36 hours of the exam completion.
3. Certified Jenkins Engineer (CJE)
The Certified Jenkins Engineer (CJE) certification signifies that the certificate holder is possessing the skills and required hands-on experience to use and implement Jenkins. This certification is widely entertained by recruiters all over the world while looking out for Jenkins professionals. The certification exam is mainly concerned with the Jenkins Fundamentals, Jenkins Pipeline Fundamentals, and Jenkins Administration Fundamentals. You can appear for the exam at any Kryterion test centers that you have to choose from at the time of the registration process. The cost for the Certified Jenkins Engineer certification is around USD 150. You need to know that due to the global coronavirus outbreak, Kryterion testing centers are temporarily closed, and to make things convenient for the candidates, the CJE certification exam is now available to be taken from home with an exam cost of around USD 99.
In addition, apart from Certified Jenkins Engineer, you can also opt to go with the related Certified CloudBees Jenkins Engineer for proficiency with Jenkins and CloudBees Core.
4. AWS Certified DevOps Engineer
The AWS Certified DevOps Engineer is another enriching DevOps certification exam for IT professionals with 2 or more years of industry experience in provisioning and managing AWS environments. This particular certification validates your skills and abilities for implementing & managing continuous delivery systems on AWS, defining & deploying monitoring, metrics & logging systems on AWS, security controls and governance processes implementation & management, and various other related tasks. Though you need to know that you're required to possess either AWS Certified Developer – Associate or AWS Certified SysOps Administrator – Associate certification as a prerequisite to go ahead for AWS Certified DevOps Engineer certification.
The exam will be consisting of around 75 questions in either multiple choice or multiple response format. You need to complete the exam within a given duration of 180 minutes. Other than that, the cost of the exam is USD 300 and for the practice exam, the amount is USD 40.
5. Microsoft Certified DevOps Engineer Expert
To get into a job role of DevOps Engineer, Microsoft Certified DevOps Engineer Expert certification is very much recommended. You're required to be familiar with Azure administration and development along with having expertise in any of the following ones – designing & implementing DevOps strategies, infrastructure, source control, continuous integration & delivery, security, compliance, and other related areas to appear for this certification exam. As this is an expert level certification exam – you need to have already earned either Microsoft Certified Azure Administrator Associate certification or Microsoft Certified Azure Developer Associate certification as a prerequisite.
There will be around 40-60 questions in this exam that you need to solve within a specified time duration. Talking about the cost of the exam, it is around INR 4800 in India. Let us tell you that you can do your entire preparation for this exam with the help of learning resources provided by Microsoft on their official website.
6. Google Professional Cloud DevOps Engineer
The Google Professional Cloud DevOps Engineer certification exam validates your skills and abilities for implementing site reliability engineering principles to service, building and implementing CI/CD pipelines, managing service incidents, optimizing service performance, and other related tasks. Though there are not any rigid prerequisites to appear for this exam – you're strongly recommended to have around 3 years of industry experience with at least 1 year of it in managing solutions on the Google Cloud Platform. The best part is that Google provides you with various worthwhile learning resources that can help you to prepare for this certification exam conveniently.
The exam will consist of multiple-choice and multiple-select questions that you need to solve within a specified duration of 2 hours. The registration fee for the certification exam is around USD 200 with applicable tax. Moreover, you can opt to take the exam either from a remote location or from the testing center.
So, these are several most-recommended DevOps certifications that you can consider earning in 2021 as per your requirements and convenience. Though, before opting out for any particular certification, do some extensive research about it such as if your targeted companies are accepting this particular certification or not, the validity of the certification, etc. for better outcomes!!
My Personal Notes
arrow_drop_up