return command is used to exit from a shell function. It takes a parameter [N], if N is mentioned then it returns [N] and if N is not mentioned then it returns the status of the last command executed within the function or script. N can only be a numeric value.
Syntax:
return [N]
Example: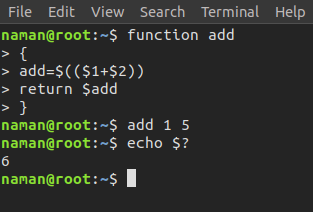 Note: echo $? is used to display the last return status.
Option:
return –help : It displays help information.
My Personal Notes
arrow_drop_up
---
---
If you like GeeksforGeeks and would like to contribute, you can also write an article using contribute.geeksforgeeks.org or mail your article to contribute@geeksforgeeks.org. See your article appearing on the GeeksforGeeks main page and help other Geeks.
Please Improve this article if you find anything incorrect by clicking on the "Improve Article" button below.