Remove rows with NA in one column of R DataFrame
Columns of DataFrame in R Programming Language can have empty values represented by NA. In this article, we are going to see how to remove rows with NA in one column. We will see various approaches to remove rows with NA values.
Data in use: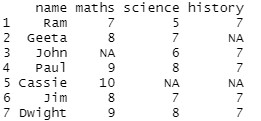 Approach
Create a data frame
Select the column on the basis of which rows are to be removed
Traverse the column searching for na values
Select rows
Delete such rows using a specific method
Method 1: Using drop_na()
drop_na() Drops rows having values equal to NA. To use this approach we need to use "tidyr" library, which can be installed.
install.packages("tidyverse")
Syntax:
drop_na(name_of_the_column)
Example:
R
# Creating dataframe
student=data.frame(name=c("Ram","Geeta","John","Paul",
"Cassie","Jim","Dwight")
,maths=c(7,8,NA,9,10,8,9)
,science=c(5,7,6,8,NA,7,8)
,history=c(7,NA,7,7,NA,7,7))
print(student)
library(tidyr)
student %>% drop_na(maths)
Output:

Method 2: Using is.na()
is.na() function first looks for na values in a column and then discards such rows.
Syntax:
is.na(name of the column)
Example:
R
# Creating dataframe
student=data.frame(name=c("Ram","Geeta","John","Paul",
"Cassie","Jim","Dwight")
,maths=c(7,8,NA,9,10,8,9)
,science=c(5,7,6,8,NA,7,8)
,history=c(7,NA,7,7,NA,7,7))
print(student)
student[!is.na(student$science),]
Output: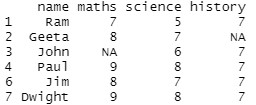 Method 3:Using complete.cases()
This function functions similar to the above two methods
Syntax:
complete.cases(name of the column)
Example:
R
# Creating dataframe
student=data.frame(name=c("Ram","Geeta","John","Paul",
"Cassie","Jim","Dwight")
,maths=c(7,8,NA,9,10,8,9)
,science=c(5,7,6,8,NA,7,8)
,history=c(7,NA,7,7,NA,7,7))
print(student)
student[complete.cases(student$history),]
Output:

My Personal Notes
arrow_drop_up