Peripheral Component Interconnect (PCI)
PCI stands for Peripheral Component Interconnect.
It could be a standard information transport that was common in computers from 1993 to 2007 or so. It was for a long time the standard transport for extension cards in computers, like sound cards, network cards, etc. It was a parallel transport, that, in its most common shape, had a clock speed of 66 MHz, and can either be 32 or 64 bits wide. It has since been replaced by PCI Express, which could be a serial transport as contradicted to PCI. A PCI port, or, more precisely, PCI opening, is essentially the connector that's utilized to put through the card to the transport. When purge, it basically sits there and does nothing.
Types of PCI:
These are various types of PCI: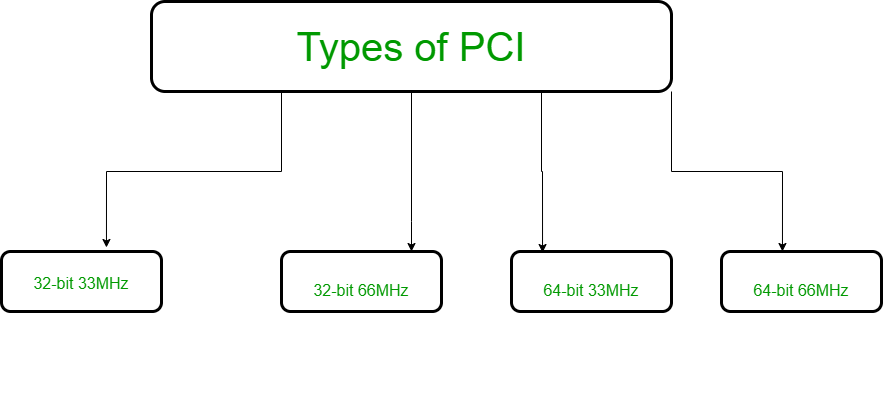 PCI 32 bits have a transport speed of 33 MHz and work at 132 MBps.
PCI 64 bits have a transport speed of 33 MHz and work at 264 MBps.
PCI 32 bits have a transport speed of 66 MHz and work at 512 MBps.
PCI 64 bits have a transport speed of 66 MHz and work at 1 GBps.
Function of PCI:
PCI slots are utilized to install sound cards, Ethernet and remote cards and presently strong state drives utilizing NVMe innovation to supply SSD drive speeds that are numerous times speedier than SATA SSD speeds. PCI openings too permit discrete design cards to be included to a computer as well.
PCI openings (and their variations) permit you to include expansion cards to a motherboard. The extension cards increment the machines capabilities past what the motherboard may create alone, such as: upgraded illustrations, extended sound, expanded USB and difficult drive controller, and extra arrange interface options, to title a couple of.
Advantages of PCI :
You'll interface a greatest of five components to the PCI and you'll be able moreover supplant each of them by settled gadgets on the motherboard.
You have different PCI buses on the same computer.
The PCI transport will improve the speed of the exchanges from 33MHz to 133 MHz with a transfer rate of 1 gigabyte per second.
The PCI can handle gadgets employing a greatest of 5 volts and the pins utilized can exchange more than one flag through one stick.
Disadvantages of PCI :
PCI Graphics Card cannot get to system memory.
PCI does not support pipeline.
My Personal Notes
arrow_drop_up