Java Program to Combine Two List by Alternatively Taking Elements
A list is an ordered sequence of elements stored together to form a collection. A list can contain duplicate as well as null entries. A list allows us to perform index-based operations, that is additions, deletions, manipulations, and positional access. Java provides an in-built interface <<java.util>> to perform list as well as other class-based functions.
Cases: There can occur two different scenarios while doing so as per the length of lists
If list 2 gets exhausted while adding elements alternatively then the remaining elements of list 1 are the second list is remaining elements of list 1 to be added in the same sequence of occurrence.
If list 1 gets exhausted and so on as discussed in the above case vice-versa
So, the Aim is to completely remove the elements from second one and add to first one list and whatever is left will be the second list.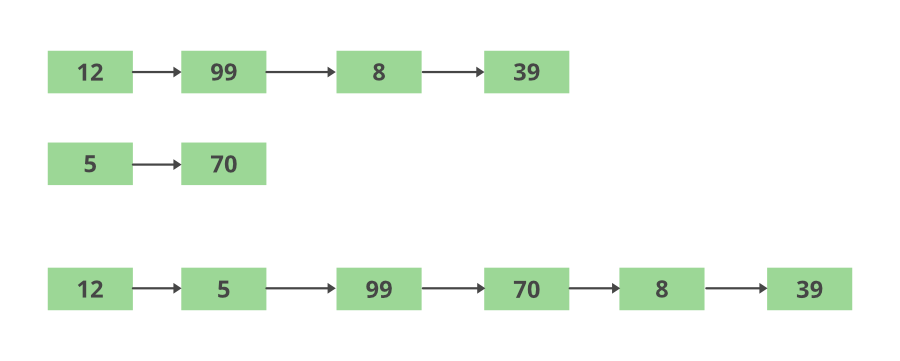 Approach: The following approach is adopted to store elements alternatively in a merged list.
Two lists are declared and initialized with a set of elements.
Two counters, i and j are maintained to iterate over the length of the lists. The loop runs until the shorter length of both the lists.
An empty list is maintained to store the merged contents of both the lists, in order of list1 followed by list2.
At the end of the loop, one of the list, that is a shorter one is exhausted. A loop is then used to iterate over the remaining elements of the longer list and store them at the end one by one.
The data type of the merged list should be similar to the individual lists.
Implementation: Two examples are discussed below considering both integer list and string lists
Example 1: String Lists
Java
// Java Program to Combine Two List
// by Alternatingly Taking Elements
// importing required packages
import java.io.*;
import java.util.*;
import java.util.Iterator;
// Class to access alternate elements
class GFG {
// Main driver method
public static void main(String[] args)
{
// Creating(declaring) list1
List<String> list1 = new ArrayList<String>();
// Adding elements to list1
// Custom inputs
list1.add("Geeks");
list1.add("Geeks");
list1.add("portal");
// Creating(declaring) list2
List<String> list2 = new ArrayList<String>();
// Adding elements to list2
// Custom inputs
list2.add("for");
list2.add("is CSE");
list2.add("portal");
// Display message
System.out.print("List1 contents: ");
// Iterating over List1
Iterator iterator = list1.iterator();
// Condition check using hasNext() which holds true
// till there is single element remaining in the
// List
while (iterator.hasNext()) {
// Printing elements of List 1
System.out.print(iterator.next() + " ");
}
// Next Line
System.out.println();
// Display message
System.out.print("List2 contents: ");
// Iterating over List 2
iterator = list2.iterator();
// Condition check using hasNext() which holds true
// till there is single element remaining in the
// List
while (iterator.hasNext()) {
// Printing elements of List 2
System.out.print(iterator.next() + " ");
}
// Declaring counters
int i = 0;
int j = 0;
// Creating(declaring) merged List
List<String> merged_list = new ArrayList<String>();
// Iterating over both the lists until
// the elements of shorter List are exhausted
while (i < list1.size() && j < list2.size()) {
// Step 1: Adding List1 element
merged_list.add(list1.get(i));
// Step 2: Adding List2 element
merged_list.add(list2.get(j));
// Incrementing counters
i++;
j++;
}
// Iterating over the remaining part of List1
while (i < list1.size()) {
merged_list.add(list1.get(i));
// Incrementing List1 counter
i++;
}
// Iterating over the remaining part of List2
while (j < list2.size()) {
merged_list.add(list2.get(j));
// Incrementing List1 counter
j++;
}
// Next line
System.out.println();
// Display message
System.out.print("Merged List contents: ");
// Iterators
iterator = merged_list.iterator();
// Iterating over merged List using hasNext() method
// which holds true till there is single element
// remaining
while (iterator.hasNext()) {
// Printing merged list contents
System.out.print(iterator.next() + " ");
}
}
}
Output
List1 contents: Geeks Geeks portal 
List2 contents: for is CSE portal 
Merged List contents: Geeks for Geeks is CSE portal portal 
Example 2: Integer Lists
Java
// Java Program to Combine Two List
// by Alternatingly Taking Elements
// importing required packages
import java.io.*;
import java.util.*;
import java.util.Iterator;
// Class
class GFG {
// Main driver method
public static void main(String[] args)
{
// Creating(declaring) List1
List<Integer> list1 = new ArrayList<Integer>();
// Adding elements to List1
// Custom inputs
list1.add(2);
list1.add(4);
list1.add(6);
// Creating(declaring) List2
List<Integer> list2 = new ArrayList<Integer>();
// Adding elements to List2
// Custom inputs
list2.add(1);
list2.add(3);
list2.add(5);
list2.add(7);
// Display message
System.out.print("List1 contents: ");
// Iterating over List1
Iterator iterator = list1.iterator();
// ConditionCheck using hasNext() method which hold
// true till single element in remaining List
while (iterator.hasNext()) {
// Printing List1 contents
System.out.print(iterator.next() + " ");
}
// New line
System.out.println();
// Display message
System.out.print("List2 contents: ");
iterator = list2.iterator();
// ConditionCheck using hasNext() method which hold
// true till single element in remaining List
while (iterator.hasNext()) {
// Printing List2 contents
System.out.print(iterator.next() + " ");
}
// Setting counters to zeros
int i = 0;
int j = 0;
// Creating(declaring) merged list
List<Integer> merged_list
= new ArrayList<Integer>();
// Iterating over both the lists
// until the shorter list
while (i < list1.size() && j < list2.size()) {
// Step 1: Adding List2 element
merged_list.add(list2.get(j));
// Step 2: Adding List1 element
merged_list.add(list1.get(i));
// Incrementing counters
i++;
j++;
}
// Iterating over the remaining part of List1
// Case 1: Input: ShorterList following BiggerList
while (i < list1.size()) {
// Merge remaining List to List1, and
// making List2 final as NULL List
merged_list.add(list1.get(i));
i++;
}
// Case 2: Input: BiggerList following ShorterList
while (j < list2.size()) {
// Merge remaining List to List1,an d
// making List2 -> NULL List
merged_list.add(list2.get(j));
j++;
}
// New line
System.out.println();
// Display message
System.out.print("Merged List contents: ");
// Iterating over merged list
iterator = merged_list.iterator();
// Condition check using hasNext() method which
// holds true till there is single element remaining
// in the List
while (iterator.hasNext()) {
// Printing merged List contents i.e
// FinalList = List1 + List2(Null final List)
System.out.print(iterator.next() + " ");
}
}
}
Output
List1 contents: 2 4 6 
List2 contents: 1 3 5 7 
Merged List contents: 1 2 3 4 5 6 7 
My Personal Notes
arrow_drop_up