Data Science is one of the most popular technical fields in current times. And why not? Almost every industry ranging from healthcare, automobile or even agriculture generates data. And Data Science is the golden key that converts this dense and complicated data into simple language that normal humans can understand!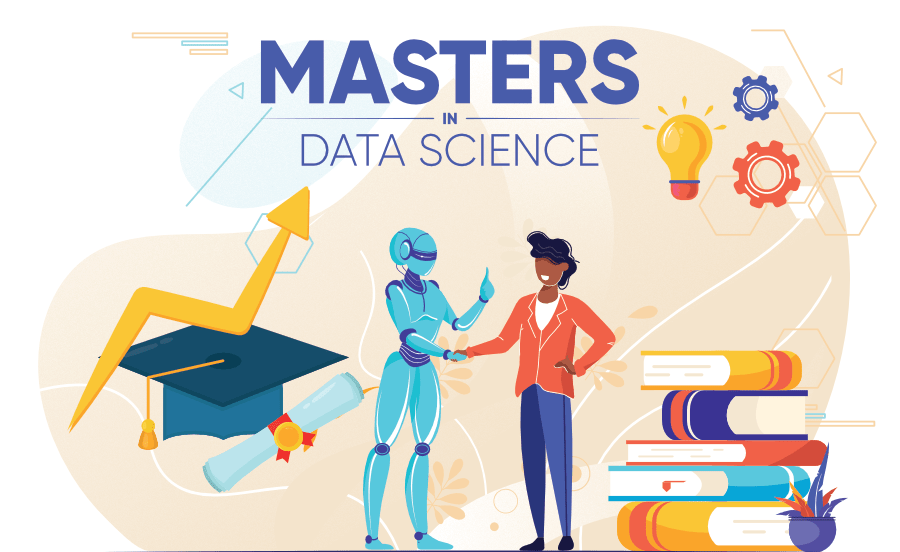 So are you excited about Data Science? Well, the simplest way to enter into this field is by obtaining a Master's Degree in Data Science. This will provide you all the skills you need to collect, analyze and interpret large amounts of data. You will learn about the foundations of Data Science like statistics, programming languages, data analytics tools, etc. All these will make you industry ready and ensure that you excel in the workplace as a data scientist or data analyst. But there are a lot of questions regarding a master's degree that may arise in the mind of a student or a working professional. So let's move on in this article and answer all these questions now!
Options For a Career in Data Science
There are different types of degrees that you can opt for depending on your specialization. You could either take the direct method and opt for a Master's in Data Science or even more specialized options if you are more interested in business, finance, etc. However, for each of these master's degrees, you should have some prior experience like an undergraduate degree in Statistics, Mathematics, Actuarial Science, Computer Science, Information Systems, Finance, Economics, etc. If you have absolutely no background in the basics of Data Science, then it might be tough to jump directly into a Master's in Data Science degree. However, individual universities have different selection criteria so it's best if you check that out as well.
Now let's see the types of Master's degrees you could opt to have a career in Data Science:
1. Master's in Data Science
If you want to pursue a career in Data Science then obtaining a Master's in Data Science is the most direct and obvious route. It will provide you a wide breadth of skills in various branches of Data Science and ensure that you can find solutions to real-world data problems in startups or even global organizations after you graduate.
Master's in Data Science will start with the basics of Data Science like Programming in Python, SQL, Statistics, etc. and then move on to the core subjects like Data wrangling, data exploration and visualization, Statistical data modeling, Machine Learning, etc. After completing this degree, you can move into a wide array of different specializations like Data scientist, Data analyst, Machine learning engineer, Statistical analyst, etc.
2. Master's in Business Analytics
In case you want to be a bit more specific and focus on applying data to study the consumer and market trends for companies, then a Master's in Business Analytics is the route for you. It will teach you how to understand the problems that businesses face in fields such as finance, marketing, supply chain environments, etc. and apply data analytics to obtain relevant solutions.
Master's in Business Analytics usually has core subjects like Business intelligence modeling, Marketing Analytics, Business information systems, Data Analytics, etc. After completing this degree, you will easily be able to combine your knowledge of business with a deep understanding of data analytics. Hence you can work as a Business intelligence analyst, Project analyst, Business Architect, Data analyst, etc.
3. Master's in Information Systems
Information systems in a company are all the components that work together to collect, process and store information in the form of data. This is then used to support the decision making process in the company. So if you want to analyze and manage information systems in a business setting, then Master's in Information Systems is the route for you.
Master's in Information Systems has core subjects like Database Systems, Information Modelling, ICT Infrastructure Management, Business Analytics, Machine Learning, etc. After completing this degree, you will be able to work in a range of industries like business, financial services, technology, etc. with designations such as Financial Services Manager, Business Systems Analyst, Data Engineer, Data & Analytics Manager, etc.
What are Other Related Degrees in Data Science?
Data Science is used across multiple industries and in many different fields these days. So if you have a dual interest in Data Science and some other field as well, you can pursue degrees that combine Data Science with other fields. One example of this is the Master of Bioinformatics. You can search for other options that combine Data Science with the field you wish to study and the universities that offer it as well.
Master of Bioinformatics
If you want to combine biology with data science, then Master of Bioinformatics is the degree for you. This degree with provides you a unique blend of molecular biology, physiology, and biochemistry on one side with computer science, statistics and applied mathematics on the other. This unique combination my even allow you to solve the biological secrets of this world!
You will be able to join the Master of Bioinformatics easily if you have a background in either biology, computer science, medicine, mathematics/statistics, etc. After completing this degree, you will be able to work in a range of roles relating to the healthcare and data science industries like bioinformaticians, computational biologists, data scientists and analysts, etc.
What type of Master's Program to Choose?
After you have decided which course you want to pursue, the next thing to decide is the mode of studying you want to choose. Here are some options you can consider:
1. Online vs. On-Campus Master's in Data Science
An important choice you have to make is whether to join an online or on-campus Masters in Data Science. This choice can be quite complicated to make as there are many options these days which can range from the conventional offline master's to the recently emerging online degree courses.
In case you are a working professional, it might be too tough for you to leave your job and pursue masters full time. So an online master's degree might be a better option as it will provide you the flexibility to study whenever and wherever you want. Often an online degree is also cheaper as well. But you need to be highly disciplined if you want to study online.
Moreover, some opportunities can only be gained if you opt for on-campus masters. Peer networking and relationship-building with professors are extremely important and may lead to future job opportunities but it is not possible online. It is also not possible to get in-person and thorough doubt clarification in an online master's degree. So you should keep all these points in mind and weigh the pros and cons of both online and on-campus Masters in Data Science and make a decision based on your circumstances.
2. Full Time vs. Part-time Master's in Data Science
If you opt for on-campus Masters in Data Science, you can still choose between full-time and part-time course load as most universities offer both options. If you are a working professional or have other responsibilities, it might be better to enroll for a part-time course as it will allow you to juggle your work and your study. On the other hand, if you are no prior responsibilities and you just want to concentrate on your masters, then a full-time course is the best option.
A full-time Masters in Data Science degree takes 2 years in most universities. You could extend this time to 3 or 4 years for a part-time degree. But make sure to check in with the university you choose as this may vary across different universities.
Which Universities offer Masters in Data Science in India?
Check out some of the universities that offer Masters in Data Science in India. There are many other options, both in India and abroad, that you can also explore according to your requirements.
1. IIT Hyderabad – M. Tech in Data Science
The CSE department in IIT Hyderabad is offering MTech in Data Science (MDS) from 2018. It is a self-paced program of 48 credits that can be taken over 3-5 years. The classes will be held over the weekends or other timings suitable for working professionals.
2. IISC Bangalore – M.Tech. Computational and Data Sciences
This is a degree program by the Computer and Data Systems Stream that involves coursework primarily. This program spans 2 years and brings together the domain-specific knowledge of science and engineering with relevant areas of computing and data science.
3. IIM Calcutta Advanced Programme in Data Sciences (APDS)
This is a one-year Data Science program that will be delivered through 275 hours online classes held through VCNow platform, twice a week. In addition, there will be three campus visits spanning 10 days.
4. BITS Pilani M. Tech in Data Science
M.Tech. in Data Science and Engineering is a four-semester program with live online lectures conducted on weekends that is designed for working professionals to learn the mathematical and engineering skills needed to become a Data Scientist.
My Personal Notes
arrow_drop_up
---
---
If you like GeeksforGeeks and would like to contribute, you can also write an article using contribute.geeksforgeeks.org or mail your article to contribute@geeksforgeeks.org. See your article appearing on the GeeksforGeeks main page and help other Geeks.
Please Improve this article if you find anything incorrect by clicking on the "Improve Article" button below.