How can You Boost Your Career to the Next Level?
In today's competitive world, getting into an affluent and successful career opportunity is quite a daunting task. And, to climb up the career ladder or to take that career to the next level is even more demanding and challenging job. However, everyone wants their career graph to grow exponentially but despite doing all the right things many of them still get stuck in career mediocrity or struggle to elevate their career trajectory. But wait… is it that much tough? Well, not! Yes, there exist several approaches that can help you in achieving your goals and take your career to the next level (Meanwhile, Hardwork & Consistency is a must!!).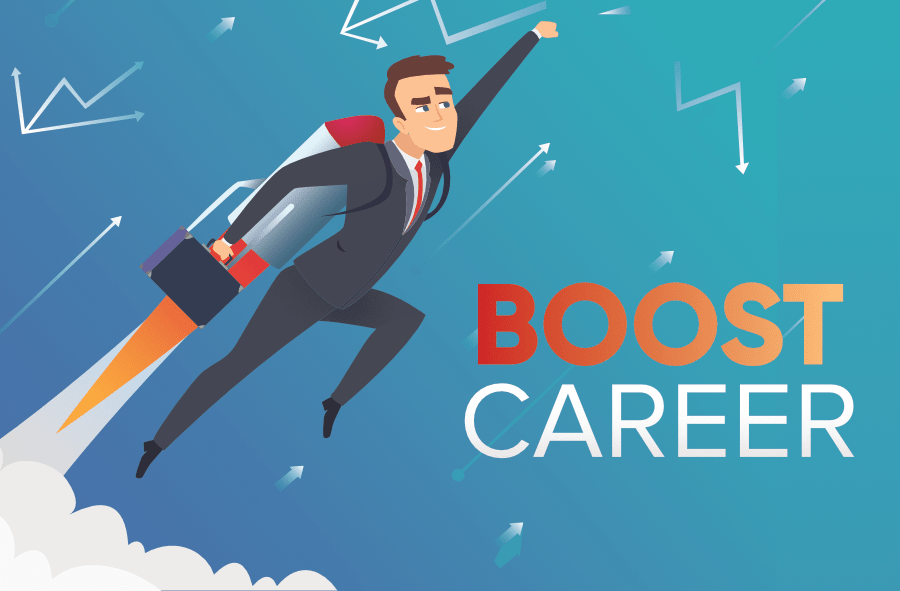 As per the reports, around 60% of all the corporate employees across the world are not satisfied with their current job position and they want to get promoted or need better opportunities to advance their careers. Indeed, there are various factors on which career progression depends such as work performance, experience, skills, etc. but beyond these parameters, there are several key areas that need to be considered to get the green flag. Here in this article, we will let you know about those strategies and tips through which you can boost your career to the next level.
1. Do Your SWOT Analysis
While looking for career advancement (or even if you're not looking for the same), the first and foremost thing that needs to be done regularly is to Evaluate Yourself! You should do your career SWOT (Strength, Weakness, Opportunity, and Threat) analysis to identify your potential and worth. You can ask several questions to yourself during the process such as what is your area of expertise and where do you still lack? or what are your career goals? or is the industry have enough opportunities for you? etc. And once you're done with the SWOT analysis then you are required to take actions accordingly. Meanwhile, after this self-evaluation process, you may found that your skillsets do not match your current job role or you have more potential and worth or any other situations. And at this time, you have to convert those weaknesses into strengths, set short term and long term goals, keep working towards them and track the progress.
2. Keep Learning & Upgrade Yourself!
Just because you've got a job in a reputed company should not convey you to stop learning and upgrade yourself anyhow. You must ensure to keep yourself updated with the emerging technologies or frameworks in your domain. As said by Warren Buffett – "The more you learn, the more you earn." When it comes to career advancement or job promotion, the organization wants you to expand your expertise and add new skills as well. You can learn and work on various skills that can help you to achieve your career goals. You can consider various workshops, seminars, tutorials, classes, etc. to upgrade yourself and boost your career to the next level. Moreover, without depending on a particular reason such as job promotion, job switch, or any other, learning is always a must.
3. Get Out of the Comfort Zone
If you want to uplift your career progression, you have to leave your created comfort zone. Yes, because staying in the comfort zone at work not only make you miss various career opportunities and chances but it can also put a barrier on your ability to grow and enhance the skills. Most of the time when a new opportunity comes, it demands you to step out of the comfort zone for which individuals are not ready and they often leave the opportunity without considering what it entails. However, once you get to enter your self-created comfort zone, it's quite harder to move out from that trap but you can leave that comfort zone if you have some determination and can go over the boundaries to achieve your goals. And when you break out of this zone, you can see the success coming towards you.
4. Build a Network
Whether you're looking for career advancement or not, connecting with people and building a professional network should always be in your to-do list. It may just take a small part of your whole day, but it will reward you with a huge network of professionals. Also, the process should not be limited to your current organization or colleagues, you can reach out to every person that can help you in achieving your career goals. You may attend various conferences, seminars, build online presence (through LinkedIn, Gmail, etc.) to come across such people. It will not only help you to get career advancement opportunities but you can also get to know about the industry trends, competitors, etc. through your connections. And yes, do not only remember your created network when you're in a need of something but you must also get in touch with them regularly.
5. Look Out for the Opportunities
Last but not the least, always look out for the new opportunities and be ready to grab it also. Meanwhile, looking out for new opportunities doesn't necessarily tend to job switching or changing career but it simply means to be aware of your potential & skills and keep an eye on possibilities or scope accordingly. Sometimes, you may find that you have reached the saturation point in your current job role, and this is the time you need to move on. However, job switch is always a tough choice but it is also crucial for career advancement. Also, you need to see the bigger picture such as the industry expansion or your work profile demand after 6-7 years to make an effective career plan and then look out for the new opportunities as well.
So are you following the above-mentioned approaches? If not, then you must start to go along with the same to boost your career to the next level. On top of everything else, all you have to do is hard work and your consistency & determination will definitely raise your career graph and get all your dreams to come true!!
My Personal Notes
arrow_drop_up