Difference between RAID 1 and RAID 5
Prerequisites – RAID , RAID levels
1. RAID 1 :
RAID 1 is also known as the mirror configuration of data as it replicates the data from drive 1 to drive 2. In RAID 1, one of the drives is used to store the data and another one acts as a mirror to the already stored data. This level of RAID provides 100% data redundancy in case of any failure.
Advantage –
It has good fault tolerance i.e. ability to maintain functionality even if one disk fails.
Disadvantage –
It is expensive because the extra drive is required for mirroring.


2. RAID 5 :
In RAID 5, data is equally divided in all disks and minimum number of physical disks needed is 3. The main advantages of RAID 5 over RAID 1 are no need of large space, supports data accessing at the time of recovery and high security of data. RAID 5 is generally suited for medium level of applications.
Advantage –
RAID 5 was introduced to make the random write performance better.
Disadvantage –
RAID 5 allows recovery of at most 1 disk failure (because of the way parity works). If more than one disk fails, there is no way to recover the data.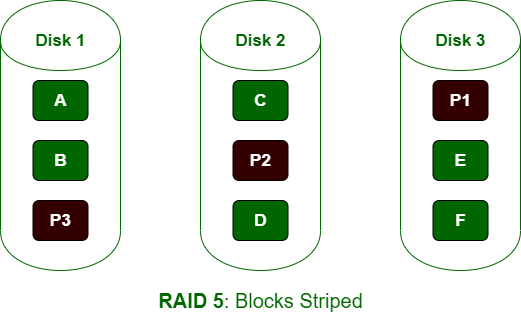 Difference between RAID 1 and RAID 5 :

| S.No. | RAID 1 | RAID 5 |
| --- | --- | --- |
| 1. | RAID 1 stands for Redundant Array of Independent Disk level 1. | RAID 5 stands for Redundant Array of Independent Disk level 5. |
| 2. | In RAID 1, data is not split in the disks. | In RAID 5, data is equally divided in all disks. |
| 3. | The write speed of RAID 1 is slower than RAID 5. | The write speed of RAID 5 is better than RAID 1. |
| 4. | In RAID 1, minimum number of physical disks needed is 2. | In RAID 5, minimum number of physical disks needed is 3. |
| 5. | RAID 1 supports mirroring and redundancy. | RAID 5 does not support mirroring and redundancy. |
| 6. | Data accessing rate is low in RAID 1. | Data accessing rate is high in RAID 5. |
| 7. | In RAID 1, large space is needed for mirror spacing. | In RAID 5, large space is not needed. |
| 8. | In RAID 1, we cannot access data at the time of recovery. | In RAID 5, data can be accessed while recovering data from failure. |
| 9. | Security of data is low in RAID 1. | Security of data is very high in RAID 5. |
| 10. | RAID 1 is best suited for high-end level of applications. | RAID 5 is generally suited for medium level of applications. |
My Personal Notes
arrow_drop_up