Convert the .PNG to .GIF and it's vice-versa in Python
Prerequisites:
Python supports subsystems for converting one file format to another. This article discusses this topic and depicts how a png file can be converted to its gif equivalent and vice versa. For conversion of one file format to the other PIL is employed.
The given example uses a GUI interface to the code, so we will require Tkinter. It is a Python binding to the Tk GUI toolkit. It is the standard Python interface to the Tk GUI toolkit which provide the interface to the GUI apps.
Approach
Import modules
Create a normal window
Add buttons to take choice whether to convert to png to gif or vice versa
Open file
Check if the file supplied is of the correct format
Convert to its respective equivalent
Save image
Execute code
Program:
Python3
from tkinter import *
from tkinter import filedialog as fd
import os
from PIL import Image
from tkinter import messagebox
root = Tk()
# naming the GUI interface to image_conversion_APP
root.title("Image_Conversion_App")
# creating the Function which converts the jpg_to_png
def gif_to_png():
global im
import_filename = fd.askopenfilename()
if import_filename.endswith(".gif"):
im = Image.open(import_filename)
export_filename = fd.asksaveasfilename(defaultextension=".png")
im.save(export_filename)
messagebox.showinfo("Success", "File converted to .png")
else:
messagebox.showerror("Fail!!", "Error Interrupted!!!! Check Again")
def png_to_gif():
import_filename = fd.askopenfilename()
if import_filename.endswith(".png"):
im = Image.open(import_filename)
export_filename = fd.asksaveasfilename(defaultextension=".gif")
im.save(export_filename)
messagebox.showinfo("Success", "File converted to .gif")
else:
messagebox.showerror("Fail!!", "Error Interrupted!!!! Check Again")
button1 = Button(root, text="GIF_to_PNG", width=20, height=2, bg="green",
fg="white", font=("helvetica", 12, "bold"), command=gif_to_png)
button1.place(x=120, y=120)
button2 = Button(root, text="PNG_to_GIF", width=20, height=2, bg="green",
fg="white", font=("helvetica", 12, "bold"), command=png_to_gif)
button2.place(x=120, y=220)
root.geometry("500x500+400+200")
root.mainloop()
Output: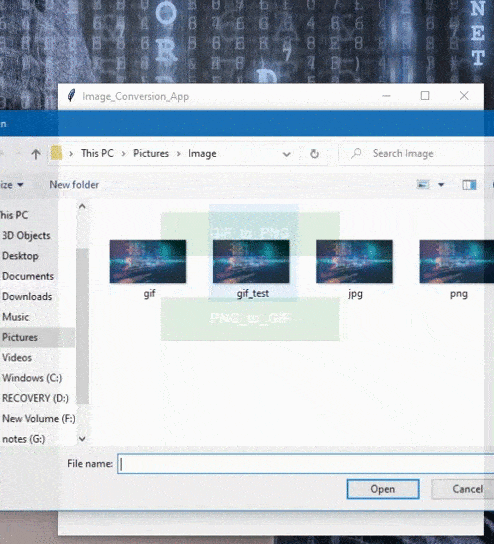 My Personal Notes
arrow_drop_up