List Interface in Java with Examples
The Java.util.List is a child interface of Collection. It is an ordered collection of objects in which duplicate values can be stored. Since List preserves the insertion order, it allows positional access and insertion of elements. List Interface is implemented by the classes of ArrayList, LinkedList, Vector and Stack.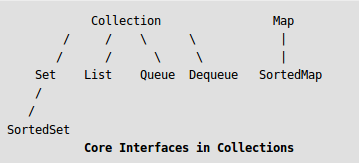 Declaration:
public abstract interface List extends Collection
Creating List Objects:
List is an interface, and the instances of List can be created by implementing various classes in the following ways:

List a = new ArrayList();
List b = new LinkedList();
List c = new Vector(); 
List d = new Stack(); 

Generic List Object:
After the introduction of Generics in Java 1.5, it is possible to restrict the type of object that can be stored in the List. The type-safe List can be defined in the following way:

// Obj is the type of object to be stored in List
List<Obj> list = new ArrayList<Obj> ();

Operations on List:
List Interface extends Collection, hence it supports all the operations of Collection Interface, along with following additional operations:
This article is contributed by Dharmesh Singh. If you like GeeksforGeeks and would like to contribute, you can also write an article using contribute.geeksforgeeks.org or mail your article to contribute@geeksforgeeks.org. See your article appearing on the GeeksforGeeks main page and help other Geeks.
GeeksforGeeks has prepared a complete interview preparation course with premium videos, theory, practice problems, TA support and many more features. Please refer Placement 100 for details
My Personal Notes
arrow_drop_up