Winter Interview Preparation Course – Invest in YourSelf
Dun…dun…dun…the year 2022 is almost over and it's time to think about your new year resolution that will help you in the long run but what if you start working right now on your career goals instead of waiting till the new year.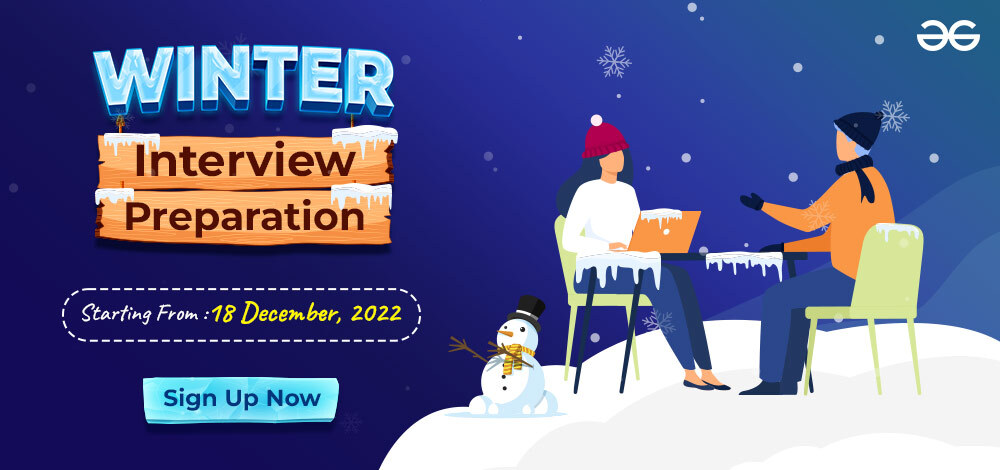 Winter usually brings out the laziness feeling from the inside and you feel like postponing your tasks to the next year. But GeeksforGeeks can't let you do that!
We won't let you distract from your career goals anyhow in this winter tiredness and in fact, to make this period more productive and worthwhile for you, we're offering you a week-long workshop that gets you interview-ready. With this workshop, you'll learn the basics, work on real-world projects, evaluate your preparation and uplift your tech career! Enroll for a chance to receive 360-degree learning from experts in booming industries. If this doesn't make you feel motivated, nothing will. So, dive in to see what's cooking in this much-awaited workshop…
What is GFG Winter Interview Preparation ??
GeeksforGeeks Winter Interview Preparation Live Course will guide you to enhance the problem-solving skills that eventually lead you to crack any interview you sit for. In a span of 7 days, you will solve DSA questions, work on case studies & live projects, develop MVPs, and much more. Towards the end of this workshop, you will get acquainted with the frequently asked questions in interviews, know how to make your CV stand out & strengthen your confidence through mock interview sessions.
Let us tell you that irrespective of any stage in your coding career, this workshop aims to prepare you for your upcoming interviews by building up your foundation & structuring your learning.
*The Winter Interview Preparation Live Course is getting started from December 18, 2022. Sign Up now & receive the best knowledge from industry stalwart at an affordable rate (yes, the registration fee is less than the price of a cheesy margherita pizza).
Students studying in their second, third or fourth year of college and young working professionals will definitely benefit immensely from the previous interview experiences, learning system design concepts, all the basic DSA concepts & an optimized approach to solving questions provided in the week-long course.
With the objective of boosting your skills, this workshop seeks to provide you with a real-life interview preparation experience with industry professionals that will aid you in progressing your career the way you want to. You can directly register yourself for the course by following the below-mentioned steps:
Step 1: Visit the official page of the Winter Interview Preparation LIVE Course.
Step 2: Then, Click on the 'Sign Up Now' Button and enter the required details in the form such as name, graduation year, etc.
Step 3: After signing up, you'll get successfully registered for the course and will be able to attend the sessions as per the schedule.
Course Content
The day-wise course plan table for this Winter Interview Preparation – LIVE Course is as follows:
Day 1: 18th December 2022
| | | | |
| --- | --- | --- | --- |
| Session 1 | 7 pm to 8 pm | Python for Data Science | A Beginners Guide | Amit Diwan (YouTuber Amit Thinks | Founder Studyopedia) |
| Session 2 | 8:30 pm to 9:30 pm | Being Data Scientist & How to Crack It!!! | Arpit Jain (Lead Data Scientist | Mavenir | Ex-Ericsson | IIT M) |
Day 2: 19th December 2022
Session 1
7 pm to 8 pm
Young Coders DSA Roadmap to Success | Do's and Dont's

Nishant Chahar

(SDE @ Microsoft)

Session 2
8:30 pm to 9:30 pm
Must Do Resume Tips for Placement | LinkedIn Profile Building, Referral Networking, and Resume Optimization
HR @ GeeksforGeeks
Day 3: 20th December 2022
| | | | |
| --- | --- | --- | --- |
| Session 1 | 6 pm to 7 pm | Tackling Recession & Mega Job-A-Thons | Sandeep Jain (Founder and CEO, GeeksforGeeks) |
| Session 2 | 8 pm to 9 pm | Building Video Library with React | Step-by-Step Guide for Developer | Prakash Sakari (Mentor @ GeeksforGeeks) |
Day 4: 21st December 2022
| | | | |
| --- | --- | --- | --- |
| Session 1 | 7 pm to 8 pm | Live Mock Interview | Low-Level Design | Low-LevelArsh Goyal (Senior Software Engineer @ Samsung) |
| Session 2 | 8:30 pm to 9:30 pm | Expert Tips and Best Practices for System Design: A Comprehensive Guide for Developers | Jay Chakra (Senior Consulting Engineer @ MongoDB) |
Day 5: 22nd December 2022
| | | | |
| --- | --- | --- | --- |
| Session 1 | 7 pm to 8 pm | Mastering the Job Switch: A Comprehensive Guide to DSA Preparation, Time Management, and Resume Optimization | Chandan Aggarwal (SDE @ Microsoft, Ex-Infosys) |
| Session 2 | 8:30 pm to 9:30 pm | Competitive Programming 101: Essential Strategies and Techniques for Success | Yash Dwivedi (Mentor & SDE @ GeeksforGeeks) |
Day 6: 23rd December 2022
| | | | |
| --- | --- | --- | --- |
| Session 1 | 7 pm to 8 pm | DevOps Essentials: A Comprehensive Guide to Building Agile and Scalable Software Development and Deployment Processes | Shubham Londhe (Senior Python Backend Engineer @ Vamstar) |
| Session 2 | 8:30 pm to 9:30 pm | Being GATE Ready | A Comprehensive Guide to Acing the Exam and Boosting Your Career Opportunities | GATE Team @ GFG |
Day 7: 24th December 2022
Session 1
6 pm to 7 pm

Ask Me Anything Session

Sandeep Jain(Founder and CEO @ GeeksforGeeks)
Session 2
7 pm to 8 pm
Mastering Java Backend Development: An Engineer's Guide to Building Scalable and Reliable Web Applications | Mahesh Kariya

Mahesh Kariya

(Senior Solution Engineer at Deqode)
FAQs on Winter Interview Preparation
Q1: Will the course content be available after the course end date?
Ans. The course will conclude on 24th December 2022 but the course premium content will be available in the course only. In the premium content, you will get the access to the Industry Experts Sessions, Certificate etc.
Q2: Do we have doubt-support in this program?
Ans. No, this program doesn't have doubt-solving support. If you've any queries related to the course, you may call us on our toll-free number: +91-7838223507 or drop us an email at courses@geeksforgeeks.org
Q3. How can I register for the course?
Ans. You need to sign up for the course from the official page: Winter Interview Preparation Live Course
So, what are you waiting for now…?? Sign Up today for this enriching Winter Interview Preparation Live Course by GeeksforGeeks, give yourself a chance to receive 360 learning before you sit for your next interview, and end the year on a great learning note!
My Personal Notes
arrow_drop_up