Why Should You Learn Android App Development?
Nowadays, we have one thing which is always close to us, and it also tells about our interests, behavior, etc. It also makes our life easier in education, health, banking, and many other fields. But what is that? I hope you must have found the answer, yes, it is a smartphone. Earlier, mobile phones were mostly used to make calls, sometimes sending texts, but when Smartphones were launched, they just widened the variety of things we could do. They just opened nearly unlimited ways of doing things. The heart is the central part of the body, but the thing which pumps it is the blood. Similarly, Hardware is the central part of the Phone, but the thing which pumps it is the apps. Nowadays, there is an app made for nearly every task you want to do, from making video calls to booking tickets, etc.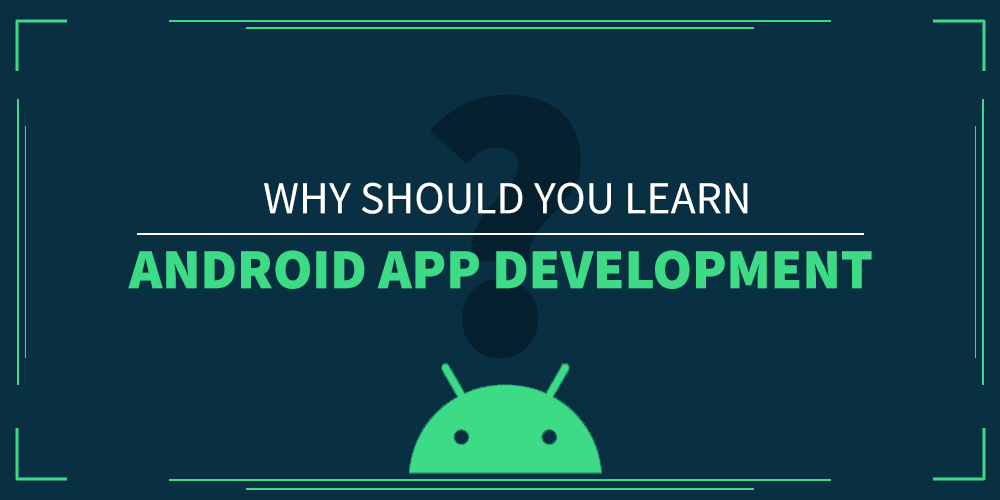 In this technological world, two Power-Houses give you the power to develop applications for mobile platforms, these are Android and iOS. But, in this article, we are going to talk about the reasons for learning Android app development. But before that, the first thing you should know is, what is Android and Android app development? Android is a Linux-based operating system, which nowadays runs on various things like tablets, TV, watches, etc. Android app development is the process of developing an app for devices running on the Android operating system. With this, you can grab the opportunity to solve any real-world problem that will help any earth-inhabitant. If you are scratching your head to learn Android app development, or you have found your ace in it, here are some of the top reasons to learn Android app development.
1. Intuitive Self-Learning
The best thing about Android app development is that you can learn easily. There are numerous amounts of resources available for Android app development on the web. But the only thing that one should require is how to search effectively on Google or the art of googling stuff. With this, you can access well-written official documentation by Google developers, video tutorials, online free courses, articles, and many more. In simple words, you have access to valuable and precious knowledge. You can get these things on your own, that is, you do not need to go to an institution to learn Android application development. You can learn Android application development at your own pace. In Android app development, you have to learn and keep yourself updated with the latest features. Android always comes with a new version that has new features with better performance.
Some learning resources are listed below:
2. It's Free and Open-Source
Android is an open-source, free operating system, giving it the power to create or run applications. It has a wide community and because of this, you can solve the obstacles that come when you are learning android app development. Open source means that you can easily access the codebase of software that is open source, so you can learn from it, and you can also contribute to their codebase. Android also allows you to participate in this and introduce yourself as a developer to the open-source community.
3. The Fastest Growing Technology
In the former real world, there were a lot of things that were done physically, required guidance and hard work, and took a lot of time. For the simple task of transferring money from one account to another, one had to stand in queues for a significant time, but now the same task can be done in one minute using various apps. It may not be blasphemous to say that in today's world, the same tasks can be done through a mobile application more efficiently and safely in less time.
4. You Can Earn From It
If you allocate your valuable time to it then definitely it will give you the ability to earn money from it. And, you may have also heard about the Google Play Store, which is a global app market platform. You can publish your app there and also make it available for the consumer at a reasonable price. You can also join a company as an Android developer, or you can also work as a freelancer. You can integrate advertising with your app and publish it on the Google Play Store. They pay you for your advertising revenue once your app becomes recognized. As a computer science student, it is one of the good skills to generate pocket money in college.
5. Develop Problem-Solving Skill
You can participate in a hackathon where you will find real-world problems and have the opportunity to present a solution to that problem. In some hackathons, you also have the option of offering solutions to any real-world problems. As a beginner in Android app development, this is the best place to improve or develop your problem-solving skills as well as overcome all the hurdles and flaws when implementing your solution on your own or with a team. And you will be able to increase your knowledge and strengthen self-education. This will ensure a firm grip on your subject in the future and as your projects are implemented you will develop different interests and perspectives on the subject. Not only this, these projects will help you in powering your resume and will give ideas about your skills and knowledge to the companies.
6. Enhance Your Creative and Innovative Thinking
One of the advantageous features of learning android app development is that you will be able to use all the qualities like creativeness, way of thinking, coding skills, and closeness to the real world. When you are designing the UI for your app, you are developing your creativity. You must have observed and used many apps having different functionalities that may have helped you develop many ideas and increase your innovative thinking and improve your creative thinking. In other words, it improves your innovation and creativity. Android is one of the tremendous platforms where you enhance your creative and innovative thinking. When it comes to a career, this is an ever-growing topic, and you should definitely go for it this may help you to outstand from remaining candidates and gives you a distinct role to work on. With Android, you can turn your creative and imaginative application ideas into a real-world practical application. You can create android games, applications for your resources, applications for your productivity, or anything you are dreaming of.
Finally, you must have understood the reasons behind learning Android app development. Learning any new skill develops a new vein in the brain. So, if your goal matches this, what are you thinking about? Just go and begin. Keep in mind that learning is the only thing that helps to grow every day in life. The learning process never ends, so enjoy learning…
My Personal Notes
arrow_drop_up