Why Data Science Jobs Are in High Demand?
Jobs are something that can help you enable your disabled dreams. This is why many aspirants, who fail to achieve milestones in their businesses in one go, prefer to apply for that job they can pursue. With the same context, you need to know that Data Science jobs are trending in this pandemic era though the demand for this field got started in the early 20s.
You might give a thought regarding the profiles this field can potentially offer to the candidates whether it be a student or an individual of age 35 or more. So, if we bring the analysis of the renowned tech companies, the jobs that you can opt for full or part-time would be a Data Scientist, AI expert, ML engineer, and so on. As per the reports, the salary for a data scientist had risen to more than $110K (increased by 12-13 percent from the previous year).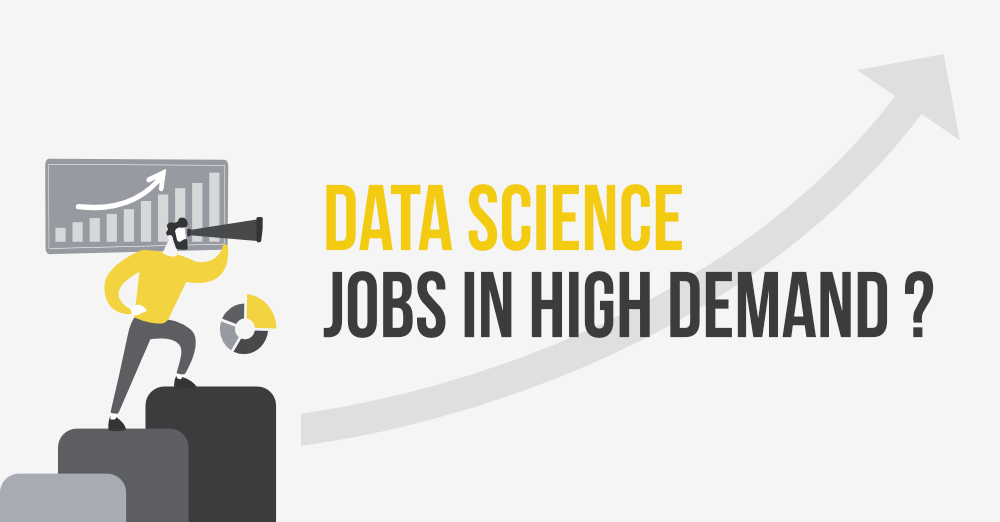 And this salary expectation may only be fulfilled if you somehow get a chance to work with well-known big-data companies. Apart from Data Scientist, another popular job profile here is Data Analyst who is mainly responsible for collecting, processing, and performing statistical analyses on a large dataset.
Now, your mind will think if I should change my current profession after taking the training about this trending field. Yes, you must not stop yourself there and take a look at the listed below points. They will be telling how the job in the data science field can powerfully shape your career, thereby helping you turn your unachieved dreams into a reality.
1. A Pay-Scale That Can Cheer Up Your Lifestyle
Pay-scale is something that lets the people, you surround yourself with, determine your worth. And Data Science is one of those remarkable job domains that come up with quite decent paychecks. If we look at Glassdoor's Data, we will find out that the average pay scale offered by this field is approximately more than 995K INR (in India).
For knowing more about the salaries illustrated at Glassdoor outside India for the data science roles, take a look at this illustration.
This amount is estimated on a yearly basis and one who is looking for a well-paying career can't surely ignore this.
2. There are Various Potential Job Roles in Data Science Which You Can't Deny
If one starts talking about the job roles of this field, the plethora it will showcase is endless. The meaning is that you can either become a Data Analyst, Statistical Expert, Data Scientist, Data Architect, Business Analyst, Machine Learning Engineer, etc. Though such roles have challenges associated, yet you need not rely on your friends or relatives to excel on any of them. This is because there are institutions offering online and offline training for the same job roles. Henceforth, the top-notch experts or Chief Officers are confident about the Demand for Data Scientists, Analysts, or other designations in the 2021 era. And eventually, this will increase as time will progress.
3. That X factor That Simplifies Your Decision-Making Process
The 'X' factor is that quality that separates you confidently from the crowd. If we go as per the definition and relate this with the field of data science, we can observe that the roles and responsibilities one will get aren't only mission-critical but extraordinary too. From collecting the data to analyzing the statistics to predicting the forecasts – you will be doing all this in this job. And this is why the job isn't only the sexiest one but also creative and multi-dimensional too. All you need to keep in mind is that your attitude of researching the required information must never die.
4. Competition isn't that Much that You Think!!
Competition is something which you can't avoid even in this pandemic era. So, thinking about how to maintain your spirit of learning Data Visualization and other aspects of Data Science is something much needed. That will help you to get the dream job. Moreover, the field is emerging and opening the doors of opportunities to both freshers and experienced. With this fact, you must plan and strategize about supplying your services to the top-notch companies desperately looking for someone capable of managing their data and can become a valuable asset for their company. Unlike government jobs, this field won't force you to keep on preparing for years. After gaining experience of six to 10 months from the corporate, you will be so capable that you can make your own clients and get paid in international currencies.
5. Experts can Predict the Statistics and Solve the Real-Time Cases
In current times, Statistics is everywhere and businesses are using it very well to grow themselves. With the help of Data Mining, the experts can boldly re-use the existing data and focus well on the available patterns. This will be helping the teams to use the predicted forecasts better. Now you may think about how the experts will be predicting the statistics? For doing the same, they prefer R, Python, SQL, Tableau, and Machine Learning. Through all these, they can detect the issues in the company's existing utilities, e-commerce purchases, server's activities, and log files too. Meanwhile, Gartner has investigated that 50 percent of businesses are ready to improve the quality of their decisions.
And those decisions will revolve around real-time case studies. There are statistics too which can be examined by the tools like R and Python in an error-free manner. Such a statistical analysis is verified and works sincerely to make operational decisions better. Thus, companies need not hustle for other ways or sources that can promisingly be time-consuming for them.
6. Organizations Can Now Handle a Massive Amount of Data Smoothly
As per the research, more than 75 percent of organizations are still fighting with the counterparts of their structured or unstructured data.
And anyhow, this is essential for them to manage such sorts of data increasing uncontrollably. All this creates a mess within the organizations. For the sake of driving the businesses smoothly, Google Analytics is something that can assist those organizations in their hard times. Also, this is necessary for the esteemed organizations to understand the fact that Google Analytics or other analytical tools use the basic concepts of Machine Learning. It helps them investigate the market trends and analyze whether the time is right to invest in ongoing trends.
In the long run, such management offered by data science regarding how and when to keep the data or discard the sub-datasets is goal-oriented. This will yield fruits in terms of productivity and profit margins too. What those organizations need to focus on is patience and resilience [means adapting themselves to the changing trends].
My Personal Notes
arrow_drop_up