Why Cloud Computing is Booming In The Market?
Remember the time when Flipkart started "Flipkart's Big Billion Day" campaign in 2014 and offered big discounts on products across all categories (We hope you know about this deal…) Do you know why this campaign became a massive failure? The company was using local servers and because of having local servers and storage, the website couldn't handle the huge unexpected traffic..! The solution to this failure was Cloud Computing.!!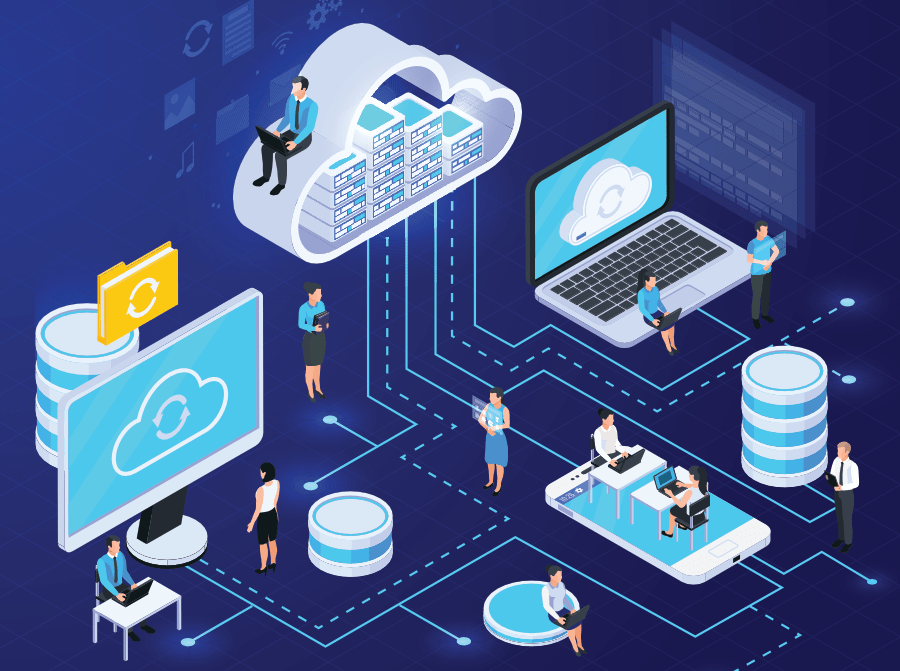 Now from the above scenario, you might have got some idea that cloud computing can be a savior for your business. Today companies of all shapes and sizes have been adapting to this new technology and it's almost impossible to find an organization that doesn't rely at least partially on cloud services. In fact, businesses that are not moving to the cloud are limiting their chances of growth.
By 2020, a corporate "no-cloud" policy will be as rare as a "no-Internet" policy
-Gartner
Cloud computing is the latest buzzword in IT sector. It has changed the way IT solutions are delivered and consumed by the end-users. When you update your Facebook status, you are using cloud computing. When you use net banking, again you are into the cloud. There is a strong possibility that you may depend on cloud services to solve the challenges faced by your business. Whether we talk about the operating system, databases, web servers, IP addresses or virtual local area networks cloud computing is heavily used everywhere. Even the latest technologies IoT, Artificial intelligence, advanced robotics, and drones, self-driving cars, blockchain are also relying on cloud computing.
By 2020, a staggering 83% of the company workload will be stored on the cloud."
– Forbes
Let's discuss some facts and trends about cloud computing that shows how it's booming in the market…
Some facts and Trends about Cloud Computing
IBM, Google, Microsoft all are making big bets on cloud computing and that's for good reasons. In July 2019, IBM spent $34 billion to acquire Red hat and boost its cloud business. According to research from Gartner forecasts public cloud revenues exceed $266.4 billion in 2020. The adoption of cloud computing in the world is gaining momentum and will continue to do so, with increasing participation expected to be witnessed from both private as well as public sector. Read some numbers and trends given below that confirm cloud services are rapidly growing in the market…
The global cloud computing market is forecast to go over $650 by 2025.
Cloud initiatives are expected to account for 70% of all tech spending by 2020.
By 2025 80% of organizations are predicted to migrate toward the cloud
Public cloud adoption grew to 92% in 2018.
IaaS is expected to reach $72.4 billion worldwide by 2020.
In 2018, serverless had a market share of 50%, making it the fastest growing extended cloud service
84% of enterprises run on a multi-cloud strategy.
Modi government's 'Digital India' initiative is based on cloud technology.
Tata Consultancy Services, CtrlS, Wipro, Infosys all these indian IT majors have adopted cloud computing technologies.
The number of mobile users is more than the desktop users and this huge user-base plays a vital role for a shift to the cloud.
From the above stats and facts, you might have got the idea that cloud computing is getting so much hype in the market. Many enterprises are migrating their business toward remote infrastructure. Managing cloud adoption seems to be one of the companies' top priorities for 2020. It's expected to maintain its status as a priority in the next few years too. A boom of new cloud services is, therefore, imminent.
But the question is…Why so many enterprises are choosing cloud services? What's the benefit of using it and why cloud computing is being so popular in the market…??
Why Cloud Computing is Booming In The Market?
Cloud computing has replaced the traditional way of managing applications. Shopping, music, video, text editor everything is done online today. All these things require energy, resources, and money. If any third party can take the responsibility of the data then organizations can focus on other aspects to grow their business. Cloud computing is the on-demand availability of computing resources such as CPU, RAM, storage, etc. over the Internet. It eliminates the physical setup of servers on-premise. This offers the businesses to reduce their IT infrastructure as the data storage centers wouldn't be needed anymore for storage purposes.
Due to the numerous individual and business problems we face today, we need cloud computing. It's not only beneficial for businesses and organizations but also useful for the average person. This enables us to execute software programs without downloading them on our machines, this allows us to store and view our interactive content on the internet, it allows us to build and check technology without databases and so on. It enables enterprises to run software without installing it. It offers redundancy, security, stability, and also eliminate the problem of buying and maintaining hardware.
If you're still not convinced then let's discuss some features of cloud computing in detail for a better explanation of why it's booming in the market…
1. Flexibility: If businesses bandwidth requirements or running costs tend to fluctuate, using cloud services makes perfect sense. Cloud computing offers various pre-built platforms and services and also allows you to develop customized solutions as per your specific needs. It enables you to upgrade your services in line with your needs. Anytime you can scale up and scale down your cloud capacity depending on your requirement. There is no need to pay extra money for the services you are not using on the cloud.
2. Ensures Security: While working on a project if your laptop or hard drive get lost then it can cost a billion dollar of businesses and you can't imagine the loss if it goes in the Well, keeping your data locally on a computer is always a risk and big issue for companies and individuals. The cost of losing your sensitive or private data is bigger than the loss of your kit or physical equipment. Cloud computing solves this problem and provides top-notch data security. If you lose your mobile device or laptop or if your computer system is attacked by viruses and worms you can still access everything you have on the cloud using another machine or device. You can also wipe data from lost laptops remotely so it doesn't get into the wrong hands.
3. Maintains Productivity: Cloud computing allows team members to work on the same document in real-time. It becomes convenient and easier for team members to edit, share, and access the document or data anytime and from anywhere. There is no need to spend time updating, filling, and printing documents. Cloud services provide a better workflow and file sharing apps that help team members to make updates in real-time and give them full visibility of their collaborations. It requires less energy and effort that eventually maintains the productivity of the business. In nutshell, the technology eliminates the need for a back-and-forth exchange of documents.
4. Cost Savings and No Maintenance: Companies spend a lot of money on purchasing hardware, buying software licenses, maintaining, updating, distributing, and shredding paper copies. When you use cloud services it cuts out all these expenses. It eliminates the cost and complexity of owning and operating computers and networks. As we have mentioned that cloud services cost is customizable and you only pay as you go. You pay for the services you are using on the cloud also you don't have to worry about maintaining your system. Cloud service providers take care of your information rolling out regular software updates – including security updates. Instead of buying the capital alone and bearing all the costs, this is much easier and convenient for organizations.
5. Work From Anywhere: It doesn't matter where you are sitting in the world, cloud service allows you to access the data anywhere, anytime. You don't need to carry your USB or laptop in different places, you just need the internet connection to get access to your data on the cloud. Some cloud services also offer mobile apps, so you are not restricted to use any specific device. This gives more flexibility and convenience to the employees along with running the business operations smoothly.
Conclusion:
We have mentioned some major points which are the strong reasons for many organizations to migrate their services on the cloud. Cloud technologies also provide scalability, reliability, agility, consistency, disaster recovery and many other benefits. It helps the organization to keep its data secure and centrally managed. Cloud computing is also solving the problem of cybersecurity and quality control. Some cloud-based innovations such as cloud automation and the industry cloud are also being developed to integrate cloud computing into specific industrial activities that streamline various operations. Seeing the benefits and contributions of cloud computing, it is highly needed from smaller to large enterprises of any scale.
My Personal Notes
arrow_drop_up