What Should be your Best Strategy for this Placement Season?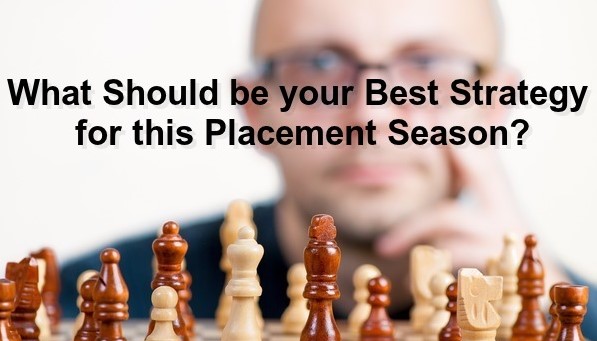 As the placement season starts again this year, placement preparations are increasing at an ever-growing pace. And why not? The Placement season is after all one of the most crucial times of the year for a student when they are expected to put their best foot forward and land their Dream Job.
A Dream without a Strategy remains an Illusion.
This is especially true for today's placement scenario as the passing engineers are increasing every year while quality job positions are decreasing. According to the Economic Times, 80% of Indian engineers are not fit for a job in the current economy as the general quality of Indian engineering graduates has remained stagnant in the last decade while the technological advancements have grown by leaps and bounds.
In such a scenario, a sound strategy is required to secure a great job (among the lucky 20%). The question then arises…What is the best strategy for this placement season?
Strategy for Placement Preparation
The placement season is here and a great strategy is the need of the hour. Basically, a combination of knowledge, confidence, soft skills and leadership qualities is required to ace the interviews and land your dream job. Keeping this mind, some of the useful steps for placement preparations are given as follows:
Resume
A Resume is a fundamental requirement for the interview process and consequently the first step for placement preparations. It is basically your first impression for possible recruiters as it displays your educational qualifications, abilities, skills, projects, etc.

To succeed in today's job market, you have to think of your resume as an advertisement targeted towards your future boss.

So craft a well-formatted resume well before the placements start as it may increase your chances of being shortlisted much more than a haphazardly put-together resume.

Aptitude Test
An Aptitude Test is the first hurdle to clear in most of the campus placement scenarios. It can consist of Communication Skills, Logical Reasoning, Quantitative Ability as well as Domain Knowledge and is normally used to eliminate multiple candidates in the beginning stages.

To clear the Aptitude Test, practice online tests and mock question papers within a stipulated time frame. It is also very important to practice the previous aptitude tests set up by your target company as they familiarize you with the test pattern. In general, work on your speed and accuracy as that is the mostly the focus of Aptitude Tests.

Technical Interview
Your Technical Interview can make or break your chances of getting the job. They mainly test your technical knowledge as well as your problem-solving skills. That is the reason why Data Structures and Algorithms are so heavily emphasized in technical interviews(They demonstrate your problem-solving ability and analytical skills)

To prepare for technical interviews, it is very important to study Data Structures and Algorithms in depth. In addition to that, coding challenges are helpful in inculcating analytical and logical skills. Also, it is always a good idea to brush up on the technical details of your internships and projects as they may be asked in the interview.

HR Interview
The HR interview is generally the last round in the recruitment process of any company and it is used to judge your personality, your strengths, your weaknesses and to understand if you're the right fit for this job.

So it is important to thoroughly understand the job position you are applying for before the HR interview. It is also important to prepare for well-known HR questions such as Tell me about yourself, What are your strengths and weaknesses?, etc. In addition to that, it is important to thoroughly read your resume and prepare for any possible questions that may be asked.
Resources for Placement Preparation
To formulate a strategy for Placement Preparation, it is important to be well aware of the recruitment process and present yourself accordingly at different junctures in the process. At GeeksforGeeks you can find a vast collection of tutorials and problems that help with this immensely.
Our latest course, in particular, is geared towards Placement Preparation. This course, named Placement 100. The suffix "100" in the name of the course indicates that this course aims to get you 100% placement ready. This course covers Data Structures and Algorithms along with other subjects in order to completely prepare you for placements in product based companies. Placement 100 is a 6 months program comprising of an online course, assessment exam and placement assistance for top performers.
To learn more about it, read on . . .
Placement 100 Course
Placement 100 is an online course that covers all the topics required to prepare for placements. The course includes theory & lecture videos for improvised learning supported by tracks & contests for practice. It comes with a first-in-industry feature: Doubt Assistance to help you if you are stuck. The course will be followed by mock tests which will prepare you for the assessment exam. The assessment exam will be based on the whole course and will be similar to screening exams conducted by most companies. The top performers in the assessment exam will be prioritized in the placement program by GeeksforGeeks. The program also includes Mock Interviews after the assessment exam for the selected students and referrals for the top performers to direct interview in some companies.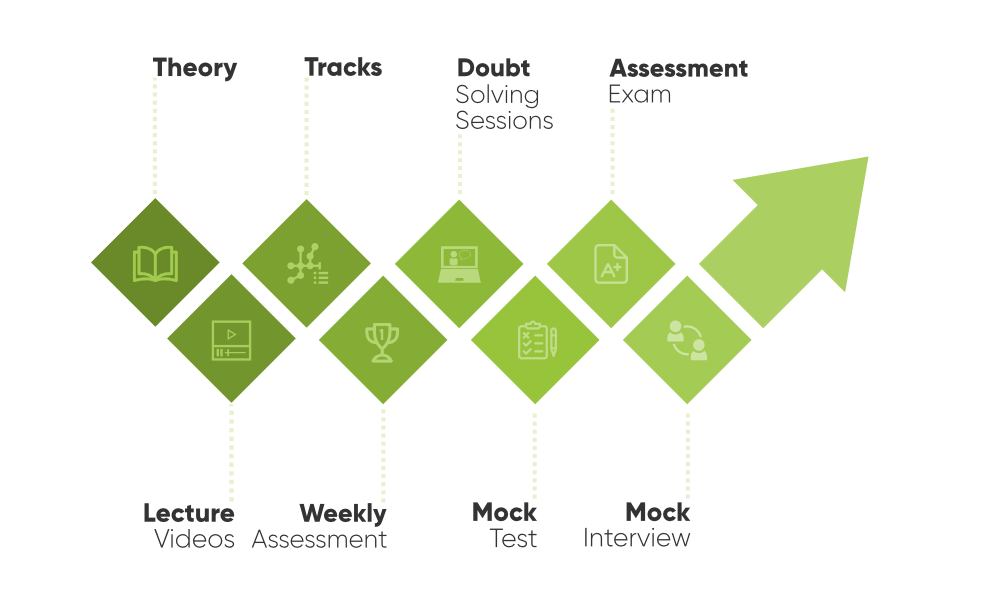 The course is divided into three phases as explained below:
Phase I: The first phase consists of entire content along with premium video lectures and other resources to learn programming basics, OOPs, Data Structures, Algorithms, CS Fundamentals – OS, DBMS, Networking, OOAD.
Phase II: The second phase contains tutorials on Aptitude – Logical reasoning, Verbal Ability, and Quantitative Reasoning. This phase will also cover, guidelines for building a resume, improving communication skills and other soft skills of the candidate.
Phase III: The last phase will cover three Mock-Tests followed by an Assessment Test. Based on the performance in the Assesment test, top performers will be offered Mock Interviews and will be referred to companies for interview.
Placement 100 Features
Learn:
–> Theory content designed by our team of experts.
–> Premium lecture videos by industry experts.
Practice:
–> Tracks consisting of MCQs and programming questions.
–> Weekly contests based on tracks.
Ask doubts:
–> Discussion Forum for clearing doubts.
–> Weekly doubt sessions for doubt assistance.
Compete:
–> Assessment exam based on company's screening exam pattern
–> Mock Tests to prepare for the assessment exam
Get Placed:
–> All students can apply to job openings after the course completion.
–> Top performers in the assessment exam will be shortlisted on priority.
Mock Interviews:
–> Similar to interview in top companies.
–> Only for students shortlisted after the assessment exam.
Certificate upon Course Completion
This course also provides an additional feature of Placement Support. The following image will direct you to the Jobs page: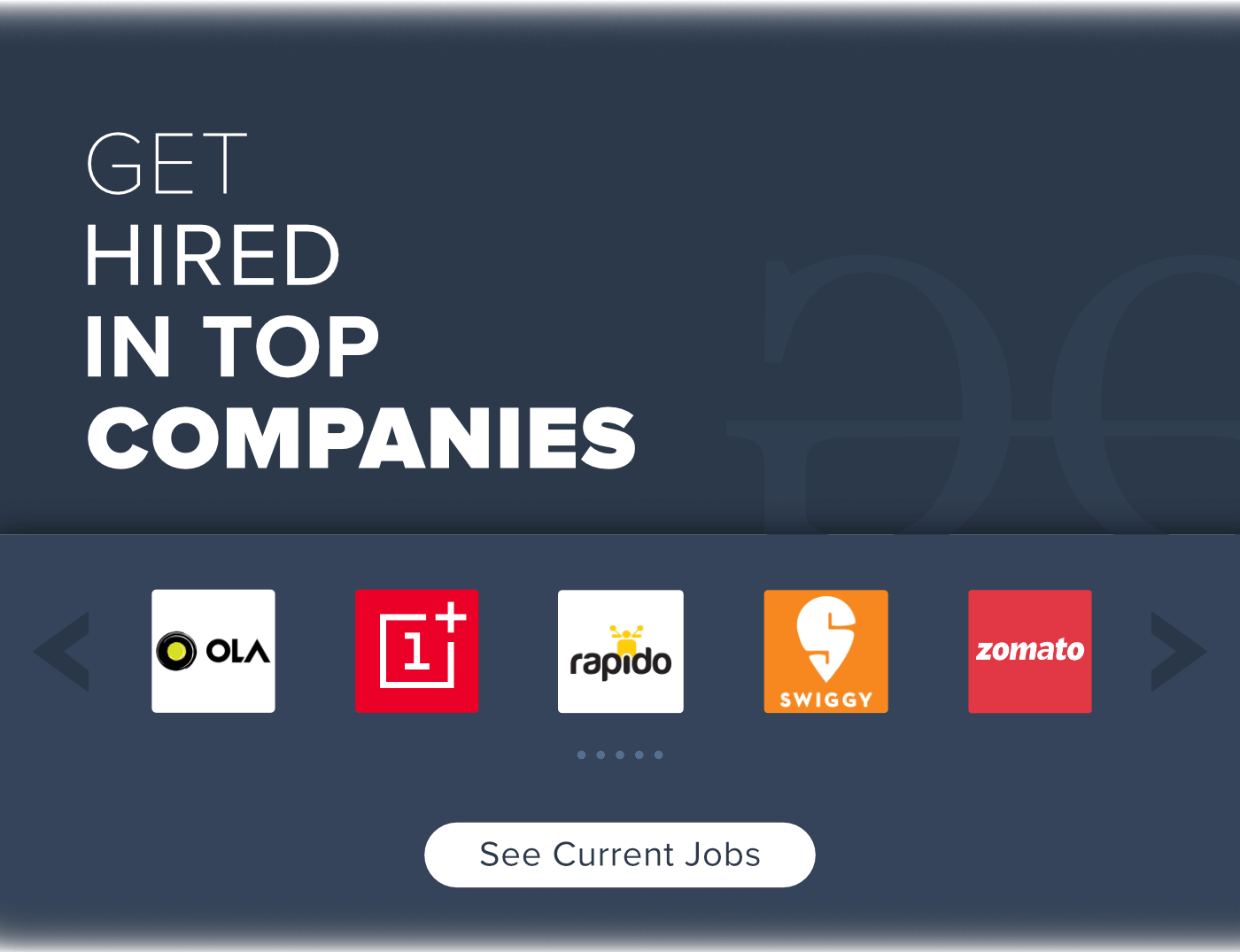 This course is priced at INR 14,999 but it is available at an Offer price of INR 9,999.
You are just a click away to begin the journey to your Dream Job. Register now for the Placement100 course by clicking on the button below.
Attention reader! Don't stop learning now. Get hold of all the important DSA concepts with the DSA Self Paced Course at a student-friendly price and become industry ready.
My Personal Notes
arrow_drop_up