What is Google Season of Docs?
Since its inception, Google always takes initiatives for reducing the gap between the developers' communities and freshers so that they can learn to work with perfection under professionals in their respective fields. After Google Summer of Code, Google STEP, and many more other internships and programs, Google announced an amazing opportunity for the Technical Content Writers.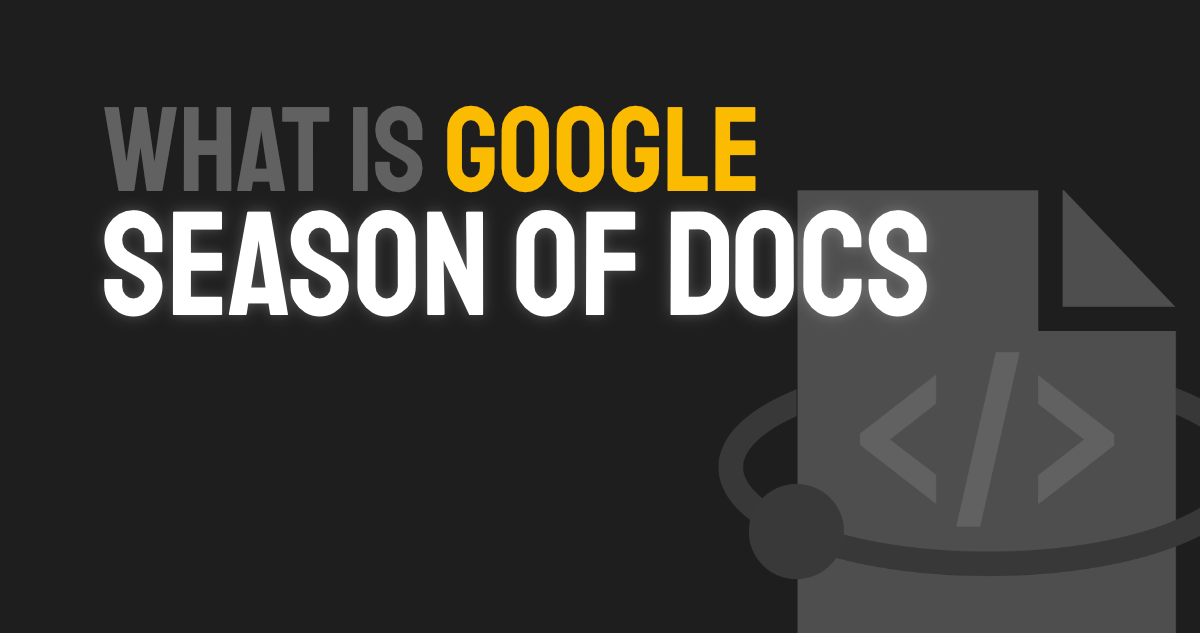 If you are familiar with open source then you might have observed that every project or repository has well-defined documentation of the project which is written professionally – all this writing work is handled by technical writers. Documentation is really very important and you can go and analyze the documentation of most famous libraries and frameworks or mostly used technologies that usually come with a complete detailed description.
What is Google Season of Docs
Google Season of Docs is a program that is started in 2019 by Google where Technical writers write documentation for open source organizations and get paid by Google. The primary goal of this initiative is to bridge the gap between technical writers and open source organizations to enhance the documentation aspects of open source projects. The program also introduces the new technical writers to the open-source community and allows them to gain some experience by contributing to the documentation of open source projects. It eventually takes the interest of youth in the direction of documentation and Technical writing so that they can consider technical writing as a career option. Also, they get mentored by professionals who are working in the industry for so long and learn from their experience.
Google Season of Docs is an amazing opportunity for college students to earn experience and get mentored by industry professionals where they can learn about the work ethics, morals, and atmosphere of an organization. This is the core aim of the GSoD program, to increase the contribution towards the documentation of open source projects.
Workflow & Timeline of Program
The program starts with the open-source organizations as they are required to submit a list of documentation project ideas with their applications and then the selected organizations are announced. After the organizations are announced, the Technical writers choose the desired projects and write a proposal about the projects in which they have to describe their targets which they will complete in the given time period. If the proposal is accepted that means the technical writer is accepted for the GSoD program and a mentor will be assigned to the writer who will brief the writer about the complete GSoD program and will help you out throughout the program. After writing documentation for 10-12 weeks, working and communicating to other developers from the organization this journey will come to an end and if your work will pass the evaluations then you will successfully complete the GSoD program and then get awarded with a stipend and certificate. You can keep working with the community and contributing more to open source even after completing the program and you can get in touch with other developers and Technical Writers so that you will be updated about future opportunities and technologies.
The schedule for Google Season of Docs for the year 2021 has not been released yet but it is expected to start in March. It will consist of various phases such as Program announcement, Organization applications and announcement, Technical writer exploration, Technical writer applications, Community bonding, Doc development, Project finalization, and Results Announcement. You can check the timeline for Season of Docs 2020 from here for reference purposes. Also, the Technical content writer must be aged 18 or more at the time of registration and should be a resident of the country which is not currently embargoed by the United States.
Advantages of Google Season of Docs
Following are the advantages or you can say, reasons why one should apply to GSoD –
Experience with contributing to open source projects.
Google's certificate to separate your resume from the crowd.
Recognition and Appreciation for your work and effort.
Opportunity to work with the organization even after completing the program.
A handsome stipend from Google.
Undoubtedly, these benefits are more than sufficient for a college student who is a pure fresher and want to explore and grab every opportunity. Also, it is open for everyone from tier-1 to tier-3 college students. So, what are you waiting for? Grab this ravishing opportunity and make the most from it!
My Personal Notes
arrow_drop_up