What is Express Generator ?
Node.js is an open-source and cross-platform runtime environment built on Chrome's V8 JavaScript engine for executing JavaScript code outside of a browser. You need to recollect that NodeJS isn't a framework, and it's not a programing language. In this article, we will discuss the Express Generator.
Express Generator is a Node.js Framework like ExpressJS which is used to create express Applications easily and quickly. It acts as a tool for generating express applications.
Features of Express-Generator:
It generates express Applications in one go using only one command.
The generated site has a modular structure that we can modify according to our needs for our web application.
The generated file structure is easy to understand.
We can also configure options while creating our site like which type of view we want to use (For example, ejs, pug, and handlebars).
Installation: For Installing this tool on your local machine globally (you can use it anywhere on your Machine), run the below command on your command-Line/terminal:
Note: You should have installed Node and Express before using Express-generator on your machine.
npm install express-generator -g
For Creating a Simple Express.js Web Application, Open command prompt/Terminal in your local fileSystem and execute the below command.
Syntax:
express <Your-ExpressJsApplication-Name>
Example:
express ExpressWebApp
After creating the express-generator the structure looks like given below:
Express-generator Structure: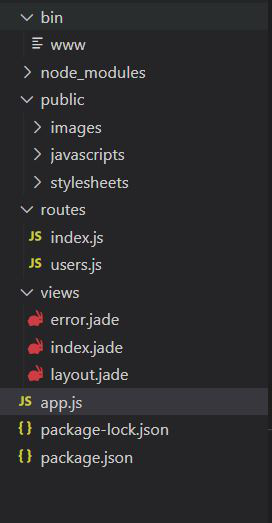 app.js file is the main file in the express-generator where most of the user-defined routes are handled and also provides various default imported modules like cookie-parser, morgan, etc. That helps to create an express server in an efficient manner.
Below is the default app.js file structure that is generated by the express-generator.
app.js
const createError = require('http-errors');
const express = require('express');
const path = require('path');
const cookieParser = require('cookie-parser');
const logger = require('morgan');

const indexRouter = require('./routes/index');
const usersRouter = require('./routes/users');

const app = express();

app.set('views', path.join(__dirname, 'views'));
app.set('view engine', 'jade');

app.use(logger('dev'));
app.use(express.json());
app.use(express.urlencoded({ extended: false }));
app.use(cookieParser());
app.use(express.static(path.join(__dirname, 'public')));

app.use('/', indexRouter);
app.use('/users', usersRouter);

app.use(function (req, res, next) {
    next(createError(404));
});

app.use(function (err, req, res, next) {
    res.locals.message = err.message;
    res.locals.error = req.app.get('env') === 'development' ? err : {};
    res.status(err.status || 500);
    res.render('error');
});

module.exports = app;