What is a Sidebar in WordPress ?
WordPress is a free and open-source Content Management System(CMS) framework. It is the most widely used CMS framework of recent time. WordPress is so customizable that we can change almost everything according to our requirements. In this article, we will be learning about Sidebar in WordPress.
A Sidebar is a Column that is placed on either right or left side of your webpage which shows the additional information and functionality about the website. Such as:
Recent Posts
Recent Comments
Archives
Categories
and many more.
We can customize the sidebar completely according to our needs. Suppose we have a portfolio website, there we don't have an article or post page so we can remove the Recent Posts section from the Sidebar menu but on the other hand, we have a Travel Website and we do have Blogs section. In that case, we may need our users to see our latest post in the sidebar menu, so we can add it. The Sidebar will look different on every different WordPress theme. On GeeksforGeeks website, also we have a right sidebar that shows some additional information as What's New, Quick LInks, Featured Articles, and Recommended (it may have been updated in the future). You can see in the below image: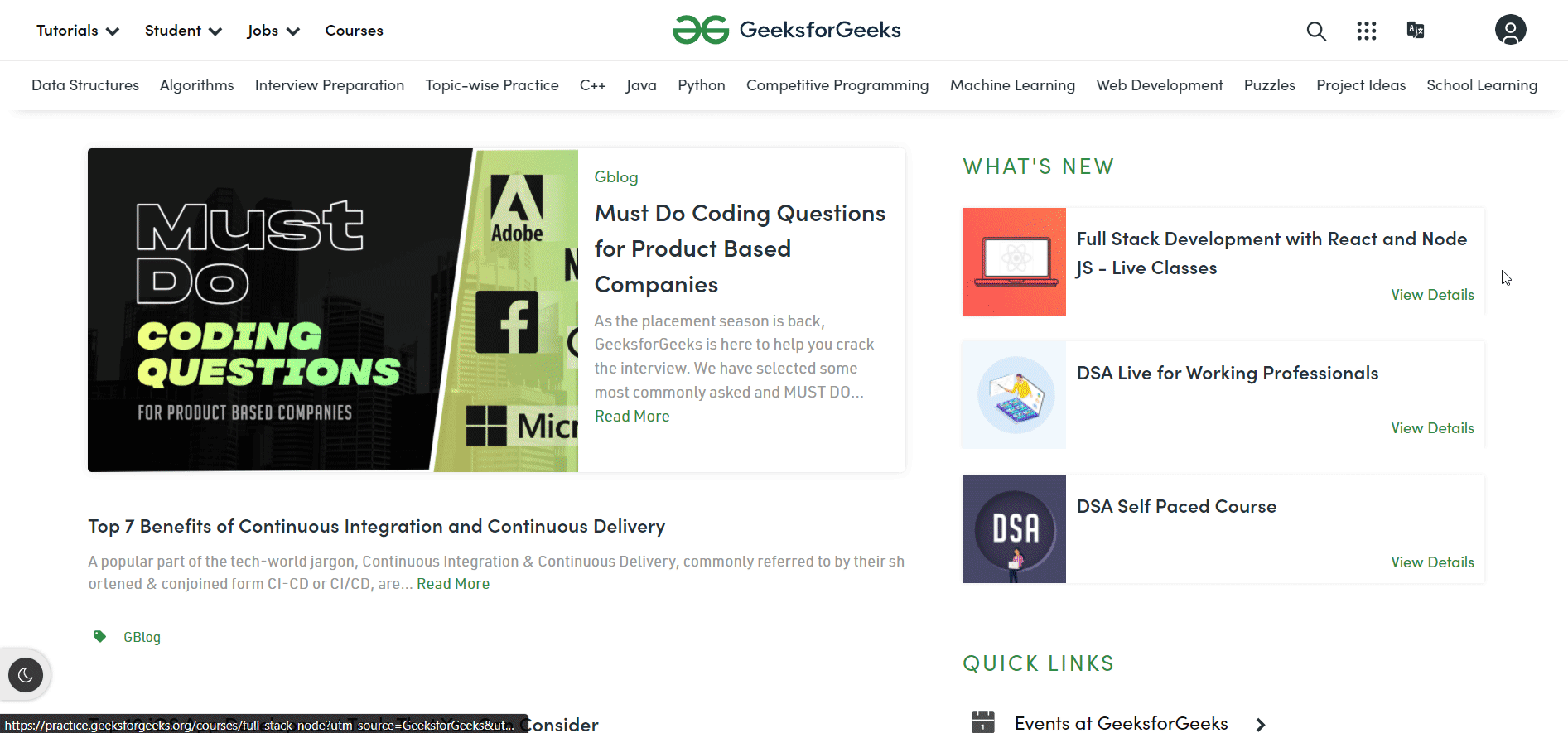 How to Add Sidebar on WordPress webpage?
We have learned about the sidebar and some of its benefits. Now we'll see how we can activate the Sidebar in our WordPress webpages and customize it. This is how Webpage looks like without a sidebar:
Now to add a sidebar, open Dashboard and go to the Appearance >> Customize. You can also open it from the webpage by simply clicking on the Customize option from the top menu bar. It will open the Customize window of your website listing all the options including Sidebar.
There you'll see options to enable the sidebar on the webpage and customize it. Like in the above image, we can change sidebar settings and enable it from no sidebar to anywhere between the left sidebar, or right sidebar, select the option where you want to display it on the webpage and click on Publish to make that change reflect onto the live website. Also, you can customize whether you want this setting to reflect on each webpage or on any particular kind.
Note: The options may vary from theme to theme and have more or less customization according to the theme support. You can check your theme's capibility by reviewing it's documentation.
At this point, the sidebar must be enabled on your webpage but it may not show the appropriate information of features that you wanted to display. But there is no need to worry, we can easily customize that too and change the content of the sidebar explicitly. For that go to the Dashboard and then go to Appearance >> Widgets. Under the widgets panel, you'll an option with the heading Sidebar. You will find all the content of the sidebar over there and it can be customizable.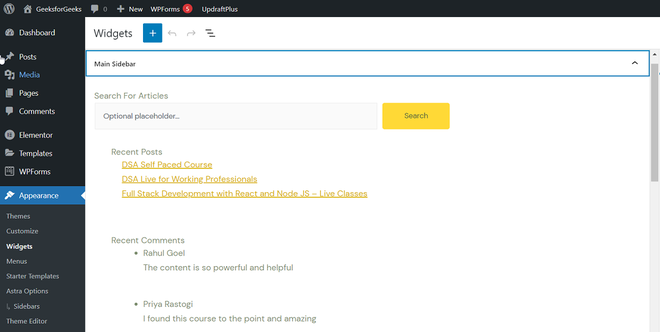 Change the comment, blogs, recent posts, ads, categories, or whatever you want to be displayed on your sidebar menu and click on Update to reflect it on the live. In my theme after doing all the steps and changing content I got the left sidebar with Recent Posts, Recent Comments, Archives, and Categories, shown in the below image:
My Personal Notes
arrow_drop_up