Web Trends in The Coming Years
When the Internet was introduced back in the 1980s, the sole purpose of it was to communicate data locally on an inter-connected wired network for research purposes. Since then, it has expanded and evolved in bits and pieces. The internet now holds a very strong place in our lives, and without it, our lives seem impossible.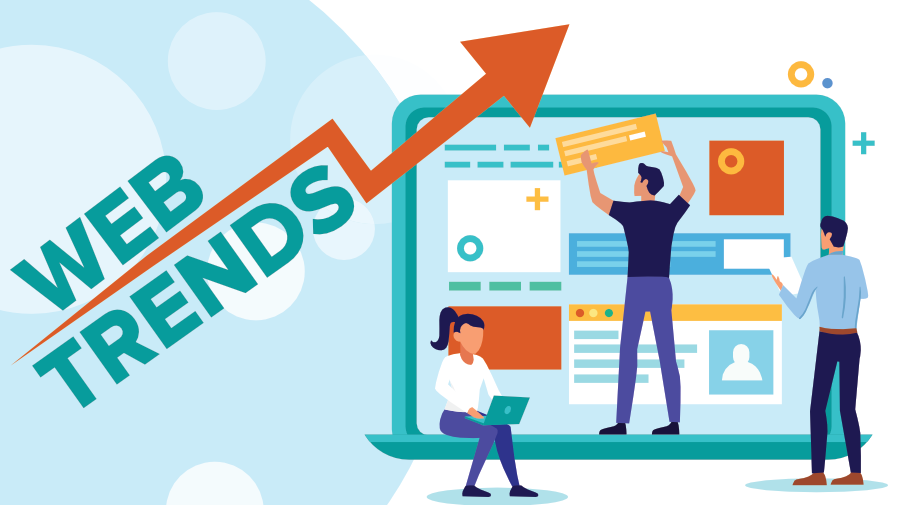 The internet of today runs in all the domains of our life from a simple search to sectors like education, economy, business, healthcare and much more. The internet and web technologies we see today are a result of hard work and strong vision by engineers and technology aspirants made a decade ago. With that being taken into account, some of the forecasts about the Web technologies are:
With the rapid development of technology, data volumes are expected to increase at an exponential rate by 2030, and this will bring in more traffic from across the globe. The expenditure per capita will increase and this will boost the volume of searches and in turn creating a huge market of information.
The searches made will be possible to make in any form, unlike only from the keyboard or voice-searches. As the search volume will increase new technologies such as gesture search, artificial interpretation of users will develop thus lessening the work from the user side. Hardware devices will mold themselves into easier portability.
Not only computers and smartphones but the objects surrounding us will be a smart device. A common example here is the use of IoT (Internet of Things). The web will be made much more easily accessible. A heavy amount is funded by organizations for research into this field of smart devices.
The Web Trends that will be catching in coming years are:
1. WebRTC
Known as Web Real-Time Communication, it an open framework for web and is widely used in many browsers such as Google Chrome, Mozilla Firefox, Android, iOS, etc. Using this framework, users can do video conferencing, share files, desktop sharing and can interact Realtime without the use of external web plugins. WebRTC can be used in the sector of online education & E-meetings.
The use of MOOCs (Massive Open Online Courses) has made WebRTC a very essential framework. The use of WebRTC would enable a better online learning experience and would break the boundaries for education to be transmitted to everyone. As of now, there are already many platforms that provide online education, which helps thousands of students.
WebRTC is continuously improved to achieve for a better end-user experience and many recent developments have led the WebRTC framework to be used in the older
devices and in offline mode, which further enables more users to get benefited. The concept of cloud-conferencing and E-meetings in the corporate sector is only possible with the use of WebRTC. Clients and employees are saving an ample amount of time via meeting online.
2. Internet of Things (IoT)
Internet of things is considered as the backbone of the modern internet, as only via IoT consumers, governments and businesses would be able to interact with the physical world. Thus, this will help the problems to be solved in a much better and engaging way.
The vision of an advanced and closely operated internet system cannot be visualized without the use of these smart devices. These smart devices need not necessarily be computerized devices but can also be non-computerized devices such as fan, fridge, air conditioner, etc. These devices will be given the potential to create user-specific data that can be optimized for better user experience and to increase human productivity.
The goal of IoT is to form a network of internet-connected devices, which can interact internally for better usage. Many developed countries have already started using IoT, and a common example is the use of light sensors in public places. Whenever a vehicle/object will pass through the road, the first street light will be lightened and will lighten all the other lights on that road which are internally connected, thus creating a smarter and energy-saving model.
Around 35 billion devices are connected to the internet in 2020, and the number of connections to the internet is expected to go up to 50 billion by 2030. Thus, IOT proves to be one of the emerging web technologies in the coming decades.
3. Progressive Web Apps
The smartphones we use in current scenarios are loaded with apps, with the choice of users to download or remove any app depending upon his liking. But what if, we do not have to download or remove any app to use its services?
The idea behind progressive web apps is much similar to this. Such apps would cover the screen of the smartphones and would enable us to use or try any app upon our liking without actually downloading it. It is a combination of web and app technology to give the user a much smoother experience.
The advantage of using progressive web apps is that the users will not face any hassle to download and update the app time of time thus saving data. Also, the app companies would not need to release the app for every updated version. This would also eliminate the use complexity to create responsive apps, as the progressive web apps can be used in any device and will give the same experience, despite the screen size.
Further development into progressive web apps can also enable users to use it in an offline mode, thus paving a way for those who are not connected with the internet. The ease of use and availability will increase thus benefiting the user and making life much simpler.
A very common example is the 'Try Now' feature that we get in the Google play store for specific apps, it more or less uses the same technology of progressive web apps to run the app without actually downloading it.
4. Social Networking via Virtual Reality
The rise of virtual reality in the last few years is due to its ability to fill the gap between reality and virtual. The same idea of virtual reality is now being thought to be used with social networking. Making the idea of social networking a base i.e. to interact with people over long distances & the idea of virtual reality is used on top.
Social networking sites are devising ways so that the users not only confine themselves over-communicating online but to provide a way through which they have access to the world of virtual reality. The video calling/conferencing shall not remain a visual perception but would be changed to a complete 360-degree experience. The user will be able to feel much more than just communication and can interact in a much better way.
This idea of mixing social networking with virtual reality might be a challenging one, but the kind of user experience, one could get will be amazing. World's largest social networking company, Facebook has started to develop a platform way back in 2014 and was able to successfully create a virtual environment where users were not just able to communicate but also feel their surroundings, but the platform has not been open to public yet.
These Web trends will shortly arrive in the coming years, and the availability of these technologies will once again prove that the internet is not stagnant and is always improving to provide a better user experience. Improvising these technologies will make the internet take a very essential place in our lives, just like the way it has taken now.
My Personal Notes
arrow_drop_up