Virtual Provisioning In Virtualized Data Centre
Virtual Provisioning is the capability to present a LUN to a compute system with extra capacity than what is physically allotted to the LUN on the storage array. It can be implemented at –
Compute Layer

Storage Layer
Physical storage is allotted only when compute needs it and the provisioning decisions are not bound by presently accessible storage. The physical storage is allotted from a shared pool of physical capacity to the application "on-demand". This gives more efficient storage utilization by minimizing the allotted amount, but unused physical storage.
Attention reader! Don't stop learning now. Get hold of all the important CS Theory concepts for SDE interviews with the CS Theory Course at a student-friendly price and become industry ready.
Need for Virtual Provisioning :
Administrators typically allot storage space based on the anticipated growth of storage. This is because they want to minimize the management overhead and application downtime needed to add new storage afterwards. This results in the over-provisioning of the storage capacity which leads to greater costs, more power, cooling and floor space requirements and lower capacity utilization. Virtual Provisioning addresses these challenges by giving more efficient utilization of storage by minimizing the amount of allotted, but unused physical storage.
What is Thin Pool?
It consists of physical drives that give the actual physical storage used by thin LUNs. Various pools can be formed within a storage array and the allotted capacity is reclaimed by the pool when the thin LUNs are erased. Thin LUN is a logical device where the physical storage need not be totally allotted at the creation time. All the thin LUNs formed from a pool share the storage resources of that pool.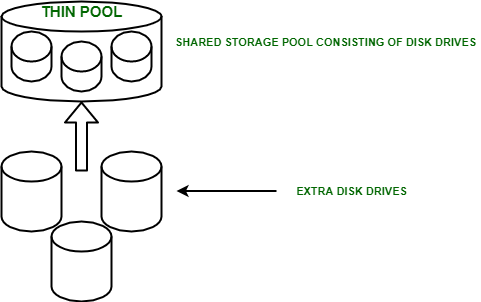 Advantages of Virtual Provisioning :
Minimizes the operating and storage cost.

Decreases downtime.

Improves capacity utilization.

Minimizes administrative overhead.
Best Practices of Virtual Provisioning :
The drives in Thin Pool should have same RPM (revolutions per minute). The required performance may differ if there is a mismatch.

The drives should be of the same size in the Thin Pool. Different sizes may result in the unutilized capacity of the drive.

Provision Thin LUNs for applications that can permit some fluctuation in performance.
My Personal Notes
arrow_drop_up