Types of Monitor Panels and Which One is Better?
When it comes to monitors they come in different shapes, sizes, and panels. So, what are these panels, and how to select a better one for your purpose?… Currently, the best available panels in the market are IPS (In-Plane Switching), TN (Twisted nematics), and VA(Vertical Alignment) panels. And in this article, we will discuss these three panels and their advantages and disadvantages.
1. TN panel: These panels are the first choice for gamers, who need more FPS and less response time. TN panel has the following features:
TN panel is characterized by their fast response time and higher refresh rates.
Having a low response time reduces ghosting and motion blur of the fast-moving objects in the game, and having a higher refresh rate increases the accuracy in warfare games like Call of Duty, Far cry, etc.
The monitor has the minimum 1ms for Grey to Grey response time.
Despite having these fast specifications, there are some disadvantages:
TN panels lack in color reproduction and image quality.
They have very poor viewing angles due to which the images fade if viewed from the side at a certain angle.
These panels do not provide a great experience while watching videos, movies, and video and image editing.
The image below shows the pixels of a TN panel, and the colors are not correct and crisp.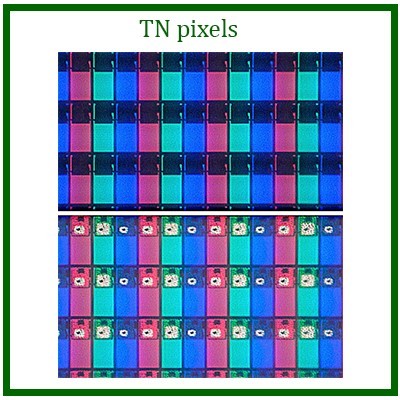 2. VA Panels: VA stands for "Vertical Alignment". Features of VA Panels are:
The VA panels have a contrast ratio of 2000:1 and some higher-end models offer 3000:1.
In VA Panels due to high contrast ration, Blacks are deep black and white is even whiter.
The cost of response time i.e. the time taken by the pixel changing color from black to white is more than 10ms which affects the editing and gaming.
There is a significant reduction in the refresh rates.
The image below shows the pixels of the IPS and VA panel respectively, and the colors are crisp and much more clear than TN panel.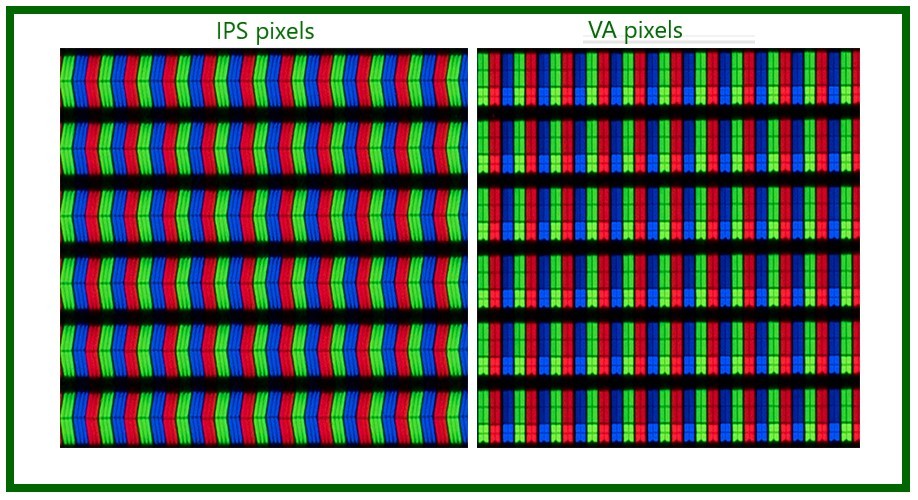 3. IPS Panels: IPS stands for "In-plane-switching". Features of IPS Panels are:
These panels have the most accurate colors.
These panels offer a wide viewing angle of 178 degrees that is even if you view from the side the colors will not fade and will be accurate enough.
These are a good choice for professionals who are into video and photo editing or content creating as the panels produce the most accurate and consistent colors.
The panel has a response time of 5ms which is comparatively slow as compared to the TN panels, but these panels do not compromise mush with performance and hence are the best choice for professionals but if you are a High-end gamer you may need to a higher frame rate TN panel.
Other than these panels there are two more panels which can or can't be the choice to buy, those are:
PLS stands for "Plane to Line Switching": It is developed by SAMSUNG. Samsung claims that this panel offers:

Much more color and brightness perfection than the IPS panel.
The PLS is a type of IPS panel only with 10% more brightness, Much greater viewing angles.
Vivid colors at all angles and also allows for manufacturing flexible panels and all this at 15% less the cost of a regular IPS panel.

As specified by Samsung it is a just-right fit for professional use like in offices, home workplaces, and also for watching movies but is not good for gaming and editing videos and images due to limited color reproduction.

AFFS: AFFS stands for "Advanced fringe field Switching" and is developed by HYDIS. Features of AFFS are:

The panel offers more brightness and a 180-degree viewing angle. But this technology is not so commonly used in monitor panels but in mobile phones and tablets.
This is an advancement in IPS technology. But still, the response time is not that good for gaming and watching movies.
Good for decent editing if the content HD not full-HD.
Comparison of Three Types of Panels
So, the comparison has been made between the top three displays widely used in computer monitors.
| TN Panel | VA Panel | IPS Panel |
| --- | --- | --- |
| Fastest response time i.e. 1ms GTG(grey to grey) | Slow response time compared to TN up to 10-15ms GTG(grey to grey) | Mediocre response time in between 1-5ms GTG(grey to grey) |
| Highest refresh rates up to 240hz | Less refresh rates up to 60-75Hz | IPS can have refresh rate up to 144hz |
| Inferior Image quality | Mediocre image quality | Best possible image quality and color reproduction |
| TN panels are good for gaming due to their fast response time and high refresh rate | VA panels are good for Watching multimedia and nominal home and office work. | IPS panels are good for image/video editing and all professional works due to their accurate color reproduction |
Now, if you want a gaming monitor and least bothered about color accuracy then go for a monitor with TN panels. TN panels have the fastest response time, but substandard image quality and viewing angles.

And if you want to do a video editing and photo editing go with a monitor with IPS panel, As IPS offer the most consistent colors and a quick pixel response time speed as well as the widest viewing angles.

And if you want a monitor for watching content like YouTube videos, movies, etc. Then choose a monitor with VA panel. As VA panels have the highest contrast ratio and slow response time, and hence they're excellent for watching movies and multimedia content.
My Personal Notes
arrow_drop_up