Top 10 Industries using Virtual Reality
Do you ever wish you could change your reality? Maybe go into space or travel in the deepest parts of the ocean? While this might be difficult to achieve in real life, it is totally possible using virtual reality. You could even visit the Eiffel Tower in France, Stonehenge in England, Taj Mahal in India, all while sitting in your room! And that's not all that virtual reality can achieve. In fact, almost all the industries in the world use VR in some form or another.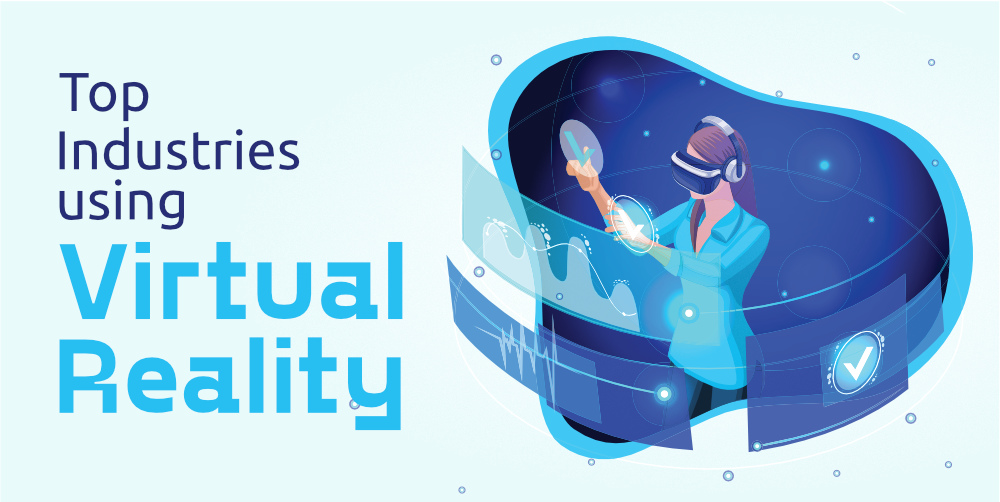 But what exactly is Virtual Reality? It is a technology that creates a simulated environment. This simulated environment can be totally different from the reality of this world and yet you can perceive it as reality. So Virtual Reality is really just that, a "Virtual Reality" that you can move around in and experience as if you were really there.
Now let's see some fantastic applications of VR in different industries. You could try out clothes before buying them, learn geography by actually being in the country, check out how a house looks before creating it, and much more. All this is possible using virtual reality. Check this out in detail.
1. Healthcare
Would you like a healthcare professional to practice a little on VR bodies before attempting something on your own body? That sounds a little safer and is a pretty good application of VR in healthcare. AccuVein is a company that has created a handheld scanner that allows nurses to map out the veins in the human body on the patient's skin. This is very helpful in finding the veins for injections so that nurses don't jab multiple needles in your arm! Virtual Reality Immersion Therapy is also very popular for mental health disorders such as PTSD as they allow patients to relax and become calmer.
2. Education
For most students, classrooms are the most boring places! But what if that's not true? Imagine being transported to a different world while in the class? Seeing actual history in history class and visiting famous museums in art class? All this (and more) is possible using virtual reality. Unimersiv is such a platform created for educational purposes using VR so that learning can be fun! Students can learn about the human brain, anatomy, dinosaurs, etc using Unimersiv. Google Expeditions also allows teachers to bring VR into the classroom by taking their students on different virtual field trips.
3. Retail
Would you like to try on the clothes you buy online? Or maybe see how specs look on your face before you buy them online. This trying out products before buying them is normally impossible in online shopping but VR makes it possible. Ecommerce companies can offer virtual fitting rooms using VR that customers can use to try on the dresses or accessories they like before buying them. For example, Trillenium an AR/VR company offers augmented reality solutions to try out shoes on your feet before buying them. eBay has also partnered with Myer to provide the world's first VR Department Store!
4. Tourism
Have you ever visited a place before realizing it's not all that it's hyped to be? If so, wouldn't you love to check out a place before you visit it? This is possible nowadays using VR. You can become a virtual tourist before ever becoming a real one! Thomas Cook, a company in tourism has partnered with Visualise to create immersive VR films of their tourist destinations so that people can get a taste of where they are going. And if you just want to be a virtual tourist, Google Expeditions is the place for you. You can visit world-famous places like the Louvre, Taj Mahal, Mount Everest, etc. all while sitting in the comfort of your home!
5. Real Estate
Are you house hunting? Isn't it a waste of time when you go for an inspection and it turns out the house is totally not worth it? What if you could inspect houses sitting at home and only go check out the ones that you really like? Virtual reality can be used for this. The VR startup Matterport can provide virtual walkthroughs of properties that you can visit before actually seeing the property in person if you like it. Matterport also partnered with the New York Times to provide virtual reality tours of luxury real estate buildings.
6. Architecture
Architects design buildings according to the given specifications. But what if their clients could see how the building would finally look before construction even starts? It would be great to understand if their design is good enough for their clients or more changes are required. This can be easily achieved using virtual reality. While architects already have tools to create a 3-D simulation of their design, it is totally different to use VR and go inside the building to understand how it would finally look.
7. Artwork
You can also create virtual art using VR. It's really fun to create art while being in the art world! So if you are an artist and you want to try new avenues for art, then VR art might be an option for you! One of the most popular apps in this genre is the Tilt brush that allows you to create art in 3-D using three-dimensional brush strokes. You can also add special effects in your painting like sparkling stars, light effects, smoke trails, or fire. If you are more of a graffiti painter, then Kingspray Graffiti VR is a great option. You can spray paint on a dark and creepy train yard at night, or an abandoned Subway Station or even shadowy city rooftops. And it's all in virtual reality!
8. Automobile industry
What if luxury automobile companies want to create new cars? It's best if they can check out how these cars will look and operate before actually creating them. Virtual Reality is a big help in this. Automobile designers can use VR to find out how new prototypes of cars will look and feel before they create expensive prototypes that can cost millions! For example, the automobile company Ford partnered with Oculus Rift to create virtual prototypes of cars before they created any actual prototypes. Other luxury car brands that use VR for prototyping include BMW and Jaguar Land Rover. Volvo also has a Virtual Reality app that allows you to virtually experience driving the Volvo on beautiful mountainous scenery.
9. Gaming
Gaming is the most conventional and famous application of Virtual Reality. It's so much fun being transported to different worlds while playing games when actually you are just on your own bed! There are many games that use VR including Vader Immortal, Pistol Whip, Iron Man VR, No Man's Sky VR, etc. And even if you are not a big fan of gaming, there are many exploration apps using VR such as Titans of Space that takes you into space, Ocean Rift that enters the deep ocean, etc.
10. Military
There are many military and law enforcement applications for virtual reality as well. Basically, VR can be used for flight simulations in the air force, tactical training in the army, etc. For example, ScopeAR is a VR and AR company that provides computer vision using augmented reality to officers in the army so that they can easily maintain and repair their equipment. VirTra is a training solutions company that provides training to law enforcement and the military on how to deal with different situations. This includes virtual firearm training, etc.
Conclusion
Virtual reality and Augmented reality are in widespread use with applications across various industries as you have seen. And this is not all. VR is used in many other industries as well such as the film industry, sports, gambling, social media, marketing, journalism, etc. So go on and immerse yourself in a world that is not real but still very real for you. And who knows, you might find yourself in space or even deep underwater!
My Personal Notes
arrow_drop_up