Top 10 Data Modeling Tools You Should Know in 2023
Have you ever imagined how data projectile is being done in any sector? Whether it's aviation, network operator data management, or a software development cycle, the data is displayed in a diagrammatic pattern for better understanding. This is being effectively executed by enabling effective data modeling, which not only helps with intercommunication but also for businesses to align their workflow and take accurate decisions.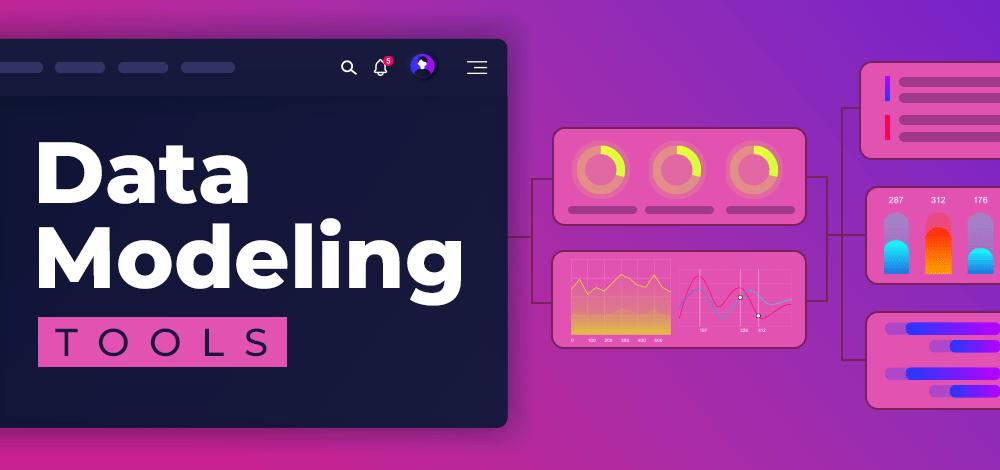 Now the question arises how is it effective? Companies/organizations that have established their strong ecosystem by using data modeling tools that enable support in better delivery, quality, communication, and resource management. Compared to those organizations who lack in extracting maximum output tend to lack in their data modeling concept.
This is the power of choosing the right data modeling essential and this works as a bridge between Business and DB Administration. To achieve that one must know the proper tools for managing data so let's find out the top powerful data modeling tools that are extensively used for data modeling, but before that first understand the basics of data modeling.
What is Data Modeling?
Data Modeling is a process of displaying/creating a visual representation that includes the type of data and place of storage and how the data will flow when triggered.
The data models are built by keeping business needs in mind so that their (stakeholder's) idea can be imprinted into a design of a system or can make any new changes to the existing one. The formation of modeling starts by gathering information from stakeholders or targeted audiences and then accordingly those structures are formed into a database design, in other words, we can also call it a diagrammatic roadmap that helps in visualizing what is being designed. Data modeling plays a crucial part in planning and executing strategy and can easily be shared with concerned authorities.
Now, let's check out the list of 10 Best Data Modeling Tools in 2023
1. Erwin Data Modeler
ED Modeler is possibly one of the best tools that are being used for setting up standardized design which helps organizations to analyze data assets. The user can easily design and deploy the diagrammatic data regardless of its structure and location. It offers enhanced automated features that support schema generation and helps set up hybrid architecture.
2. LucidChart
LucidChart is a cloud-based application that runs on trial and paid versions. The preciseness of this tool is so unique that every micro data flow can be entered, tracked, and edited as per the requirement. Using this tool is a very healthy approach where delegate insight is required for business processes. Besides this, it offers different sizes & themes of flowcharts, UML, etc.
3. MySQL Workbench
Workbench is a compatible model while working with complicated ER models. It was specially designed for MySQL DB and it helps to generate, run, and optimize SQL queries. This tool is supported by all major OS i.e. Mac, Linux, and Windows, and by using this tool, a user can easily view the performance using the performance dashboard.
4. Integrate.io
Integrate.io is a cloud-based tool that is used across platforms for extracting, loading, and transforming data. Integrate.io helps in transferring and transforming data between DB and the data warehouse. For companies that are seeking to scale up their projects with a tight budget, this can work like a charm. Besides this, working with this tool is seamless as it carries low-code and no-code capabilities within it.
5. SQL DBM
SQL database management tool is very handy and has an elegant user interface both for creating and editing tables. Besides this, SQL DBM enables support for both forward and reverse engineering and supports projects of both SQL and MySQL. It is also considered the best method of presenting documentation that can be viewed online as well.
6. DbSchema
DbSchema aids functionality with the help of the JDBC driver and offers a perfect graphical interface for sorting the complexity of data. It offers a great user experience for SQL, and NoSQL tends to deliver efficient reverse engineering. DbSchema serves as a DB user, admin, and programmer and is also considered a replica of visualizing the relation between tables and other data models.
7. Archi
Archi is heavily used in small and mid-segment organizations where data handling is required within small teams. Being a low-cost, open-source platform, it offers an elegant solution for providing visual data representation. Features like drill-down, high flexibility, and adaptability are among some of the major key highlighters of this tool and are highly used among colleges, universities, and small corporates.
8. MapBusiness Online
With over 4.5 ratings across the world, MapBusiness Online is used for managing sales territory and for exploring new market opportunities to grow businesses. This tool helps in analyzing geographical areas and help in finding a business solution using different methods (such as demo maps, radius maps, etc.) and is an ideal solution for companies who are looking to grow their foundation by expanding sales, and marketing.
9. Toad Data Modeler
Toad Data Modeler is a perfect solution for cross-platform DB support such as SAP, SQL Server, DB2, Microsoft Access, etc. Toad data modeler also offers flexibility for developers to work on and offers easy customization and migration. This tool is also helpful while building complex logical and physical entities (for both forward and reverse engineering).
10. IBM Infosphere Data Architect
IBM Infosphere helps in working with the data design process and is owned by IBM itself, it is well-known for its ability to work on different patterns of data and helps in standardizing the interface across apps, databases, and servers. Besides this, infosphere helps in working cross-lifecycle and organizational help in reducing time-to-market.
Conclusion
While looking at this list, you will get to know that they are among the best data modeling tools that are being highly praised by top companies as well. While looking at these tools, you'll get to know the possibilities that they can deliver to enhance productivity. Although you might find lots of other tools out there in the market, we shared the 10 best data modeling tools based on reviews, ratings, and adaptability.
Frequent Asked Questions(FAQs)
1. What are the challenges of Data Modeling?
Some of the most common mistakes that occur during data modeling are:
Lack of knowledge
Unable to understand the business requirement
Communication Gap
Ignorance of small buckets of data
Poor judgment of required tools for data modeling.
2. What are the types of Data Modeling?
The concept of data modeling can be achieved by using 6 models, these are:
Hierarchical data model
Network data model
Relational data model
Object-oriented data model
Entity-relationship or ER data model
Graph data model
3. What are the approaches to Data Modeling?
The data modeling can be achieved using the following 3 techniques:
Conceptual data model
Logical data model
Physical data model
My Personal Notes
arrow_drop_up