Top 7 Reasons To Learn Web Development
Each distinct day gives an opportunity to learn, progress, and do the things that push you towards your goals or that make you satisfied at the end of the day. With this, if you want to step into the world of coding or more specifically, web development, then this article is for you. In the age of technology, you must have noticed that every popular business has its own websites that help the customer to locate the services you provide. Not only for business, but websites are also built for portfolios, blogs, funding, charities, events, and more. Without any doubt, a career in Web Development is indeed a great choice, especially in today's technology-driven world.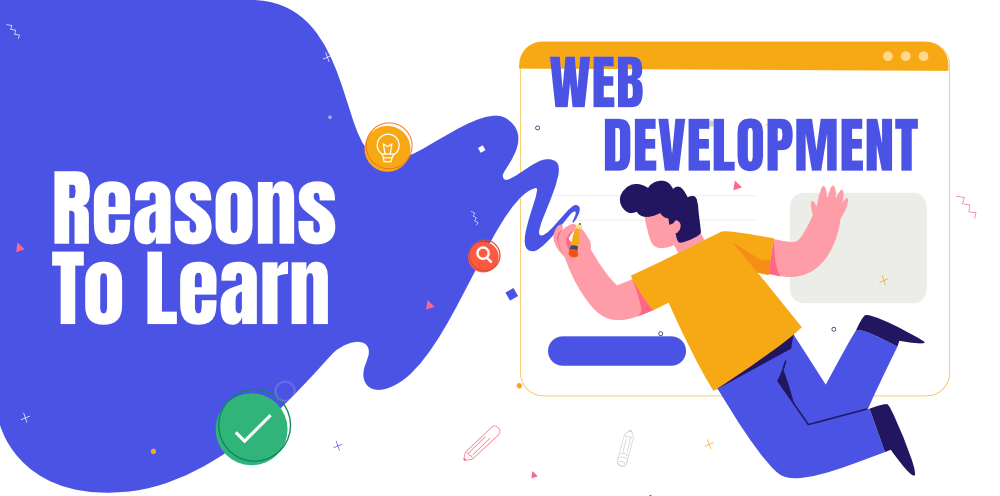 In this article, we will explore the top reasons to learn web development. But before moving on, let's take a look at what is web development? Web development is the process of creating a website for the Internet. And the most immeasurable part is that it can be learned by anyone. The beauty of web development is that we can put graphics, videos, images, and more on the website. But do you know that when web development was born, then we used to use hyperlinks and text only? Now, without taking much time, let's get started:
1. Easy To Learn
You only need two things to start it, one is a good laptop and the other is an internet connection. Your journey starts with scripting languages like HTML, CSS, JavaScript, etc., and building good-looking responsive websites with them. After a few miles, you will explore various areas in it such as front-end and back-end web development. At some point, you will need the knowledge of programming, which you can easily develop by learning any relevant programming language like Java, Python, etc.
2. Enhance Your Designing Skills
Web development is not just about coding, it is also about website designing. Before going into the process of development, you have to think about its layout, colors, fonts, visual assets, and more. This means that you can develop or enhance your design skills. You can also enhance your creativity by learning from others' website designs present over the internet. A good website has a clean-quality design.
3. Develop Problem-Solving Skills
It will give you the power to contribute to the world. You can develop or improve your problem-solving skills with it. If you have an idea in your mind that solves real-world problems it will help you to create it. As a computer science student, if you have developed anything which has a good effect on the real world then it will definitely help you in your future careers. You can also participate in hackathons where you can solve real-world problems and hone your skills.
4. Open Source Contribution
It will also give you the opportunity to contribute to open-source projects and participate in open-source programs such as GSoC, Outreachy, etc. You can interact with various open-source contributors and learn from them. Open-source contributions have a powerful impact on their own and when it comes to a tech career, it's a feather in one's cap if it's on your resume.
5. Earn Well From It
Everyone likes to make money, right? Of course, this is one of the best skills that give you a chance to earn money. You can work as a freelance web developer or you can work for an organization as a web developer. You can even create your own start-up with it. As a student, you can also do internships in start-ups. You can create your own blog, online store, or whatever. And, the best part is that you can do all these things from home.
6. Teamwork Skills
You must have seen how essential teamwork is to win games like Cricket, Football, Hockey, BGMI, etc. The same thing applies to web development. For a website to be successful, all the units must work simultaneously so that the website works efficiently and placidly. You must have noticed that a successful website consists of front-end developers, back-end developers, testers, etc. They need to be open to suggestions as well as feedback from their fellow mates and need to meet their end by the deadline so that others don't lag. They all work on the same goal. Therefore, if you want to achieve in making a good web application, good teamwork is a must. With teamwork, you will learn, improve as well as strengthen your skills not only of yourself but of your teammates too. So, your aim should be to build a team of like-minded people.
7. Self-Learning
There is no need to go to any institute to learn it. In the world of the Internet, there are tons of resources to learn it, and you can learn it at your own pace. In web development, you will learn front-end frameworks, back-end frameworks, programming languages as well as design patterns, authentication, APIs, deployment, and more. There are no steps that tell you know everything about web development. It is a continuous learning process. One thing you will find in every successful people is that they have a very good understanding of their work. In simple words, they have a strong grip on self-learning.
If you want to be a great developer, you have to be curious and learn new things every day.
Overall, as you proceed in your path towards glistening in web development, some things should not be forgotten. Firstly, always learn from your mistakes, and second, never give up even if you feel like you can't progress ahead. You will acquire some information on your own and some things will come from experience. At this point, you are well aware of why you should learn web development. So now, it's your time to join the ride. And remember one last thing that learning something doesn't mean how much you will learn it; it is about how qualitatively you will learn it!
My Personal Notes
arrow_drop_up