Top 7 Real-Time Data Streaming Tools
Data Streaming is all about communication between a sender and receiver via a single data stream or multiple data streams. And it is obvious to question, "What exactly is the importance of such stream in the business world?". Such streams are nothing but a sequence of digitally encoded signals ensuring that data traversing from source to destination is continuously analyzed and processed in real-time and at higher data transfer speed. It is one of the reasons why organizations are ever-ready investing in such tools or frameworks and not ignoring streaming data & the benefits associated with, which one can access through a smartphone, laptop, or even touchpads.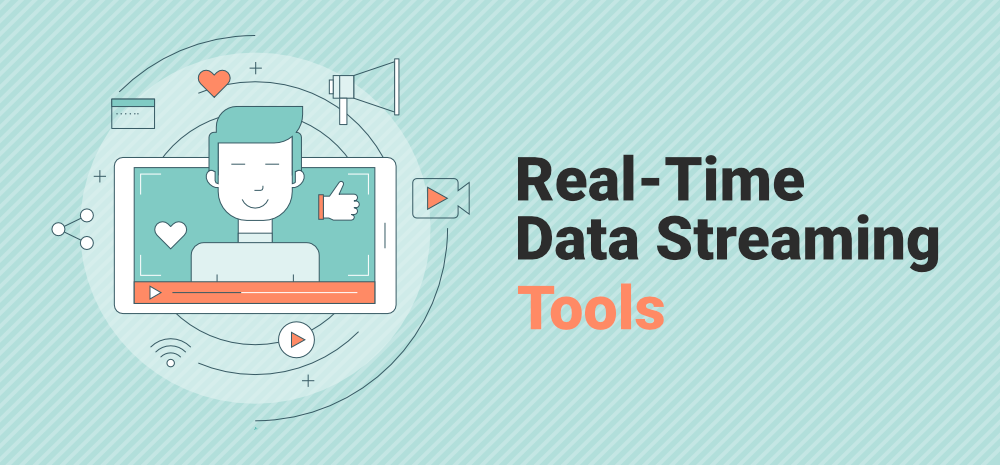 Indeed, with the help of those tools, organizations (either operating on a larger scale with more than 250 employees or at a smaller scale with only 15) can analyze valuable information about their customers from the huge amount of data readily available over the internet. Curious to know about those flexible and artificially intelligent Real-Time Data Streaming Tools? Take a look at the ones mentioned below that are quite adaptable to the real-time industry challenges thereby helping a lot of ventures gain operational efficiency at a global level with no compromises on the quality of data processing.
1. Azure Stream Analytics
The real-time data streaming architecture of the Microsoft Azure Stream Analytics tool can scalably generate data streams from various data sources, for instance – mobile devices. Also, the components of data streaming architecture like Azure Stream Analytics, Cosmo DB can do tasks like reading data streams, analyzing a complete set of historic data.
Interestingly, businesses can identify in the tool's design various Machine Learning capabilities through which it is possible now for managers, analysts to predict industry-relevant outcomes without the need to program them explicitly. All you can do for now is check out its pricing plans in accordance with your business requirements.
2. Amazon Kinesis
Amazon Kinesis with its data streams can collect, process streaming data in the form of data records in real-time. Also, it is a flexible, fully-managed platform for enterprises as they can deploy confidently machine learning models for better identification of patterns in the existing data. Besides, there are other capabilities you can find in this scalable data streaming tool: –
Kinesis Analytics – analyze, process real-time streaming data with operational capabilities of the standard SQL language.
Kinesis Firehouse – load streaming data to Amazon S3, Amazon Redshift, and other Amazon Web Services.
Kinesis Streams – for continuous, real-time data processing. Try creating Kinesis streams through Kinesis Producer Library (KPL).
3. Apache Kafka
Apache Kafka is an open-source, distributed data streaming platform that businesses can use for handling real-time data feeds. Besides, its data processing patterns are beneficial in generating data in real-time coming from various sources like websites, mobile devices. And here comes the good news – Deploy Apache Kafka on cloud or on-premise!!
Thinking if the tool supports APIs for flexible data transfer!! Yes, they are four in number.
The first one, Producer API is useful in publishing the stream of data on Kafka topics. The second one which is Consumer API lets various applications subscribe to a certain number of Kafka topics for processing the stream of data records. Talking about the third one i.e. Streams API, you better call it a stream processor powerfully converting input stream of data to output Kafka topics. And the last one Connect API, you may use for building re-usable producers/ consumers connecting Kafka topics to their data streaming apps in real-time.
4. IBM Stream Analytics
IBM Stream Analytics can help you create customized, real-time streaming apps. Powered by IBM® Streams, one can confidently use this streaming analytics platform for analyzing, ingesting, or correlating the information coming from numerous data sources in real-time.
Pros:
A Great, intuitive visual-programming interface
Rich data connections for connecting virtually with any data source like structured, unstructured.
Analytic toolkits for speeding up the development of data streaming applications through languages like Scala, Python & Java.
5. Confluent
Confluent with its Machine Learning capabilities can monitor and update well huge amounts of data continuously multiplying at a staggering rate every day, every minute. Undoubtedly, this data-streaming tool is a perfect choice for companies looking forward to handling their complex-level business requirements – by shifting their operations from batch processing methods to the ones known as data streaming. In addition to all, Confluent can assertively:
Provide sales, marketing, and business analytics along with Log Monitoring
Track a customer/user activity as a real-time event
Support SIEM i.e. Security Information and Event Management
6. Google Cloud Dataflow
Google Cloud Dataflow is a fully-managed cloud-based data streaming tool offered by Google. Equipped with Python 3 (the third release of general-purpose interactive programming language Python), one can meaningfully extract data from edge sources and also, process streams plus define data pipelines. Besides, its data analytics capabilities filter out all the current inefficiencies in present data thus helping a lot of ventures focus on programming rather than managing server clusters.
In addition, its real-time AI patterns forecast well variable data streams so that businesses can identify, then resolve either financial or security-related challenges. All such capabilities of this tool are allowing the owners to unlock meaningful business insights by sensing well what exactly is required to create a satisfactory customer service experience?
7. Striim
Striim is a secure, reliable, and scalable data-streaming tool that aggregates, analyzes, and filters data available at a variety of sources. These sources could either be the message queues, databases, or devices along with some pre-configured set of properties. Besides, its data streaming pipelines ensure that data is flowing continuously and appropriately from source to its destinations. With Striim, you may expect:
Simplification of various data processing tasks with efficient utilization of resources available
Anamoly Detection
Customized plus use-case specific visualizations in real-time
With all the above features, businesses can now upgrade themselves in terms of operational resilience as users are now free to filter, transform, and aggregate data pipelines through a rich and intuitive set of dashboards.
My Personal Notes
arrow_drop_up