Top 6 Project Management Certifications in 2021
PMCs or Project Management Certifications can offer you a competitive edge for helping you proceed ahead in your career along with an overall sustainable professional growth. You may call it your career catalyst which will be adding credibility to your career graph by offering you recognition at a global level in the software industry market. As per the research, more than 70 percent of the businesses are able to extract high-performing project results if led by a certified individual such as a Certified Project Manager and the demand will increase for sure by 2027.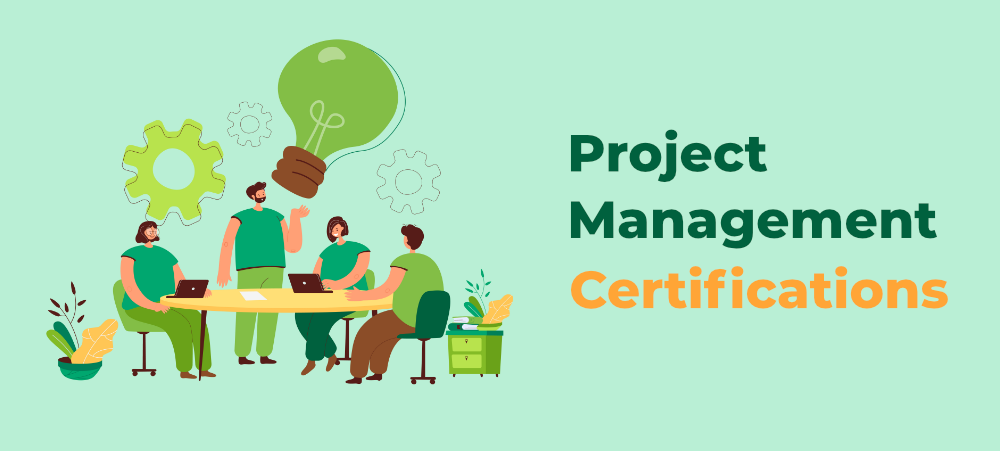 Still planning if or not to execute a career transition! Take a look at top PMCs many IT companies entertain before offering you roles related to PROJECT MANAGEMENT in 2021.
1. PRINCE2 Certification
PRINCE is the short abbreviation of PRojects IN Controlled Environments. You may wonder why the number 2 is placed after this! This is because it was relaunched in Oct 1996 as it started collecting global recognition by many potential employers. In addition to all of this, PRINCE2 is an advanced-level 3 to 4 years project management degree rather than being just a certification whose price is around 900 US Dollars (in accreditation with AXELOS Ltd.). This certification has sub-categories – a) PRINCE2 Practitioner (starting with $340) b) PRINCE2 Foundation (starting with $200). But before you think about enrolling for the Practitioner one, you need to have completed at least one of these – PMP, CAPM, PRINCE2 Foundation, or IPMA Certification. The good news about the certification is that the management and delivery strategies of a current or futuristic project – from starting to finish – will be conveyed by the modules of PRINCE2 certification in a business-oriented manner. All you need to do is start improving your project management skills with the performance-oriented teachings of this certification (keeping in mind its prerequisites) applicable to real-time IT problems.
2. CAPM Certification
CAPM has a full form Certified Associate in Project Management. This is an ideal choice for the aspirants looking for some global recognition in the project management market at the entry level. Thinking if this certification demands hands-on experience! No, you need not demonstrate any experience in which you have enhanced the credibility of the existing quality parameters of a project's lifecycle (from initiation to closure). However, there are some prerequisites that can't be avoided like a secondary degree, 1500 hours of experience with any of the projects you like to manage or monitor. The fee of this certification is 225 US Dollars (this is for members), and 300 US Dollars (this is for non-members) powered by 5 years of validity without any requirement of renewing the PDUs (Professional Development Units). But in order to maintain CAPM certification, it is imperative to keep earning up to 15 PDUs every three years so that there is no hustle from your end for finding another way to enrich your project management skills in an effective and credible manner.
3. PMP Certification
PMP would be your industry-relevant Project Management Professional Certification supported by Project Management Institute. Estimating its potential! Alright! This certification can skillfully fill the vacant spaces for Project Management Professionals that are always in demand because of their expertise, competency, capability, and knowledge exhibited in terms of project management solutions towards the evolving customers' requirements. However, there are some prerequisites of this 3 years certification program bounded by the constraints COST, SCOPE, & TIME. The first is a secondary or four-year professional degree in the relevant field. Second is your contribution in terms of 35 hrs of PM i.e. Project Management Training or Education. And the third one is your 7500/3500 hours competitiveness in directing and leading the management projects (with no compromise on business ethics). Worried about the price! The certification costs 405 US Dollars (for PMI members) and 555 US Dollars (for non-PMI members). All you need to do now is explore the agile project management practices this certification will offer and supercharge yourself towards the journey of becoming a sincere and competitive project manager.
4. CSM Certification
CSM or Certified Scrum Master Certification is a way through which you may form an alliance with Scrum. You may ask what Scrum is actually? It is a framework that lets you utilize Agile principles of Software Engineering to not only develop and deliver the products but also make them sustainable in various complex and challenging environments. Emphasizing on becoming a Scrum Master isn't a bad thing but you need to become more agile with the learning methodologies of CSM Certification powered by Scrum Alliance. The cost of this certification with a 2-yr validity is ranging between 995 US Dollars to 1395 US Dollars. Thinking, if some prerequisites are there! No, you can relax now for sure and all you need to keep in mind is attentiveness while taking classes for the framework and lifecycle of Scrum. With such an attitude, you not only sharpen your Scrum skills but also ensure that the team/teams you are leading are committed to continuous improvement while completing the projects assigned successfully and on time.
5. PMI-ACP Certification
PMI-ACP is the Agile Certified Practitioner Certification administered by the Project Management Institute. Thinking about how you may enhance your versatility in existing projects somewhere demanding Agile practices! This certification will evidently be a wiser choice comprising of many choices of Kanban, XP, Lean, TDD i.e. Test-Driven Development, and Scrum. But there are some prerequisites which one can't afford to ignore. First is the High-School Diploma or an equivalent Associate Degree in the Agile Development field. Second is your cumulative experience of 2000 Hours while managing Agile projects assertively demanding good collaborative skills, and tools and techniques having higher response time. In case you don't have that experience, you may also use your references from the Agile Management Industries. Then, you can evolve well with the market dynamics by enrolling for this certification whose cost ranges between 490 US Dollars to 640 US Dollars. Later, if you wish to maintain the validity of this certification, you should be earning 30 PDUs in Agile topics within every three years span.
6. CompTIA Project+ Certification
CompTIA Project+ certification, in accreditation with CompTIA Project Co., costs around 285 US Dollars. There is no specific duration applicable for this certification however this will be fruitful for you if you have a year of experience in the field of project management. Indeed, this certification is more multifaceted than other Project Management certifications preferred by industrial experts because it will help you manage the entire lifecycle of small-to-medium scale projects by covering well the indispensable project management concepts. Those concepts are ensuring proper communication amongst the current manageable project's resources, maintaining documentation of the project management plans well, monitoring and controlling the performances of various project modules, and performing various project closure activities keeping in mind the risks and other constraints of a project. A point that one can't avoid is that this certification is targeting well, the specific mindsets i.e. business professionals, of the IT industry as they are capable of completing the project at hand with the right mindset. In spite of all this, the certification is self-paced and has the potential to continue your learning process in every stage of your preparation with its time-saving training modules packed with various disciplines of project management.
My Personal Notes
arrow_drop_up