Top 5 Software Testing Certifications in 2021
Software Testing has helped a lot of ventures to evaluate and verify the quality of every software component so that the software can respond aptly to different inputs of stakeholders. Besides, the techniques, associated with the testing of programming, driver, or application software involve risks which, can run intentionally or intentionally in different environments. Those risks need to be remediated proactively and for doing that, businesses must have that production unit acquiring an overall knowledge of the practical implementation of risk analysis [which is an imperative part of Software Testing].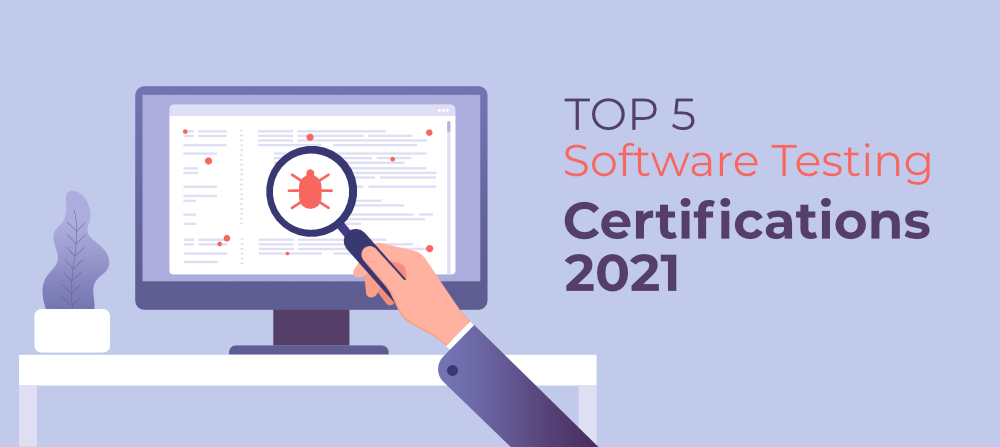 You may think about the demand for a software tester at this instance. Yes, the requirement is humongous and will always be till the creation and maintenance of software will occur!! Either you plan dynamic or static testing, you need to bring the quality testing practices on the table and for doing that, this becomes necessary – certified testers with recognition through certification by reputed institutions. Let's take a look at top software testing certifications which won't only land a high-paying job for you but also help the ventures reduce the risks so that their software may gain acceptance from their customers globally.
1. CAST (Certified Associate in Software Testing)
This certification can professionally identify the ability of an applicant or a candidate while demonstrating the software testing principles and their quality practices at a foundational level. Some prerequisites are there like: –
3 or 4 years degree from college-level [accredited] institution
2 years degree from college-level [accredited] institution + 1-year experience in the IT services field
3 years experience in the IT services field
From the above, you must possess any ONE OF those for qualifying the candidacy of CAST. The fee of this certification is 100 US Dollars and one can pay this online after reading the payment terms carefully. Apart from all this, the certification will test your knowledge in various skill areas. They will be like how one can build ST i.e Software Testing ecosystem keeping in mind the conditions and influences surrounding, your vocabulary about methods and approaches of ST, managing the allotted software project through communication, monitoring, staffing, budgeting, and scheduling. Also, there are some other skill areas such as the magnitude of risk(s) associated with the lifecycle of the deployment current software system, designing of the test cases (like black-box), checkpoint reviews and the required exceptions, testing of the assimilated specialized technologies of mobile applications or cloud-based applications, and reporting of the tests after collecting the metrics and graphs of the data interpreted.
2. CSQA (Certified Software Quality Analyst Certification)
This certification will let you receive recognition since the candidature is identified and evaluated on the grounds of a professional level of competence. Such competence is regarding the knowledge about the practices and principles of QA i.e. Quality Assurance used in Software Testing. Undoubtedly, one needs to ethically note these prerequisites down, and they start with: –
4-year degree from college-level [accredited] institution + 2 years experience in the IT services field
3-year degree from college-level [accredited] institution + 3 years experience in the IT services field
2-year degree from college-level [accredited] institution + 4 years experience in the IT services field
6 years experience in the IT services field.
From the above, you need to acquire any ONE from those for letting your candidacy qualify. In spite of all these four pre-requisites, the fee of CSQA certification is 350 US Dollars or $450. You must access the payment policy section for knowing accurately about the terms and conditions. Indeed, the certification will be testing your knowledge about assessing the software products and the connected services in accordance with the concepts and principles of Quality Assurance; defining, implementing, and improving the quality control leadership initiatives aligning with the behavior and commitment with management, assessing the baselines of software modules so that the organizations can proactively measure the overall customer satisfaction well. Not only this but also the knowledge, about outsourcing and COTS in the internal control audits, is cross-examined that can simplify the addressed quality assurance plans.
3. International Software Testing Qualifications Board (ISTQB) Certification
This certification is most widely recognized for software testing at a foundational level as well as an advanced level. Currently, expert-level certification is being developed. For all these levels, the working groups of ISTQB are operating internationally so that the candidates can prepare well for the roles like software testers, test managers, test analysts, IT directors, and QA managers i.e. quality assurance managers. In the foundational level (one module), you may either opt for the Foundational Level Core certification or Foundational Level Specialist certification. Similarly, the advanced level (three modules) is divided into Advanced Level Core certification and Advanced Level Specialist Certification. For the candidates willing to receive advanced level certification, they must possess the Foundational one. If we talk about the fees, the foundational level certification costs 229 US Dollars while each of the advanced level ISQB certification costs $249.
Both these certifications will test your knowledge about the fundamentals of testing and quality assurance; defects, effects, and root causes of test processes, tasks, and work products, basic to the mid-level understanding of the lifecycle of software testing i.e. STLC, configuration management of the automated and agile test cases. Other than the above, tools and techniques for estimating risks (related to testing) and tracking the behavior and development of work products will be included in ISTQB certification. With this, applicants all around the world can plan and schedule the test strategies so that they help businesses progressively develop the deliverables in accordance with the key project requirements.
4. Certified Quality Engineer (CQE)
The certification for CQE costs around 498 US Dollars and has an examination in two modes. The first one is computer-delivered (in English) which has 175 Questions in total which you need to complete in 5 hours 18 minutes. From those, 160 questions are multiple-choice type i.e. MCQ, and 15 questions are unscored which means they won't impact your final marks. On the other side, the paper-and-pencil examination (in English, Portuguese, Spanish, Mandarin, and Korean in certain locations) for Certified Quality Engineer has 160 questions that need to be completed in 5 hours. Before getting enrolled in CQE certification, you must have 8 years of experience in one or more areas of CQE or a minimum of 3 years of experience (full-time, paid role as an intern or employee) in the decision-making position (i.e you are involved with the execution and controlling of quality inspection processes) in any of its areas.
There will be a variability in the set of topics asked like notions of service quality control and evaluation of products' principles; development and analysis of statistical models, human factors correctly diagnosing the metrology of management information systems. Rather than these, the certification will document your critical skills related to validation and verification of sampling, distributions, and capability studies based on the hypothetical statistics of risk assessment and its acceptance.
5. Certified Manager of Software Testing (CMST)
This certification assesses the capabilities and competencies of the applicants inclined towards software testing. Soon, they will be working at the ST management level. If one wants to be on the qualifying list of CMST's candidacy, then any ONE from these three prerequisites must be fulfilled:
Bachelor's degree in Computer Science or another field of engineering from a college-level [accredited] institution + 4 years of experience in ST field
Associate Degree + 6 years of experience in ST field
8 years of experience in the ST field.
Besides, there are 100 Multiple Choice Questions from which the candidate must answer 70 correctly for passing CMST certification whose fee is 450 US Dollars. On an overall basis, this certification will assess your candidature on grounds of resource planning, traceability, and controlling of various test processes, implementing and designing the product which will meet the requirements of the customers, and maintenance of releases somewhere related to the quality standards of this competitive market.
My Personal Notes
arrow_drop_up