Top 5 Recommended Books To Learn Hadoop
Hadoop is a Big Data tool that is written into Java to analyze and handle a very large size data using cheaper systems/servers. It is also known for it's efficient and reliable storage technique. Hadoop works on MapReduce Programming Algorithm and Master-Slave architecture. Top Companies like Facebook, Yahoo, Netflix, eBay, etc. are using Hadoop in their Organization to find a solution for Big data problems. High-end processing frameworks like Apache Spark, Amazon S3, Databricks are built on top of Hadoop.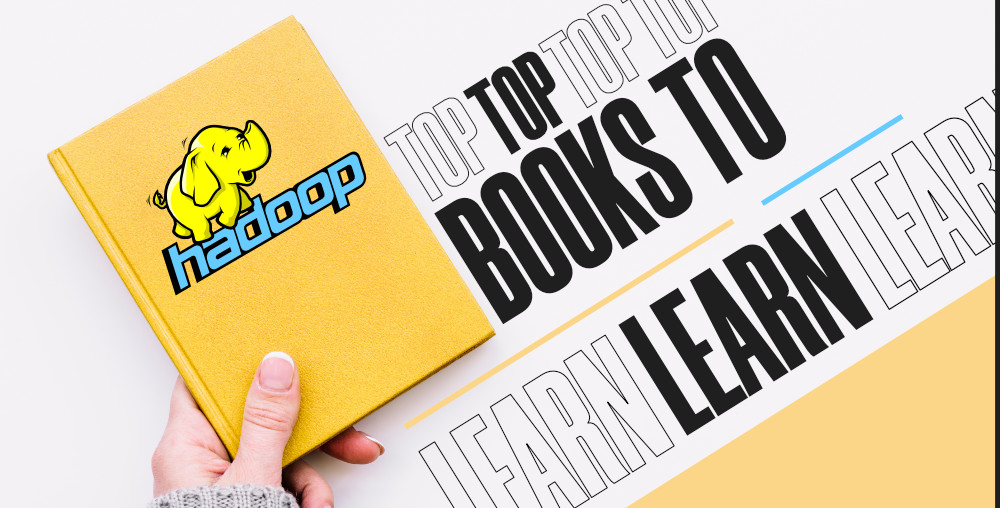 1. Hadoop: The Definitive Guide
Author: Tom White
Publisher: O'Reilly Media
This is one of the best-recommended books for beginners who want to learn apache Hadoop from very basics. The book comprises all the concepts from basic to advance that a software engineer needs to understand. The complete workflow of Hadoop and it's internal components is available in Hadoop: The Definitive Guide. The e-book is also available for free. This particular book is good for programmers who want to investigate datasets of any length. It is also a helpful and right choice for directors seeking out putting in and walking Hadoop clusters. You can write your programs in map-reduce since the book will teach you MapReduce from simple to advanced levels. It consists of fundamentals for flume/sqoop utilized in records transfers. It guides novices to build a reliable and easily maintainable Hadoop configuration and helps to work on datasets irrespective of sizes and brands. Numerous assignments are also available that assist you to learn Hadoop's actual-time capability in a much easier way. Even in the latest version, you can easily find the trendy adjustments made in Hadoop without problems.
2. Hadoop in 24 Hours
Author: Jeffrey Aven
By: Sams Teach Yourself
This book offers you an ideal review of constructing a purposeful Hadoop platform, interface, all Hadoop environment additives. The one who already has a basic knowledge of Hadoop can refer to this book for a quick revision of the Hadoop Big Data technology. The book is most preferable if you are looking for real-time case studies and actual examples. The book explains the entire exercises from the agency surroundings to the local server setup. HDFS and components of the Hadoop ecosystem like a pig, the hive is covered. One can master map-reduce programming concepts with this book in a very short period. Importing data to process in Hadoop, all these steps are wisely explained along with the YARN functionalities and its importance. It indicates you how to put in force and administer YARN. The Hadoop environment components like apache ambari are also discussed. It also helps users to learn the Hadoop consumer environment (hue) by learning security, scaling, and troubleshooting functionalities.
3. Hadoop in Practice
Author: Alex Holmes
Publisher: Manning
Hadoop in movement is a one-roof solution to learn Hadoop. All the necessary information and concept to learn apache Hadoop are embedded in the older and latest release of this book. It essentially begins from the default Hadoop installation procedures. Then covers approximately the maximum vital component of Hadoop, the MapReduce in an easier way. the book deals with actual-time programs of Hadoop and MapReduce consisting of the major large statistics frameworks used in records analytics. It also specifically explains how to query data using Pig and writing log file loader. The Book consists of several real-time use cases that enable you to construct your solution for any of the problems. The source code is also provided in a very optimized way to learn an efficient way to solve a problem. This book is not recommended for beginners one should possess some prior knowledge of Hadoop and map-reduce to get a better intuition of this book. One similar book Hadoop in Action can also be used.
4. Hadoop Operations
Author: Eric Summers
Publisher: O'Reilly Media
Hadoop Operations mainly focus on managing and solving big data problem over large data sets using a large cluster comprises of hundreds of nodes. Nowadays Hadoop has turned to be the best solution for all the huge information problems that require management of operation-specific data. This operation-specific data has grown exponentially as the demand for Hadoop is got increased in the market. Processing this large operation-specific data for enterprises require high-end configuration. The book provides the resources for the same to tackle the massive data problem. All the bottleneck issues are covered in this book that enables you to advance your Hadoop learning skills. It also provides a top-level idea of HDFS and MapReduce and its consequences. This book is recommended for Administrators and professionals.
5. Pro Hadoop
Author: Jason Venner
Publisher: Apress Publications
Pro Hadoop is always recommended for experienced learners. The one who has experience of working with Hadoop can refer this book to strengthen their core concepts and knowledge and can dive deeper to know more consequences of Hadoop. Every single information from easy to expertise about Hadoop clusters, beginning from putting in place a Hadoop cluster to reading and deriving precious records for improvising enterprise and medical research are covered in this book. Actual-time massive information problems are solved using Map-Reduce by dividing them into small problems over distributes nodes to resolve it in optimum time.
My Personal Notes
arrow_drop_up