Top 5 Reasons to Learn Game Development
People like Steve Jobs, Elon Musk, Bill Gates became successful because they had two things with them- Aptitude & Interest. Aptitude means they had the natural ability or skill in their respective fields & Interest means they had a desire to learn and be involved in their field of work. They enjoyed doing their work and did not think of it as a burden. Many people have the interest but no aptitude and vice-versa but you should be glad to know that we can generate either of them.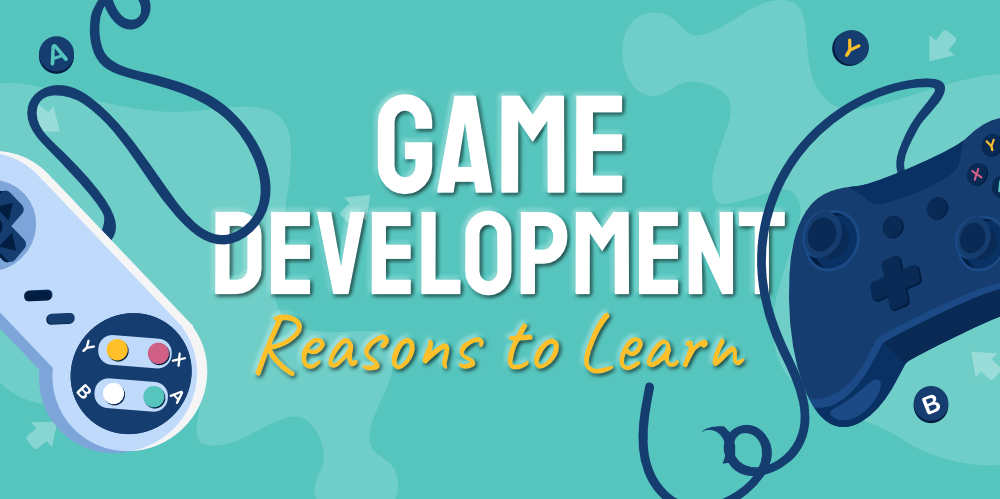 Many of us have played and have an interest in mobile games, PC games, or PS games. It's fun and helps to relieve stress. But, have you ever wondered how these games work? Most of us answer yes and are curious about how to develop a game. But what is Game development? Game development is about a good story, design, sounds, programming, development, and release of games. It is the art of making something special for someone. It is not easy to learn, but it is also not difficult to understand. It is not only about programming.
In the progressing society, people are more open about different sectors of work, especially the gaming field. Now, they have started to accept exports as a legit form of work. One of the most successful multiplayer games, "PUBG" is all about why you should learn game development. Call of Duty, God of War, Super Mario, GTA is some games that were iconic in their era.
As a computer science student, you can learn game development because this field requires some skills that already you have and at the same time you can enhance them. If we have no experience in programming and problem-solving skills, can we learn game development? The answer is yes but it is not recommended because we generally don't have the basic experience to learn advanced concepts in the future thereby will not be able to relate. Although, you can develop these skills easily; it takes time to learn or develop. But, once you are developed, you are ready. Here are the top 5 reasons to learn game development.
1) Develop Problem-Solving Skills
While game development is in progress, you have to take into account different circumstances, a player can be in the game, and how to tackle them with the appropriate resources. Game development requires some problem-solving skills or you can say a problem solver.
There are many programming languages like Java, C++, Python, JavaScript, etc. You can choose any one of them and start learning. And to develop problem-solving skills, you can solve basic programming questions as well as the data structure and algorithms questions. And you can also participate in a coding contest, where you test your skills as well as sharpen your skills.
As you grow in this industry or develop a cool new game from scratch, you learn a lot of things like performance optimization, supporting large amounts of customers, security problems, and many more. In-game development, you also see how physics, mathematics, and coding work together.
2) Enhance Your Designing Skills
Apart from programming, you also learn the design aspect of the game. In-game development, you can also learn how to mix both design and programming and present them in the real world. For a game to be a success, it needs good graphics and should be engaging. Developers put great effort into designing the environment. In PUBG, there are skins for even small items like Pen, grenade which shows how much work they have done. Game development can considerably improve our imagination skills and the ability to produce new things. For a game to attract attention, it should also be unique. The more the game is realistic, the more appealing and charming it is.
3) Earn From it
What if skill generates revenues? It is amazing. Yes, game development is one of them. If you know how to create games, you can add your game to the google play store and make it available for the general public for a reasonable price. You can create games for others and can charge for that. And you can also work for a gaming organization. As a college student, you can generate your side income or pocket money. Gaming studios earn money from servers and providing in-game services.
4) Generate Team-Work Skills
Heavy-games can't be created by one individual, it needs a whole team for different areas like designing, graphics, sound, etc. All parts in a machine should work concerning each other for smooth functioning else it would fall apart. Therefore, team-work is required both during making and playing the game.
"Great things in business are never done by one person; They are done by a team of people." – Steve Jobs
The same applies to the field of game development. If you are in college, make a team of like-minded people.
5) Self-Learning
You can convert your ideas into games and you can also create an interactive resume. This gives you more control over your first impression in an interview and makes you stand alone compared to a traditional resume. You don't have to go to college to learn game development. You can learn game development at your own pace. Do you know? self-learning is one of the most powerful qualities that every successful person possesses.
Game developers create almost everything from scratch, including the characters, story, format, layout, and many more. In a game development tour, you can learn many skills such as how to design game assets, how to choose or design the right sound effects for a game, how to present your game story. With these, you can play many roles such as a programmer, a sound designer, an artist, a designer, and a tester. In today's technology world, you need more than one skill to hone yourself. You can also learn how the game will work and the flow from the beginning to the end of the game.
Final Thought
Game development is a challenging one, it requires a lot of time, creativity, hard work, and patience. If you have an interest in game development, just try to learn the aptitude and you are all set. Easily said than done, it would be a tough path but don't lose hope. Choose a job in which you have both interest and aptitude so you won't regret it in the future. Don't worry, even if you have one of these things, try to learn the other one, don't give up. The difference between success and failure is that the first one tried one more time.
My Personal Notes
arrow_drop_up