Top 5 Cloud Security Certifications in 2021
Cloud computing is a hot topic among developers and computer science enthusiasts, with annual salaries going higher day by day and more job openings as the industry has seen in the past. When most organizations, even non-IT industries are moving to the cloud, it is the responsibility of the Cloud Service Providers(CSP) to assure that the data, applications, processes, etc. are intact and secure while assuring that their services are reliable. For this, these CSPs are on the constant lookout for the most talented tech guys out there who have a good command over the cloud as well as security. Due to this, the competition to get the best cloud security jobs has been soaring as well, with people upskilling themselves and going for advanced certifications.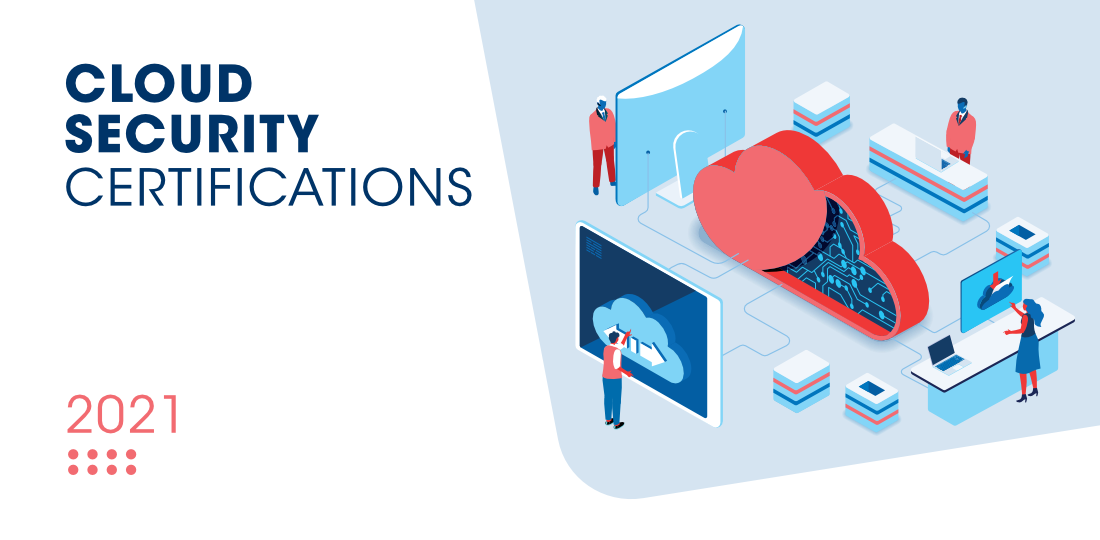 These cloud security certifications not only guarantee that the person has a good command over the subject but also have wide practical knowledge that can be applied and therefore is more likely to be hired. We now look at the topmost cloud security certifications that you can take in 2021 to get yourself hired by the top organizations looking for a highly skilled workforce.
1. (ISC)² Certified Cloud Security Professional – CCSP
CCSP is one of the best cloud security certifications due to the value it holds in the industry. This certification validates that you have technically up-to-date knowledge and you manage, design, and secure data as well as applications and infrastructure in the cloud by taking up the best practices as required by cybersecurity professionals that further include policies and strategies. CCSP is ideal for computer science professionals who are security consultants, enterprise architects, systems engineers, security administrators, security managers, and security engineers. This is one of the toughest and state-of-the-art exams which checks your in-depth understanding of cloud security and holds a high value in the market.
The exam is multiple choice based and has a total of 125 questions. The allocated time is 3 hours for the exam and you must get a passing score of 700 out of 1000 to get certified. Although there are no prerequisites as the certification requires an experience of close to 5 years in industry and cloud.
Cost of Examination: $599
Average Annual Salary: $154,424
2. Professional Cloud Security Engineer by Google
This certification assesses the ability to ensure compliance, data protection, the configuration of network security, configure access within a cloud solution environment and management of operation within the cloud. The certified professional is proficient in all areas of cloud security that includes managing identity and access management (IAM), using technologies to provide data protection, managing incident responses, configuring network security, collecting logs, and defining policies. The certification requires an experience of 3 or more years in the industry and 1 or more years in designing and managing solutions with GCP.
The length of the exam is of 2 hours and the language in which you can attempt is English. The format of the exam is multiple choice and multiple select. The exam has no prerequisites and there are two methods by which you can take the exam. Either you can take an online-proctored exam from a remote location or you can take the onsite-proctored exam at a testing location provided to you.
Cost of Examination: $200
Average Annual Salary: $136,485
3. GIAC Cloud Security Automation – GCSA
GCSA covers modern DevSecOps practices that are utilized to build, design and deploy systems and applications reliably. It validates that not only your theory in cloud security automation is strong but you can as well put into practice the DevSecOps principles in an automated manner. This certification is specially designed for anyone who works in a public cloud, DevOps, systems administrators, security analysts, and engineers. There are various areas that are covered and expect you to be thorough in them and include continuous integration, continuous delivery, automated configuration management, continuous monitoring, or someone who works using the open-source tools, AWS toolchain, and Azure services.
It is a web-based proctored exam and has a total of 75 questions to access your knowledge in cloud security. The time limit is 120 minutes (2 hours) and you must get at least 61% in the exam to earn the certificate. You have two options to take this exam, either in a remote location proctored through ProctorU or onsite proctoring by PearsonVUE.
Cost of Examination: $1999 (varies)
Average Annual Salary: $91,000
4. CompTIA Cloud+
CompTIA Cloud+ validates the skills and knowledge you need to acquire in order to maintain, design, and optimize cloud infrastructure services. It emphasizes managing cloud systems and technologies and expects a minimum of 2-3 years of experience in system administration. There are a variety of jobs that require Cloud+ certification including cloud specialists, network engineers, network administrators, system administrators, cloud engineers, cloud developers, product managers in the cloud, etc. Skills needed for this certification are troubleshooting, security, configuration, deployment, management, and maintenance.
There is a maximum of 90 questions that you can attempt either in English or in Japanese. The types of questions are performance-based and multiple choice. The time limit for the test is 90 minutes and the passing score is 750. There is an onsite proctoring system with PearsonVUE and the certification validity is 3 years.
Cost of Examination: $338 (varies)
Average Annual Salary: $80,092
5. Certificate of Cloud Security Knowledge – CCSK
CSA's CCSK is for cloud-savvy professionals and is highly recognized as a standard of expertise and practical knowledge regarding cloud security. Professionals who are into information security roles, managers, consultants, and security architects should earn this certificate to prove their abilities to constructively use controls specially tailored for the cloud. The exam is open-book and you can either prepare for the exam by yourself or enroll in their comprehensive training.
There are a total of 60 questions and the time limit for the exam is 90 minutes. The exam is online therefore you can take the exam from anywhere. The exam is open-book but makes it tougher than most of the exams.
Cost of Examination: $395
Average Annual Salary: $149,760
These were the top Cloud Security Certifications that you can go for in the year 2021. Although these exams are tough they offer a higher salary as compared to uncertified professionals.
My Personal Notes
arrow_drop_up