Top 20 Linux Applications to Use in 2021
Linux is a free and open-source operating system based on the Linux kernel. It consists of a wide variety of essential applications that can be used to perform many day-to-day tasks. It provides multiple alternative applications to perform every task. So, it is a tedious job to select the best ones from the lot. To make your lives easier, here is a list of the best Linux applications that you must try, and make the optimum use of them.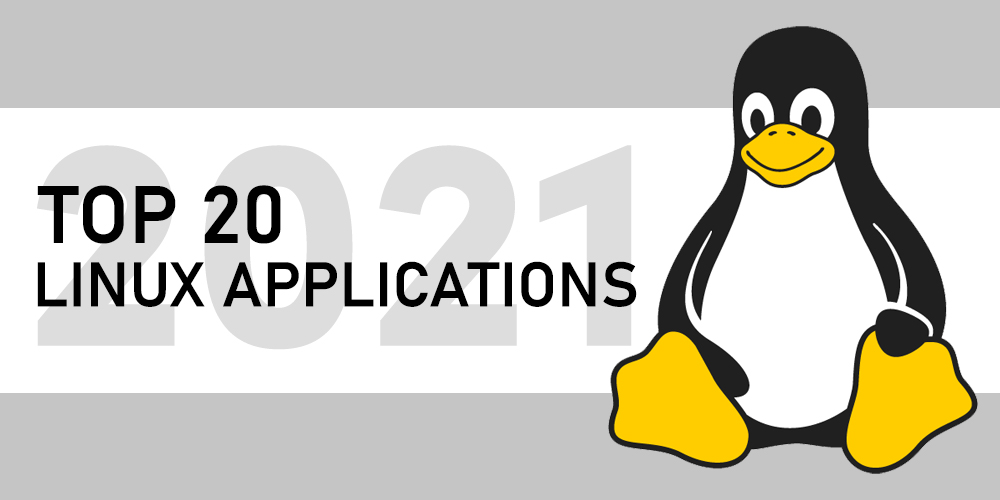 1. Mozilla Firefox
Firefox is the default browser for various Linux distributions such as Linux Mint and Ubuntu. It is the fastest web browsing software for Linux with an incredibly user-friendly interface. Its auto-update feature makes it a very convenient application. This browser supports many extensions and add-ons that give a customizable web experience to its users. It is the biggest competitor of Chrome and has proved to be better than it by introducing its latest updates. A big thanks to Smartblock's intelligent tracker blocking mechanism that helps us enjoy private browsing with minimal interruptions. Also, the highlight-all feature that highlights the matches to your query, acts as a cherry on top.
2. Thunderbird
Thunderbird is a free and powerful yet easy-to-use email client which helps to manage your emails with ease. The wizard acts as an assistant that gives a walkthrough of the application. An unlimited number of accounts can be added and managed by this amazing software. It provides a better way to sort the mail folders. Various add-ons and custom themes are available which adds a vibrant appearance for its users. The most promising feature is the backup storage for all the messages on your computer. So, the accidentally deleted messages can be retrieved easily within a matter of a few clicks. Moreover, it supports multiple calendars and an RSS reader to look at all the headlines instantly.
3. LibreOffice
LibreOffice is free, complete and one of the best office suites. It has a basic interface along with extraordinary advanced features. It consists of six component programs that can perform any kind of operations such as Writer for word processing, Calc for spreadsheets, Impress for presentations, Draw for vector graphics, Math for mathematical formulas, and last but not the least Base for handling databases. These applications are pre-installed in Ubuntu and its derivatives. The documents can be saved in various formats such as DOC, DOCX, PPT, PPTX, XLSX, etc.
4. VLC Media Player
VLC is the most famous media player which supports any kind of audio or video files without the need to download additional codec. It can also be used for clipping videos and helps in converting files from one format to the other such as .flv to .mp4. It can also be integrated with other streaming software and services. Videos can be played while they are getting downloaded cutting off the buffer time to a great extent. Playlists can also be created using the playlist function which enables the users to watch their favorite movies one after the other as if it was a single movie without break.
5. Shortcut
Shortcut is an open-source and free video editing software available for Linux, macOS as well as windows. It supports all kinds of audio and video formats including the latest 4K view. It consists of various interesting audio and video filters such as audio-waveform visualization, chroma-key, 360-degree video filters, loudness, waveform, peak meter, and spectrum analyzer. The video editing is simple with the use of cut, copy and paste functions along with adding text to video, trim video, and rotate video options. So it acts as a full package for a video editor as well as naive users.
6. GIMP
GIMP is a free image editor that allows you to edit and retouch images by resizing, adding layers, noise reduction, cropping, and color adjustments. Photoshop plugins can also be added to GIMP. For image editing, it provides customizable brushes, multiple layers, filters, and automatic image enhancement tools, and even an animation package. Along with image editing, your own artwork from scratch can also be developed using this photo editor with various interesting plugins.
7. Audacity
Audacity is an open-source digital audio editor and recording application that supports Windows, macOS, and Linux. It supports recording from multiple inputs such as a keyboard and a USB microphone simultaneously. It can also be used to edit and trim audio files having different formats such as WAV, OGG, and MP3. Also, it provides support for multiple tracks which can be clubbed together to produce amazing music. For example, the song lyrics and the background music can be recorded separately and later clubbed together.
8. Visual Studio Code
Visual Studio Code is a free text editor provided by Microsoft for coding and programming. It is compatible with Linux, Windows, and macOS. It supports various plugins such as code refactoring, debugging, keyboard shortcuts, and default integration with Git. It is a highly customizable editor which offers a wide variety of add-ons and plugins which can be downloaded as per requirements. It is suitable for various programming languages such as HTML, CSS, Java, and Python having auto code completion features for easy programming and user-friendliness.
9. VirtualBox
VirtualBox is a free and open-source virtualization machine owned by Oracle. It is a cross-platform software, allowing multiple operating systems to be run on a single computer. It is used for the simulation of various machines on a single device. Not only it helps in faster delivery of code, but it also reduces the time and cost to deploy code on the site or the cloud securely.
10. ClamAV
ClamAV is free and cross-platform anti-virus software for detecting various malicious viruses and removing them from servers and computers. This software is generally used on the server-side as an email virus scanner. It includes a number of powerful features such as on-demand scans, virus database updates, and other command-line tools.
11. Rsync
Rsync is a file synchronization software for the efficient transfer and sync of files and directories between two hosts or machines across a network. It is present in all Linux systems by default. It is used to manage and minimize network usage. It is quite popular for its delta-transfer algorithm, which replicates only the difference in the source file of the local host and the existing file of the remote host.
12. Timeshift
Timeshift is used to keep a backup of driver updates and configuration changes that can easily be restored if required. It protects your system by taking snapshots in increments of the filing system at regular intervals. These snapshots can be re-established at a later time and reverse all changes to the system.
13. Deluge
Deluge is a free, lightweight, cross-platform BitTorrent client that intends to seamlessly enhance the μTorrent experience and make it easily available for the users. It is secure and feature-rich clients with many plugins. It allows users to manage the application remotely over the web. It helps in authentication, bandwidth tweaking, reverse proxy, and setting of VPN.
14. Dropbox
Dropbox is a file storage and file synchronization application. It helps to stay organized and be in sync with your team members while tackling your work stress efficiently. It stores all the files in a safe place for easy accessibility. Various kinds of files can be edited and saved here. Progress updates are notified after regular intervals, helping you to maintain a work-life balance. Also, it helps you to give access to your files to the right people and keeps your files disaster-proof.
15. Vim
Vim is an exceptionally configurable content tool worked to make and change any sort of text productively. Vim is rock stable and is ceaselessly being created to turn out to be superior. It supports a multi-level undo tree extensive plugin system, hundreds of programming languages and file formats & powerful search.
16. GnuCash
GnuCash is a free, cross-platform, and open-source software for handling finance and accounting for personal and small-sized businesses. It runs on Linux, macOS, and many other platforms. It provides features such as Double-entry bookkeeping, Scheduled Transactions, Mortgage, and Loan Repayment Assistant, SQL Support, VAT/GST tracking and reporting, multi-Currency Transaction Handling, Bank and Credit Card reconciliation, stock handling, and many more applications.
17. Steam
Steam is a popular gaming platform for playing, discussing, and creating games. You can easily chat with your friends via voice or text. It helps to gain knowledge about your game in one place. A live broadcast facility is also provided in this software which enables your friends to watch your gameplay. It also provides a platform to buy or sell your games to interested people.
18. Eclipse
Eclipse is an integrated development environment (IDE) mainly utilized in programming. It can be used to compile and run programs written in various programming languages such as Java, C++, Python, Ruby, Perl, etc. It provides a workspace and environment for coding.
19. Skype
Skype is a communication software that provides video chatting and video calling facilities between computers, mobile phones, and other IoT devices over the Internet. Skype provides instant messaging services and video conferencing via text, video, audio, and images.
20. Rhythmbox
Rhythmbox is a free, open-source music organizer, tag editor, and audio player software for digital audio files on Linux and Unix-like systems, designed to work well on GNOME and certain other desktop environments. It has good scalability and can easily handle libraries containing thousands of music files. It provides a full set of features, including full Unicode support, tag editing, music playback, audio scrobbling, and SoundCloud. It is the default audio player on many Linux distributions such as Fedora, Ubuntu, and Linux Mint.
Wrapping Up!
To conclude, we can say that the principal advantages of Linux applications are that they are mostly open-source and free to use. However, some business-oriented applications involve some costs for the additional plug-ins and extensions. Also, the Linux applications come with their prerequisite packages bundled together. This means that only a small portion of time needs to be spent on figuring out what is needed for the proper functioning of these applications. To enjoy these interesting Linux applications, all you need is to stay updated with the latest advances and features in the existing and new applications.
My Personal Notes
arrow_drop_up