Top 10 Tools For Monitoring as a Service (MaaS)
Monitoring as a Service (MaaS) is nothing but the service that is concerned with monitoring the status and proper functioning of the applications and infrastructure. It combines both cloud computing and on-premise IT infrastructure. It is mainly concerned with the online state monitoring of our applications, storage instances, network traffic, etc. This is very efficient and important because any malfunctioning can be easily found and the issues are reported as notifications to the user. Before Monitoring as a Service (MaaS) came into existence the companies have to rely on security engineers and penetration testers for this kind of governing activities but now after the advent of the cloud, these activities can be automated.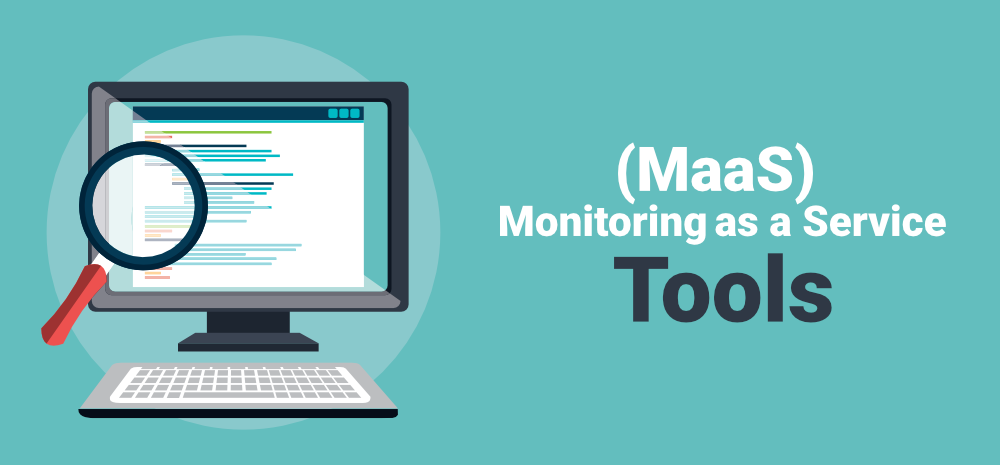 In this article, we are going to explore some of the standard 'Monitoring as a Service' tools with their detailed specifications. So, let's get started:
1. Amazon CloudWatch
Amazon CloudWatch allows us to completely monitor the tech stack of our application and infrastructure. It notifies us with alarms, logs, etc, and helps us to take necessary actions which thereby reduces the Mean Time to Resolution (MTTR). It also monitors the EC2 instances, Dynamo tables, etc. It is best suited for applications hosted in AWS. The logs, alerts, and troubleshooting of these applications can be done easily using Amazon CloudWatch. Amazon CloudWatch does not charge for the first 50 metrics for a single dashboard. If the metrics limit is exceeded, the user is charged with some amount. Amazon CloudWatch can be accessed using Command Line Interface, APIs, AWS Console.
2. Azure Monitor
It collects, monitors, and takes necessary actions on the data of the devices and instances in the Azure and on-premises environment. It is very efficient and identifies and resolves problems in seconds. It simply collects the data from various sources and stores it as logs. This data can later be used for logs, analysis, security checks, notifications, etc. The main advantage of it is that it not only reports the issue to the user but also provides the solution to solve the issue.
3. AppDynamics
AppDynamics is another cloud monitoring tool that is used for monitoring every aspect of the application. It can monitor the business transactions, transaction snapshots, tires, and nodes, etc. It also monitors the full technology stack of the application from the database to the server. The architecture of AppDynamics is simpler and is controlled by a central management server known as the controller. AppDynamics was founded in 2008 by a person in WIly Technology. Now, it is acquired by Cisco company. AppDynamics holds a rank of 9 in Cloud 100 list which is ranked by Forbes.
4. CA Unified Infrastructure Management
It is founded and released by CA technologies It is previously called a CA Nimsoft monitor and in the later release, it is released with enhanced, alerting and monitoring capabilities. It provides 360-degree visibility into the application by monitoring every aspect of the infrastructure. It helps us to manage both the modern cloud and hybrid IT infrastructure efficiently. It allows rapid setup and configuration. It provides a wide range of possibilities in a single tool.
5. Solarwinds
The software was founded by Donald Yonce and David Yonce in Tulsa in 1999. It is customizable and intelligent to use. However, it is not that attractive as other tools but it gets the job done without any problems. It can support up to 1200 applications and systems. It allows us to monitor the components through PowerShell, REST API, etc. It also has configurations for windows and Linux which leads to faster performance.
6. ManageEngine
ManageEngine is founded by Zoho Corporation. It is also an infrastructure monitoring tool with real-time monitoring of networks It has customizable dashboards for users. It has more than 70 metrics for VMWare and more than 40 metrics for Hyper V. It also has inbuilt fault monitoring and alerting. But the problem with this is, it has no hosted version. It manages the computers in various domains and allows checks the bandwidth too. It is both available as free edition and premium edition. The free edition starts from 495 dollars and the cloud version starts from 645 dollars.
7. Zabbix
Zabbix is founded by Alexei Vladishev. It is one of the most popular open-source infrastructure monitoring tools in the market. It is available on multiple platforms like Windows, Unix, Linux, etc. It can send notifications on various streams like SMS, email, script alerts, webhooks, etc. The main advantage is it is open source and has a strong community for support. Zabbix allows APIs, access controls/permissions, activity dashboard, audit trails, data visualization, CPU monitoring, and a lot more features.
8. Nagios
Nagios is founded by Ethan Galstad. Nagios is yet another famous monitoring tool. It periodically runs security checks on all the important aspects of the system. It is available as both an open-source and paid enterprise solution. It is Linux-based. The architecture of Nagios can be extended through plugins. It is open-source and gives us full access to source code. It is more popular and is used by companies like Uber, Twitch, Dropbox, Fiverr, 9GAG, Zalando, etc.
9. Site 24×7
It is also a monitoring tool that inspects the servers, network containers, and visualization platforms. It runs on both Windows and Linux servers. It easily monitors more than 60 metrics for servers. It also provides plugin integrations for MySQL and Apache. It also provides website services like HTTP, DNS servers, etc. Site 24×7 monitoring allows us to use APIs, Baseline managers, Email monitoring, email alerts, event logs, mail server monitoring, reporting & statistics, SLA, and much more.
10. Datadog
Datadog infrastructure monitoring is founded by Olivier Pompel and Alexis Le-Quoc. It also monitors both cloud and on-premise infrastructures. It provides visibility into the state of the components we are using. It allows us to use consolidated dashboards giving us visibility into the infrastructure. It has a customizable Datadog API. It has more than 400 vendor-backed integration thereby it can give us deep insight into our IT stack. It has a broader use case, it is used by more than 800 companies and 2000 developers. With the help of Datadog infrastructure monitoring, we can monitor the performance and well-being of the entire IT infrastructure.

My Personal Notes
arrow_drop_up