Top 10 Software Testing Trends To Follow in 2022
With the growing technology, there has been a massive change in the software testing industry with the help of newly upgraded tools and trends. This change has brought brighter sides in many industries such as development, design, testing, and delivery. It is believed that this new adaption has uplifted their quality and maybe that's why organizations are now focusing more on digital transformation to be on the top spot. Talking about software testers, their demand towards this adaptation is changing and becoming even more challenging every day.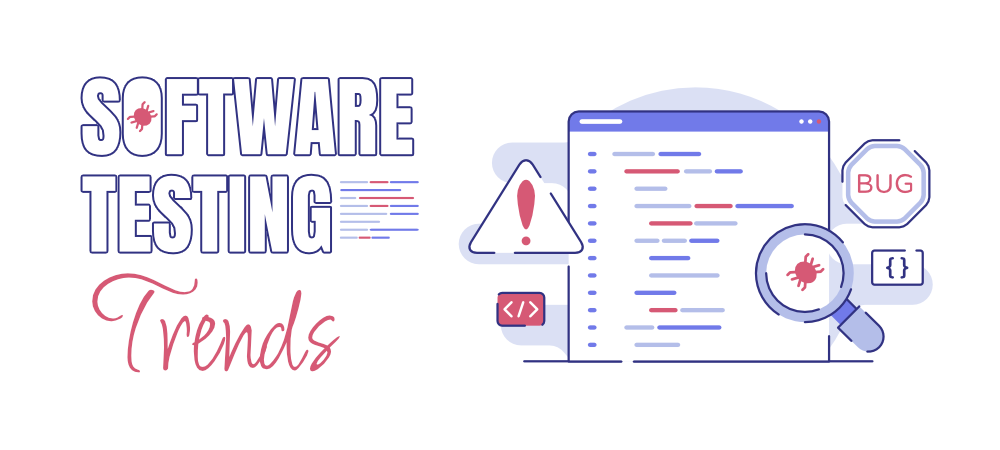 That's why software testers are required to keep themselves updated with these latest trends. Let's check out some of the best software testing trends which need to be followed in 2022.
1. IoT Testing
With the rise of technology and the introduction of 5G in the market, IoT has been under demand since then and even multiple research suggests that IoT is going to lead the market in near future. However, in case if you don't know, IoT plays a crucial part when it comes to 5G technology as it supports processing connectivity speed so that it can work like a charm.
Nowadays, software testers are coming up with different ideas and trends where their main area of concern is safety. Yes, you heard it right, as we all are pretty much aware of the misuse of the internet and the first thing that comes to mind is security. IoT is much active in some of the handful industries like healthcare, automotive, etc. However, there is a low space for bugs during testing so the latest technology and testing tools such as POSTMAN, Wireshark, ITAG Dongle, etc. are a wiser option for IoT testing.
2. Codeless Automation
As we all are aware of the booming IT industry, now companies want to get the maximum output done in no time. This enables the doors for codeless automation testing for software testers. These tools have been built with AI technology and allow quick test cases. It's not only saving time but also keeping up the resources free from handling other tasks. If you dig deeper into it, it has a significant amount of responsiveness and now more companies are adopting this as it has a better learning curve, is easy to review, and of course, they are highly effective.
3. Blockchain
Nowadays you might have heard a lot about blockchain. This has become a sensation in the IT industry. As per a recent survey, it is being said that Blockchain solution is likely to cross almost USD 12 Billion in 2022. But, again it all comes at a price. Adaptation of blockchain may have some difficulties, issues such as security, costing, etc. which is again a challenge for the industry but the solution to this is standard blockchain testing strategy.
4. Big Data
With the increasing number of the latest technology, companies are now working on data over different volumes. And, handling such a huge amount of data needs proper attention and requires end-to-end testing to avoid any failure. This testing helps in improving business strategies and marketing tactics. You might not be surprised that it has gained so much popularity as we are moving towards digitalization and today, either be it government or private entity, they all are relying on big data analytics, which offers not only accuracy but is also reliable in many aspects. Perhaps, big data testing is helping many data-driven decisions of various services and products.
5. Performance Engineering
Today, user experience is playing a crucial role in the development phase of any technology. Based on their behavior, changes are being made and rolled out in the market. Even, the approach of developers is also changing and tilting towards the user's requirement at each SDLC to maintain the smooth flow of experience. Apparently, test goals of performance engineering have also transformed the monitoring performance of the software. Therefore, performance engineering has been introduced as a substitute for performance tests for creating performance metrics.
6. Cybersecurity
In the field of software testing, cybersecurity has been gaining attention for QA as well as for testers. As per the recent survey, with the help of risk compliance, it uplifts the awareness among industries and also helps in enabling security right before SDLC. The best part is it helps us in understanding the loopholes which can be addressed on an immediate basis right before it gets hacked by cybercriminals. This is one of the main reasons why it plays a crucial part in today's world and will be even more demanding in the upcoming future.
7. IaC
Today we all are moving towards the cloud, even not only as an individual but also leading IT industries moving towards the cloud to maintain flexibility and costing. In the growing period of digitalization, virtualization has made drastic modifications in servers and the way they were being used. Even certain tools such as Docker, Terraform, etc. are definitely going to hit the market in the upcoming 2022. The general concept of IaC (Infrastructure as Code) is to manage the operations environment effectively.
8. Chatbots
As we all are very much aware with the rise of the COVID-19 pandemic when the world was forced to change the pattern of working, chatbots started becoming in demand and started playing as a front-line responder in almost many sectors. Due to lockdown, companies were forced to shut down their operation and when remote work came into the limelight, companies started adopting chatbot support for a better user experience. Chatbots weren't just helpful for resolving queries but have also been available 24*7 and too helped millions of users in different industries such as healthcare, shopping, banking, retail stores, etc. Thus, chatbots are likely to stay for more upcoming years, and for their smooth flow, it requires rigorous testing so that it can still play a major role as robotic process automation (RPA).
9. Test Automation in Agile Model
Agile is being considered one of the most widely used work methodologies. This is because of its QA which helps agile development and testing to boost with an enormous pace and that's why it has become a sensation among companies to adopt this model. Not only this, as per a survey, the automation testing field is likely to hit the milestone of USD 30 billion by 2028.
10. Machine Learning and Artificial Intelligence Test Automation
Nowadays, there are lots of companies who are doing test automation with the help of ML and AI, well-performing automation with the help of these comes with a lot of benefits. The major advantage of adopting ML & AI is cost saving along with time. This is one of the reasons why US firms are shifting towards ML & AI test automation. In a research report, it is suggested that the market is likely to uplift by 70%, as per a report by Gartner. Some of the best AI automated testing tools are test.ai, etc.
Conclusion:
This is just the beginning of a new future in software testing. The market is growing rapidly and with the advancement of these new technologies, the market of testing & QA is likely to get huge expansion in the upcoming future. These were some of the best software testing trends to follow in 2022. Being a tester, you need to stick to these trends in order to achieve new heights in the field of QA & software testing!
My Personal Notes
arrow_drop_up